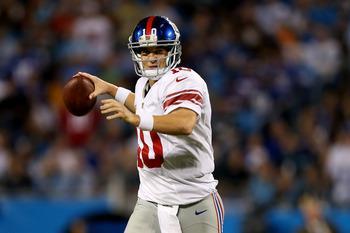 Photo: Streeter Lecka/Getty Images
- Adam Parker
Week Three of the NFL Season is now behind us and what a week it was. Multiple overtime games as well as much more complaining about the replacement officials.
Seriously, the NFL needs to get a handle on this and just get the regular referees paid and back on the field. These replacement refs are a joke. They're too easily influenced by outside sources like coaches, players, fans, etc. They constantly miss calls or see penalties where there are none.
I didn't think that the absence of Ed Hochuli and his boys (the real NFL referees) would be missed this much, but after Week Three, you can count me among the extremely unhappy group of fans, players, coaches, etc. that want a resolution with the real referees making their return as soon as possible to reaffirm the integrity of the NFL game (not to mention they're negatively influencing my Pick 'Em record to boot).
But enough about the refs. Let's recap a few games, or rather, a few moments. Houston Texans quarterback Matt Schaub lost a chunk of his left ear on a hit by linebacker Joe Mays on Sunday (expect a letter from the league office very shortly, Mr. Mays) but the Texans came out with the win to move to (3-0) on the season.
A week ago I was saying that the 49ers looked like the best team in football, but after their upset loss to the Minnesota Vikings, I'm starting to like the Atlanta Falcons (3-0) as the top team across the board in the NFL right now.
At the opposite end of the spectrum, meanwhile, you have the New Orleans Saints, who, at (0-3), can't seem to do anything right.
My Pick 'Em Record: 17-31
Let's move on to Week Four!
Cleveland Browns (0-3) at Baltimore Ravens (2-1) on Thursday Night Football
The Browns just flat out stink (like always it seems) and the Ravens are coming off a 31-30 victory over the New England Patriots on
Sunday Night Football
 thanks to a 27-yard game-winning field goal from rookie kicker Justin Tucker as time expired. Something tells me they won't need the full sixty minutes to put the Browns away though. Ravens win big.
Prediction - Ravens win, 28-17
Carolina Panthers (1-2) at Atlanta Falcons (3-0)
Don't expect this one to be close. I thought it might be a good contest coming into the season. Hell, I thought Carolina even had an outside chance to challenge Atlanta for the division. Cam Newton needs to get his head on straight after Carolina's sluggish start, but that's another issue entirely. Whether Cam and the Panthers' offense performs up to par or not, though, I just don't think they have enough talent on defense to slow down the Falcons' offensive juggernaut.
Prediction - Falcons win, 31-17
New England Patriots (1-2) at Buffalo Bills (2-1)
Coming into this game, you'd expect these records to be flipped. That being said, they're not, but you better believe that Tom Brady and company will be out for blood against the division rival Bills after losing a heart breaker on Sunday night to the Ravens in the final seconds. Fred Jackson is expected back from injury just as C.J. Spiller goes out with a minor one, but in the end, even if both were 100% healthy, it's hard to bet against the Pats and all of that offensive firepower; even if they are struggling.
Prediction - Patriots win, 34-21
Minnesota Vikings (2-1) at Detroit Lions (1-2)
Again, another instance where everyone would expect the records to be reversed. Christian Ponder has really taken strides in his second NFL season after being drafted much higher than many people expected a year ago. Normally I'd say to expect both teams to be (2-2) after his game, meaning that the Lions would win. However, I can't shake the feeling that the Vikings are going to somehow pull this one out; especially if Matthew Stafford is unable to go for Detroit. But even if he is, the Lions' defense is a mess anyway.
Prediction - Vikings win, 24-20
San Diego Chargers (2-1) at Kansas City Chiefs (1-2)
When the Chiefs were losing to the Saints early on in their Week 2 game, I was talking to a friend of mine who coincidentally is also a Chiefs fan. I told him that I would have trouble picking the Chiefs in a game for some time and even though Kansas City ended up pulling it out in overtime, I'm going to stick to what I said, at least for this week against the Chargers.
Prediction - Chargers win, 28-23
Seattle Seahawks (2-1) at  St. Louis Rams (1-2)
Steven Jackson continues to struggle mightily for the Rams and as it usually is for St. Louis during Jackson's time with the team, when he struggles, the team struggles. Don't expect much to change on that front this week. Give me the Seahawks with rookie quarterback Russell Wilson and their vastly underrated defense in this one. Sam Bradford will be under fire all day from that Seattle pass rush because you know the Rams will have to try and throw it when faced against the top-ranked rush defense in the NFL.
Prediction - Seahawks win, 21-13
San Francisco 49ers (2-1) at New York Jets (2-1)
No
Revis Island
in New York after Jets' cornerback Darrelle Revis tore his ACL in last week's win over the Miami Dolphins. No Revis means bad news for the Jets. Their defense is usually their strength, but there's simply no replacing Revis. Don't expect their offense to all of a sudden figure it out against this tough 49ers' defense either. Remember those 48 points from the Jets in Week One? Yeah, that was a facade...
Prediction - 49ers win, 27-13
Tennessee Titans (1-2) at Houston Texans (3-0)
The Titans come into this one feeling pretty good about themselves after knocking off the favored Detroit Lions in overtime last week behind the leg of kicker Rob Bironas and the return of the
Music City Miracle
. That being said, I fully expect those extreme highs to plummet and return to abysmal lows when they run into the Houston Texans machine. Matt Schaub may be without a chunk of his ear, but something tells me it won't affect his accuracy down the field on those deep throws to Andre Johnson. Arian Foster will once again go beast mode and the Texans' defense will continue to be strong.
Prediction - Texans win, 27-17
Oakland Raiders (1-2) at Denver Broncos (1-2)
Ask me about this game at the beginning of this season and I would have taken the Broncos hands down. After all, their defense is good and they have freaking
Peyton Manning
as their quarterback. A game against the Raiders? Ah, that'll be a breeze.
Not so fast. Peyton hasn't quite looked like his old self out there thus far. His mental prowess is obviously not missing, but his arm strength and accuracy aren't always there. Plus, the Raiders are coming off a win over my Steelers, so I have to go with them this week as I believe they'll come into this one with a bit extra of that Raider swagger.
Prediction - Raiders win, 23-20
Miami Dolphins (1-2) at Arizona Cardinals (3-0)
No structural damage was found in Reggie Bush's knee, so that's good news. However, it won't really have much of an impact either way against the Cardinals' defense that has, almost overnight, earned a reputation for being one of the top units in football. Oh, and go figure — Kevin Kolb looks solid at quarterback too.
Prediction - Cardinals win, 27-14
Cincinnati Bengals (2-1) at Jacksonville Jaguars (1-2)
The Jaguars are an OK team, and that's about it. Blaine Gabbert is looking much-improved after the struggles he had last season in his rookie campaign. Nevertheless, the Bengals will be too strong on both sides of the ball to be stopped. How many touchdowns will the Andy Dalton to A.J. Green connection account for in this one?
Prediction - Bengals win, 24-13
Washington Redskins (1-2) at Tampa Bay Buccaneers (1-2)
This one will be a battle between the two teams with the worst statistically-ranked secondaries in the NFL. The Bucs' (32nd) and the Redsksins (31st) have holes in their pass defense, and it will be up to Josh Freeman and Robert Griffin III to find and exploit them. I like RGIII to be the more successful of the two young quarterbacks and lead his team to a victory on the road; not to mention, continue his run as one of my fantasy football team's strongest performers.
Prediction - Redskins win, 26-21
New Orleans Saints (0-3) at Green Bay Packers (1-2)
Last season, this match-up would have easily been dubbed the game of the week. Two of the best quarterbacks leading two of the league's most prolific passing offenses while both teams anxiously anticipate which defense will make enough steps to get the "W". However, as it stands this season, the Saints are off to a horrendous (0-3) start and now their offense is beginning to look as bad as their defense. While the Packers may not quite be where they want to be offensively, they're no doubt coming into this game with a colossal chip on their shoulder after getting completely shafted by the replacement refs on Monday Night Football. I have to believe that an angry Pack Attack will easily knock off a Saints squad that seems ready to wave the white flag.
Prediction - Packers win, 34-23
New York Giants (2-1) at Philadelphia Eagles (2-1) on Sunday Night Football
Let's be honest, the Eagles are about the worst (2-1) team in the league right now, or at least they looked it on Sunday against Arizona. The absence of Pro Bowl left tackle Jason Peters is clearly evident, as Michael Vick continues to get demolished week after week. Meanwhile, the Giants, especially Eli Manning and that passing game, looked absolutely phenomenal against the Panthers last week. Granted, it was the Panthers, but still, phenomenal nonetheless. There's no doubting Eli Manning is elite, and considering the Eagles' secondary just got shredded by Kevin Kolb, it's all the more reason that I have to go with the G-Men in this one.
Prediction - Giants win, 27-20
Chicago Bears (2-1) at Dallas Cowboys (2-1) on Monday Night Football
Which Jay Cutler will we see? Will the Bears' offensive line hold up against the ferocity of DeMarcus Ware and the rest of that Cowboys' pass rush? Both questions will be resolved come Monday night, and something tells me that the Bears won't like the answers they receive or the outcome of the game.
Prediction - Cowboys win, 24-14
Be sure to follow Beard And Stache on Twitter 
@BeardAndStache
, and also Adam 
@Adam_Parker43
, Like our Facebook page 
HERE
!