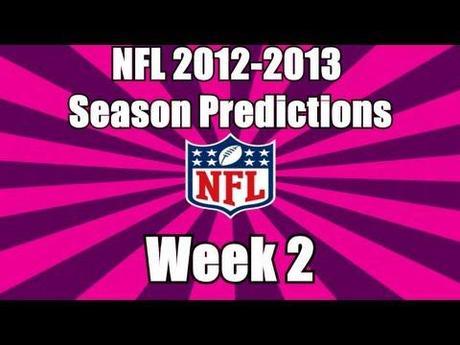 Image: article.wn.com
- Adam Parker
Well everyone, the dust is finally starting to settle after a roller coaster of a ride in Week One of the NFL season.
This off-day in the NFL (since Week Two begins on Thursday with NFL Network's airing of the first
Thursday Night Football
broadcast of the season) means that I have had the time to comb through last week's games (and predictions for said games) to see how I did.
For starters,
The Sheriff
proved just why he's
The Sheriff.
I swear, there were times in that game where I felt like Peyton Manning was in the Steelers' huddle. I'm obviously sour as a Steelers fan, but I'm going to suck up my pride and tip my hat to the smartest and arguably best quarterback of our generation on a job well done.
Next up: RGIII, RGIII, RGIII ... great for my fantasy football team (he was my starting quarterback) but not so great for my predictions. But that's not your fault. The Saints just failed to do anything to stop you defensively and their weak secondary that I referenced in last week's post was exposed.
Also, again while I hate to admit this as a Steelers fan, Joe Flacco, at least on Monday night, impressed the hell out of me with his play against the Bengals. Everyone knew the Ravens' defense was going to be stellar, but did anyone see them dropping a 44-point shellacking on the Cardiac Cats? I know I didn't.
One final thing I'd like to touch one before moving forward from Week One — the disappearing act of the Carolina Panthers' offensive line against the Tampa Bay Buccaneers. If you're wondering what I mean, this should about sum it up: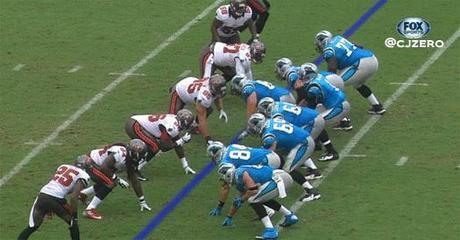 Ouch, that looks painful; even for a big guy like Cam Newton. But enough of Week One. Without further ado, let's hop into Week Two.
My Pick 'Em Record: 5-11
Needless to say, Week One was not the best start for me. In fact, that very well could be my worst week of picks dating back to when I started this journey last season. Hopefully, I can improve upon that terribly disappointing and embarrassing mark in Week Two and beyond.
Chicago Bears (1-0) at Green Bay Packers (0-1) on Thursday Night Football
This rivalry seems like it's almost as old as the sport itself. The Bears and Packers meet up again for their first of two matchups this season. After losing in Lambeau last week to a 49ers' team with a stout defense and a better-than-expected offense, Aaron Rodgers and the Packers will look to get back on track against their bitter division rival.
Normally I'd say that this would be a no-brainer Pack Attack win, but I think it will be much closer than many people expect, especially if Chicago's Matt Forte runs all over the Packers' defense like Frank Gore did for the Niners in Week One.
Nevertheless, I like Green Bay to turn things around and get a win in front of their home crowd behind the arm of Rodgers and that prolific passing game. After all, we all know they aren't likely to spend much time running the rock.
Prediction: Packers win, 35-28
Kansas City Chiefs (0-1) at Buffalo Bills (0-1)
This one will be a battle between two winless squads (not really a huge deal yet since we're only one week in) looking to get rid of that goose egg in the win column. Both teams were victim of home invasions after they were beaten to a bloody pulp in front of their home fans by the visiting Atlanta Falcons (Chiefs) and the surprisingly offensively adept New York Jets (Bills).
Fred Jackson won't go for Buffalo this week (and likely a few weeks beyond that) after straining his MCL. C.J. Spiller will shoulder the load for Buffalo's rushing attack, but their defense is going to have to step up after an embarrassing showing where they were run out of their own building last week. You thought the Jets had a good offense? Ha! Compared to the Chiefs' offense (barring that Matt Cassel plays well) will be much tougher to handle. Good luck, Buffalo. You'll need it.
Prediction: Chiefs win, 24-20
Cleveland Browns (0-1) at Cincinnati Bengals (0-1)
Two (0-1) AFC North squads in this one (though Cleveland definitely should not have lost that game last week against the Philadelphia Eagles after all the mistakes Philly made). The Bengals were shut down by Ray Lewis, Ed Reed and the rest of the Ravens' defense while Joe Flacco and the offense shredded them en route to a blowout win. Even though the Browns were much closer to winning their game last week than the Bengals were, it's hard to bet against the Cardiac Cats here. Give me the Bengals again. Hopefully Andy Dalton and A.J. Green won't make me regret it this time around.
Prediction: Bengals win, 20-13
Minnesota Vikings (1-0) at Indianapolis Colts (0-1)
The Andrew Luck era in Indy got off to a rough start against the ferocious Bears' defense last week, but the Colts are no doubt hoping he'll be able to rebound this week against a usually porous pass defense in Minnesota. However, a much-improved Christian Ponder and a seemingly healthy Adrian Peterson (both at least as of Week One) have me on the fence about taking the Colts. Actually, on second thought, I'm not on the fence — I'll take the Vikings.
Prediction: Vikings win, 23-20
New Orleans Saints (0-1) at Carolina Panthers (0-1)
The Saints were embarrassed by RGIII and the visiting Washington Redskins in Week One, but hey, at least they won the 'Bountygate' appeal, right? The Panthers lost to the Bucs' but there's an easy explanation for that seeing as they only had TEN RUSHING YARDS! Granted, Jonathan Stewart didn't play at all and DeAngelo Williams was ineffective (-1 yards on six rush attempts), but still, that's no excuse to give up on the running game when it's supposed to be the main part of your offense. Carolina is currently ranked second in the league against the pass, but that was only against a run-first team led by first-year head coach Greg Schiano. Give me Drew Brees and the Saints in this one.
Prediction: Saints win, 35-24
Houston Texans (1-0) at Jacksonville Jaguars (0-1)
The first of two matchups between these AFC South squads. The Jags' lost a heartbreaker in overtime against a beatable Minnesota Vikings team and are gradually working Maurice Jones-Drew back into the fold after he ended his holdout without a new contract. The Texans, meanwhile, simply could do no wrong against a bad Miami Dolphins squad led by an unimpressive inaugural performance from rookie quarterback Ryan Tannehill (20/36 for 219 yards; 0 Touchdowns and 3 Interceptions). After seeing Tannehill and the Dolphins' offense stink it up last week against the Texans, I'm not expecting much better from the Jaguars either.
Prediction: Texans win, 31-17
Oakland Raiders (0-1) at Miami Dolphins (0-1)
I know we bashed Miami a little bit above, but I had so much fun with it, I figured I'd might as well continue on with it in the prediction for their Week Two game against the Raiders. Miami scored a pathetic ten points last week against the Texans. How many of those points came from the offense? Zero. Zilch. Nada.
The Raiders lost a close game to the Chargers on Monday night by a score of 22-14. They shut down the Chargers' running game, but unfortunately, their running game with Darren McFadden and co. was shut down also. The Raiders will obviously need to fix that quickly if they want to beat Miami. I'm betting they will.
Prediction: Raiders win, 17-10
Arizona Cardinals (1-0) at New England Patriots (1-0)
The Cardinals managed to pull out a tough one against the division rival Seattle Seahawks last week despite losing starting quarterback (term used loosely in Arizona) John Skelton to a low ankle sprain. Kevin Kolb came in cold off the pine and engineered a game-winning drive, but as for who will start in this game for the Desert Birds, well, that's a good question. The Cardinals currently rank third against the pass, but like the Panthers, were facing a run-heavy team so that stat is likely a little skewed.
But enough about Arizona. Tom Brady and co. don't care about Arizona or really, any other team for that matter. They looked sharp against Tennessee last week and won comfortably by a score of 34-13. Stevan Ridley gives the Pats' a steady rushing attack while Brady and his tight ends and wide receivers will continue to do what they do through the air. If all goes according to plan, Bill Belichick's boys should be 2-0 after this one.
Prediction: Patriots win, 34-20
Tampa Bay Buccaneers (1-0) at New York Giants (0-1)
The records may not reflect it, but the Giants are a far superior team across the board. Expect the G-Men's pass rush to get back on track against the Bucs' after having a poor showing against the Cowboys on opening night. Something tells me that Victor Cruz won't drop as many passes this week, either. Give me the G-Men.
Prediction: Giants win, 28-17
Baltimore Ravens (1-0) at Philadelphia Eagles (1-0)
I already referenced earlier on that the Eagles had no business beating the Browns with how much they passed (56 pass attempts) Week One; especially with Michael Vick's four, count 'em, FOUR interceptions. That's a lot of passing and a lot of interceptions. Did Andy Reid hire Mike Leach as the Eagles' offensive coordinator!?
LeSean McCoy will have to be more involved in Week Two (yes, I know he had 20 carries for 110 yards) if the Eagles want to topple a stacked Ravens' squad. The key to the game will be how well the relatively young Ravens' offensive line holds up against that ferocious Eagles' pass rush. Call me crazy, but I like the Baltimore in this one. Overall, I still think their defense is better and I'm going to go out on a limb here and say that Flacco's play in Week One wasn't a fluke.
Prediction: Ravens win, 24-21
Washington Redsksins (1-0) at St. Louis Rams (0-1)
Steven Jackson couldn't muster up much of anything against the Lions, and if not for some late-game heroics from Matthew Stafford (who'd been terrible up to that point), the Rams might have gotten the upset. I don't see this one being quite as close however. Mike Shanahan's zone-blocking scheme should make for an effective running game to complement the electric RGIII while St. Louis will once again have trouble getting anything going offensively without left tackle Roger Saffold and center Scott Wells, who were both lost to long-term injuries in Week One.
Prediction: Redskins win, 23-13
Dallas Cowboys (1-0) at Seattle Seahawks (0-1)
Could this be the year the Cowboys finally put it all together? They certainly got off to a good start against the defending Super Bowl Champion New York Giants on opening night, and after a few additional days off are likely well-rested. I'm not even going to pretend that I like the Seahawks in this game despite the fact that they're playing at home where they're usually fairly successful. Dallas just has too much talent on both sides of the ball, and as long as they don't play down to their competition, it should be another W for Big D.
Prediction: Cowboys win, 31-17
New York Jets (1-0) at Pittsburgh Steelers (1-0)
Peyton Manning gashed the Steelers last Sunday. There's no way around it. They weren't blown out, but they were thoroughly defeated, if that makes any sense. But Mark Sanchez isn't Peyton Manning (despite how he and the Jets' offense looked against the Buffalo Bills last week). Ryan Clark, now safely out of harm's way in Denver (because of his sickle cell trait) will return to the lineup this week and look to wreak havoc in the secondary with his vintage big hits. While it's unclear if James Harrison (knee) will be able to go for Pittsburgh, I still like them by at least ten points in this matchup.
Prediction: Steelers win, 24-14
Tennessee Titans (0-1) at San Diego Chargers (1-0)
Despite his promises, Chris Johnson was not back to his CJ2K self last week against New England. He'll look to rebound here, but it's going to be a tough matchup against what appears to be stout run defense in San Diego (after they basically shut down Oakland). Jake Locker separated his non-throwing shoulder, but I'm betting, because he's such a tough son of a gun, that he'll be out there for Tennessee come kickoff. Nevertheless, if 'CJ2K' doesn't return to his 2010 form, the Chargers should win this one fairly comfortably, which I believe will be the case.
Prediction: Chargers win, 27-17
Detroit Lions (1-0) at San Francisco 49ers (1-0) on Sunday Night Football
Haven't we seen this movie before? Like last week? You know, the one where the 49ers go up against a prolific passing team and come out on top? While Calvin Johnson is a beast and Matthew Stafford has a cannon, I still think the Niners' defense proves too tough to handle for Detroit. Alex Smith and company do just enough on offense to get the win in prime time.
Prediction: 49ers win, 24-17
Denver Broncos (1-0) at Atlanta Falcons (1-0) on Monday Night Football
Peyton Manning's second regular season game back in the NFL since missing all of 2011. Denver's second prime time game in as many weeks. I'm sensing a pattern here...
Anyway, the Falcons looked great last week, albeit against a Chiefs' defense that was missing multiple starters including sack beast Tamba Hali.
The offense will be sound (unless of course Matt Ryan makes the mistake that Big Ben did in picking on Tracy Porter too many times), and should produce plenty of points, so it's all going to come down to John Abraham and Ray Edwards and the rest of Atlanta's defense. They'll already enter the game down a man after cornerback Brent Grimes ruptured his Achilles' thus ending his 2012 season.
The Sheriff
 seemed to know where the pass rush was coming last week and definitely won the mental chess match between he and Steelers' defensive coordinator Dick LeBeau. Look for more of the same this week. On another note, good luck blocking Elvis Dumervil and Von Miller for four quarters, Atlanta.
Prediction: Broncos win, 31-23
Be sure to follow Beard And Stache on Twitter 
@BeardAndStache
, and also Adam 
@Adam_Parker43
, Like our Facebook page 
HERE
!