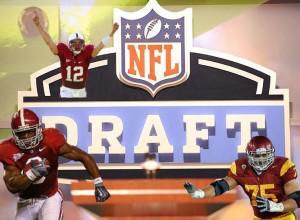 Photo: nflsfuture.com
- Adam Parker
If it wasn't already a forgone conclusion at this point, Stanford quarterback Andrew Luck and Baylor quarterback Robert Griffin III have all but guaranteed they'll be the first two names off the board in the 2012 NFL Draft.
If there was any lingering doubt or questions surrounding them, both Luck and Griffin have silenced the critics and lived up to the hype by killing it at their respective pro days.
After them though, the board is still unwritten.
So it's time to get to one of my favorite parts of the year -- the season of NFL Mock Drafts.
We here at Beard and Stache are like most people, we simply can't get enough of them.
But this year's different, and now that the bulk of the free agency frenzy has settled down, we've decided to join the party with our very own edition of the mock draft craze.
And with that, the Indianapolis Colts are now on the clock!
1. Indianapolis Colts - Andrew Luck, QB, Stanford
This is no surprise. All throughout ESPN's broadcast of Luck's pro day, the analysts kept drilling this phrase into the skulls of everyone tuning in:  'this is a once-in a generation event for a once in a generation-type of player.'
There's no doubt about that. Luck has been touted as the best quarterback prospect to come out of college since Peyton Manning, so it's fitting that he heads to Indy. Don't look now, but owner Jim Irsay and the Colts won the lottery once again and won't be bottom-dwellers for very long with Luck under center.
2. Washington Redskins (via St. Louis Rams) - Robert Griffin III, QB, Baylor
If Luck is No. 1, then RGIII is 1a. No doubt Mike Shanahan is simultaneously salivating and breathing a sigh of relief that his job is likely safe and the Heisman Trophy winner will be a force in his offense. The high risk and price tag surrounding this pick will unquestionably pay dividends for the 'Skins.
3. Minnesota Vikings - Matt Kalil, OT, USC
This is the pick you'll see in most of the other mock drafts and for good reason -- it makes the most sense. It's not a very deep offensive tackle class outside of the top three guys and the younger Kalil is far and away the best of the bunch. Matt will join his brother Ryan in the NFL, both first-round quarterbacks from last year's draft in the Panthers' Cam Newton (Ryan) and Minnesota's Christian Ponder (Matt).
4. Cleveland Browns - Trent Richardson, RB, Alabama
The Browns' selection here will determine how the first round goes for at least the next two picks. There are a lot of different ways they could go here, whether it be getting quarterback Colt McCoy a legitimate No. 1 receiver in Justin Blackmon, replace the departed Peyton Hills with Trent Richardson who is touted by many as the most complete running back prospect since Adrian Peterson, or reach for Texas A&M's Ryan Tannehill to make it three quarterbacks in the first four picks.
Smart pick here would be Richardson.
5. Tampa Bay Buccaneers - Morris Claiborne, CB, LSU
Les Miles is building a cornerback factory down there in the Bayou, and Claiborne is the latest LSU Tiger to take his talents to the NFL. Easily the best cornerback in the draft, Claiborne instantly provides depth and stability to a Bucs' secondary that boasts 37-year-old franchise staple Ronde Barber, free agent acquisition Eric Wright and the oft-legally challenged Aqib Talib.
6. St. Louis Rams (via Washington Redskins) - WR Justin Blackmon, Oklahoma State
Rams fans everywhere rejoice! St. Louis nabs the top receiver in the class by a long shot and finally gives former No. 1 Sam Bradford a reliable target to help rev up that otherwise pedestrian passing game.
7. Jacksonville Jaguars - Melvin Ingram, DE, South Carolina
Unfortunately for the Jags, history in the AFC South seems destined to repeat itself, meaning they'll likely be up against quarterbacks with bright futures in the Titans' Jake Locker and Indy's Luck. Ingram adds another piece to that already borderline-championship caliber defense and will no doubt help shore up an abysmal pass rush that finished 2011 tied for 25th in the league in sacks.
8. Miami Dolphins - Riley Reiff, OT, Iowa
This pick is a basically a toss up. No one throughout NFL circles really knows what the Dolphins' front office is doing. Hell, I doubt they even do. That being said, I'm not a big fan of the inexperienced Ryan Tannehill, so it doesn't make sense to me to set this franchise back another five years by reaching for a quarterback when there's a perfect bookend for Pro Bowl left tackle Jake Long staring them in the face.
Reiff is the pick here.
9. Carolina Panthers - Quinton Coples, DE, North Carolina
The comparisons to Julius Peppers are a nice sign for the Panthers with this pick. They could definitely use some help along the interior of the defensive line, but this is one of the deepest drafts for defensive tackles in years. The Panthers bank on the Coples/Peppers comparisons coming to fruition and go with Coples here to complement Charles Johnson, looking to nab a defensive tackle some time in the next few rounds.
10. Buffalo Bills - Luke Kuechly, ILB, Boston College
The Bills have been extremely noisy in free agency this off-season, adding 'Super' Mario Williams and Mark Anderson to hopefully strike fear into the eyes of Tom Brady and the Patriots. Nick Barnett is entrenched at midde linebacker and will still be the quarterback of this defense.
That being said, Kuechly is too good to pass up here and has the pass coverage skills and strength to be a solid Sam linebacker while also being the heir apparent to Barnett in the middle.
11. Kansas City Chiefs - Dontari Poe, NT, Memphis
There are a lot of different ways the Chiefs could go with this pick. The 350-pounder blew everyone away at the combine with his freakish athleticism and though he's more potential than production at this point, there aren't many true nose tackles anymore with his raw skill set. Stanford's Jonathan Martin is also a possibility here to replace the underwhelming Barry Richardson.
12. Seattle Seahawks - David DeCastro, OG, Stanford
Pete Carroll takes another Pac-12 guy, big surprise, right? Even more surprising is that it's yet another offensive lineman. However, Seattle's offense is built around the run and DeCastro, who many compare to a Steve Hutchinson clone, is a monster in the trenches that will be blasting holes through the defense for Marshawn "Skittles" Lynch to run through.
13. Arizona Cardinals - Jonathan Martin, OT, Stanford
Back to back Stanford offensive lineman off the board here. This is a huge need for Arizona as their offensive tackle play in recent seasons has been nothing short of horrendous. Martin spent three years protecting the best collegiate quarterback in Luck, so he shouldn't have any trouble slotting in to protect whoever Arizona throws out there at quarterback.
14. Dallas Cowboys - Stephon Gilmore, CB, South Carolina
This guy has elite physical tools and is flying up the draft boards. The Cowboys are in desperate need for a cornerback talent like this to shore up their underachieving group. Jerry Jones will be absolutely giddy to see Gilmore, who's flying up draft boards, still on the board at this point.
15. Philadelphia Eagles - Fletcher Cox, DT, Mississippi State
The "Wide 9" technique needs loads of interior help. Cox is a force inside who can not only help stuff the run but can also generate some pass pressure up the gut. If Boston College's Luke Kuechly somehow falls to this point, the Eagles won't hesitate in snagging him though, even if they did just add Demeco Ryans in a trade with Houston.
16. New York Jets - Courtney Upshaw, OLB/DE, Alabama
The vaunted Rex Ryan Jets defense is starting to age, especially at linebacker. Upshaw is a bit of a tweener but we've seen what Ryan has done with 'tweeners' in the past. See Terrell Suggs.
17. Cincinnati Bengals (via Oakland Raiders) - Janoris Jenkins, CB, Northern Alabama
Jenkins is an elite cover corner but has shown to have several red flags surrounding his character and run-ins with the law. Sounds like a perfect fit for Cincy. Head coach Marvin Lewis will add another client to his list at his second job where he moonlights as a therapist.
18. San Diego Chargers - Cordy Glenn, OL, Georgia
Glenn was the definition of versatility between the hedges at Georgia. He was a stud inside as a guard but can also be played outside. With the retirement of Kris Dielman, look for San Diego to plug Glenn inside as the hopeful long-term replacement.
19. Chicago Bears - Michael Floyd, WR, Notre Dame
With the uncertainty surrounding Brandon Marshall's most recent run-in with the 5-0, Floyd could be a welcome addition to the Bears' offense; not only making Cutler a happy man but also taking some of the pressure off stud back Matt Forte. Offensive tackle is another potential need here.
20. Tennessee Titans - Dre Kirkpatrick, CB, Alabama 
After losing Cortland Finnegan to the Rams in free agency, the already depleted Titans' secondary regressed into a full-on skeleton squad. Kirkpatrick is a blue chip cornerback prospect who fills a huge need here.
21. Cincinnati Bengals - Lamar Miller, RB, Miami
With their second first round pick, the Bengals look to add some lightning to complement their thunder in the running game brought on by recent free agent pick-up Ben Jarvus Green-Ellis. Miller's elite speed coupled with the "Law Firm's" power and toughness could make for a nasty tandem to help take pressure of sophomore quarterback Andy Dalton.
22. Cleveland Browns - Mohamed Sanu, WR, Rutgers
Many think South Carolina's Alshon Jeffery could be the pick here, but Sanu played with some serious jam at his pro day and has been skyrocketing up draft boards ever since. This could very well end up being the steal of the draft.
23. Detroit Lions - Mike Adams, OT, Ohio State
Lions fans are probably clammering for a cornerback with this pick, but after seeing what Matthew Stafford can do if he's healthy like he was in 2011, keeping him upright should be the first priority. Cornerback will likely be addressed in the coming rounds.
24. Pittsburgh Steelers - Dont'a Hightower, ILB, Alabama
The Steelers have big needs at guard and cornerback. That being said, most of the top prospects are gone by this point in the round. Look for general manager Kevin Colbert and the draft scouts to tab Hightower to be an immediate replacement for the departed James Farrior in the middle.
25. Denver Broncos - Jerel Worthy, DT, Michigan State
Worthy is another one of those tenacious pass-rushing defensive tackles who also has the strength and versatility to stuff the run. With the uncertainty surrounding Marcus Thomas' free-agent status as well as the loss of Brodrick Bunkley to the Saints, this pick is a no-brainer.
26. Houston Texans - Kendall Wright, WR, Baylor
It's finally time to get the all-world talent WR Andre Johnson a legitimate No. 2 running mate. Wright has the speed to stretch the field and will no doubt prove to be the dynamic playmaker the Texans (and Johnson) have been searching for for years.
27. New England Patriots (via New Orleans Saints) - Mark Barron, SS, Alabama
The Patriots need defensive help in this draft wherever they can get it. The days of getting to skate by riding 'Golden Boy' Tom Brady's coattails are over. He's going to need some help from his teammates on the defensive side of the ball. Barron's a great fit here, considering the Pats' were essentially pulling guys in off the street last season to play in their secondary.
28. Green Bay Packers - Whitney Mercilus, OLB/DE, Illinois
Talk about a match made in heaven. Mercilus was a pass-rushing connoisseur last season with the Fighting Illini, and would be a perfect 1-2 punch with Clay Matthews on the other side. The Cheeseheads are ecstatic about this one.
29. Baltimore Ravens - Harrison Smith, FS, Notre Dame
This could also very well be either Peter Konz or Kevin Zeitler, both interior offensive lineman from Wisconsin. Let's face it, the Ravens would be happy with Konz as the long-term replacement at center for veteran Matt Birk while Zeitler could probably start from day one in the spot vacated by Ben Grubbs after he signed with New Orleans.
That being said, Smith tore it up at the combine and got Deion 'Primetime' Sanders' stamp of approval. Seems like a good fit to me considering the team also lost Haruki Nakamura and Tom Zbikowski to free agency as well.
30. San Francisco 49ers - Stephen Hill, WR, Georgia Tech
I almost went with Stanford tight end Coby Fleener here, simply from the standpoint that he and Harbaugh are familiar with one another and he would be great alongside Vernon Davis; giving the 49ers what might arguably be a better version of the tight end tandem in New England.
However, I'm really high on Hill and considering the whispers of Calvin Johnson-like comparisons, it's hard not to be. At 35, Randy Moss is only a temporary fix at the wide receiver position at this point and Hill's size and speed could be a great long-term complement to Michael Crabtree in San Fran.
31. New England Patriots - Nick Perry OLB/DE, USC
New England is in dire need of a pass rusher, having lost Mark Anderson to the Bills via free agency. They inked former Raider defensive end Trevor Scott to a deal, but adding Nick Perry gives Bill Belichick yet another versatile chess piece to move around in his defense.
32. New York Giants - Coby Fleener, TE, Stanford
Tight end is quickly becoming one of the most important positions in the NFL, and unfortunately for the defending Super Bowl Champion G-Men, they don't exactly have a quality option at the position with guys like Jake Ballard and Travis Beckum on the roster. Enter Fleener, who's ability to stretch the field and 6'6" frame will be a welcome security blanket and red zone touchdown magnet for Eli Manning for many years to come.
Agree? Disagree? Let us know in the comments!
Be sure to follow Beard And Stache on Twitter 
@BeardAndStache
, 
and also Adam 
@Adam_Parker43
, Like our Facebook page 
HERE
!