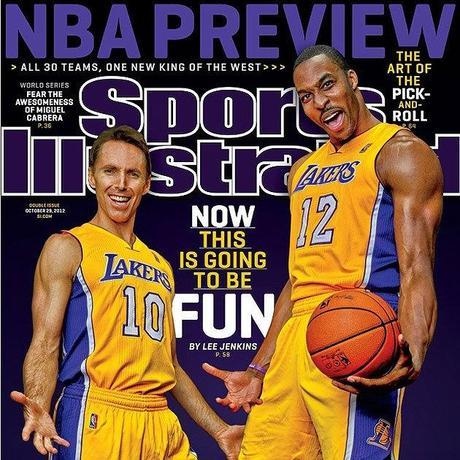 Image: Sports Illustrated
- Adam Parker
It's that time of year, again everyone. The NBA season — this time with a full 82-game schedule thanks to no lockout — is finally upon us and with it, comes the return of our NBA Season Tip-Off Power Rankings.
There were plenty of movers and shakers during the off-season, including starts like Steve Nash and Dwight Howard leaving the Phoenix Suns and Orlando Magic respectively to team up with Kobe Bryant in Laker Land and Ray Allen leaving more money on the table in Boston to join the Big Three in Miami to chase a few more championships in the twilight of his Hall of Fame career.
We have thirty teams to sort through in our rankings, so without further ado, let's begin.
1. Miami Heat -
This comes as a surprise to no one. The Heat are not only the defending NBA Champions, but they also have two of the top five players in the world on their squad in LeBron James and Dwyane Wade. Chris Bosh is an All-Star caliber big man who's importance will be paramount if Miami is to repeat.
If having the Big Three wasn't enough, this team only got better and scarier during the off-season after inking long-range sniping specialists in Ray "Jesus Shuttlesworth" Allen and Rashard Lewis.
Is Miami's offense a little unorthodox when compared to the more traditional teams like the Thunder, Spurs, Lakers and Celtics? Absolutely. But there's no doubting its effectiveness and with Allen and Lewis now in South Beach, the Heat are poised to be even better.
2. Oklahoma City Thunder -
I almost put the Lakers here because of all the off-season news they made with their multiple high-profile acquisitions. Nevertheless, it was this young Oklahoma City squad who represented the Western Conference in the NBA Finals a year ago; not the Lakers.
Young superstars Kevin Durant and Russell Westbrook will continue to be a force for many years to come in this league, and Serge Ibaka and now Kevin Martin (who will step in for the recently traded James Harden) will undoubtedly make big impacts as well. The Thunder are a young team but they have plenty of playoff experience as a cohesive unit. Rest assured, they're not going anywhere anytime soon.
3. Los Angeles Lakers -
Kobe has two new friends to play with in fellow 1996 draft classmate Steve Nash (a hell of a draft if you ask me) and the best center in basketball in Dwight Howard. All signs point to Dwight's back not holding him back this season and the with Pau Gasol also still in tow, this Lakers squad is poised for a few more runs at a title in the twilight of the Black Mamba's career.
4. San Antonio Spurs -
Their star-studded core may be getting older (even Tony Parker has now joined the 30-years old club along with Manu Ginobili and Tim Duncan) but by no means would it be wise to bet against them. They're extremely well coached by arguably the best coach in the league in Gregg Popovich and still have the talent, experience and depth to hang with anyone on any given night.
5. Indiana Pacers -
This choice may catch some people off guard (I know because I feel the same way as I type it) but the Pacers are a great team. They may not have any big-name superstars, but there's something to be said about a club being greater than the sum of its parts.
That's not to say that guys like Danny Granger, Paul George and Roy Hibbert aren't great parts, because they are. This defensive-minded group may not be in the center of the limelight, but you can bet that they'll be in the playoffs competing for their shot at a title nevertheless.
6. Los Angeles Clippers -
The upcoming season marks Chris Paul's first full one as a member of the Clippers, which means Lob City should be even better.
The return of Chauncey Billups from injury and the additions of quality veterans like Grant Hill, Jamal Crawford and Lamar Odom should help alleviate the worries some people had about the team's depth last year. Hopefully this year you'll hear more chatter about the Clippers making waves in the playoffs than head coach Vinny Del Negro's job security.
7. Boston Celtics -
Like the Spurs, the Celtics' star-studded core is starting to age as well. Kevin Garnett and Paul Pierce remain while Ray Allen has moved on to Miami. Jason Terry and Courtney Lee come in to fill Allen's role and Rajon Rondo is one of the best point guards in the game today.
The Celtics will be in the fight. Remember, they did push Miami to seven games last year in the Eastern Conference Finals and while losing Allen is big, I doubt Ray-Ray switching sides and defecting to Miami will be a major factor in Boston being right there at the end again.
8. Brooklyn Nets -
The Barclays Center is set for it's inaugural season of hosting the new-look Brooklyn Nets, who, in addition to keeping Deron Williams and Gerald Wallace, also added perennial All-Star Joe Johnson to the roster. Brook Lopez and Kris Humphries will be an underrated tandem down low and with a guy like Marshon Brooks coming off the bench, this team could be more dangerous than people think.
9. Chicago Bulls -
There's no doubting the coaching ability of Tom Thibodeau nor is there any doubting of the defensive prowess of this club. But the fact of the matter is, until their leader and star Derrick Rose makes his return to the court, I can't justify putting them higher than this even if they did add Nate Robinson and Kirk Hinrich to the roster.
10. Memphis Grizzlies -
Very well coached squad by Lionel Hollins. The younger Gasol brother might be the better of the two at this point and he, along with Rudy Gay, Zach Randolph and a steadily improving Michael Conley at point guard make these Grizzlies very ferocious to contend with indeed.
11. Philadelphia 76ers -
Depth, youth, athleticism, and more depth. Oh, and they added stud center Andrew Bynum to be a force inside for them on both sides of the ball. It remains to be seen if Doug Collins can keep Bynum focused and if the 76ers' training staff is up to the task of keeping him healthy, but if both things come to fruition, this team could have a case for being higher on this list.
12. New York Knicks -
Joining the Knicks' core of Carmelo Anthony, Amare Stoudemire and Tyson Chandler this season — the first full season for Mike Woodson without the "interim" tag next to his job description — are veterans Jason Kidd and Marcus Camby. I personally love both signings. Both guys may be getting up there in years but can still be very effective in reserve roles and with Chandler anchoring the center spot and the returning Raymond Felton starting at point guard, that's exactly the role they'll play.
Granted, they still need to figure out their offensive identity, but there's just too much talent on this team for them not to make the playoffs. Is anyone else as anxious as we are for this first Brooklyn Nets/New York Knicks match-up?
13. Denver Nuggets -
George Karl has got to be the best when it comes to getting the most out of the roster you have and basically doing more with less — talent, that is.. because we all know the depth is there in spades.The Nuggets are arguably the deepest team in basketball and with the addition of Andre Iguodala (who I think is the absolute perfect fit for a George Karl-coached team), this team should be primed to make some noise in the postseason.
14. Atlanta Hawks -
In his first month on the job, Hawks' General Manager Danny Ferry found a way to rid the organization of the terrible long-term contract they signed Joe Johnson to. Is JJ a star? No doubt about it, but the guy was making 'Kobe money', which he's simply not worth.
Ferry then added guys like Louis Williams, Devin Harris, Kyle Korver and Anthony Morrow in addition to drafting solid rookies in the sharpshooting Vanderbilt grad John Jenkins and the tenacious albeit undersized big man in Mike Scott. The Josh Smith saga is likely to loom over this team like a dark storm cloud throughout the season, so the question is, do they keep him and try to make a playoff run or send him packing out of fear of his likely high price tag?
15. Dallas Mavericks -
Mark Cuban missed out on creating the "Triple D's" in Dallas when he struck out while trying to add Dwight Howard and Deron Williams to a Dirk Nowitzki-led Mavericks team this off-season. Nevertheless, Dallas is still a quality club. Elton Brand, Chris Kaman and O.J. Mayo are all quality underrated acquisitions that should help this team be better than maybe we think they'll be.
16. Minnesota Timberwolves -
No Ricky Rubio to start the season but you do have a newly re-signed star in Kevin Love who is hungry to win and wanted a commitment from the organization to improve the roster so they
could
win. David Kahn obliged with the signings of Andrei 'AK-47' Kirilenko and Brandon Roy — two players both making their triumphant returns to the NBA.
17. Golden State Warriors -
Will this year be the year that this young and energetic Warriors' squad makes a playoff push? The addition of Andrew Bogut (who will finally make his Golden State debut this season) via the Monta Ellis trade late last year finally gives them the interior presence necessary to contend in the Western Conference.
In the end though, it will all come down to the health of Stephen Curry and Bogut. If they can stay on the court, the Warriors could take that all-important next step. If not, they're doomed to miss the playoffs again.
18. Houston Rockets -
Outside of the recently acquired James Harden, the Rockets are a team without any real stars. However, they have plenty of depth on the roster and are extremely well coached by Kevin McHale. They're a fringe playoff team at best.
19. Utah Jazz -
I really feel like the Jazz could surprise some people this year. They have great talent and depth in the frontcourt with guys like Al Jefferson, Paul Millsap and the young Derrick Favors. Look for Mo Williams to have a rebound year now that he's back with the team that originally drafted him. Jerry Sloan may no longer be on the bench for Utah, but their disciplined mentality on both sides of the ball remains.
20. Portland Trail Blazers -
LaMarcus Aldridge is an All-Star at the power forward position and guys like Nicolas Batum and Wesley Johnson will be big contributors as well. In recent years (outside of last year when they admittedly tanked once they realized they were out of playoff contention) the Blazers have been in the thick of things for the playoff race in the Western Conference and with the electrifying rookie Damian Lillard running point, look for this team to make a push for the seventh or eighth seed in the West.
21. Milwaukee Bucks -
Samuel Dalembert joins the Bucks as the de facto replacement for Andrew Bogut who was sent to Golden State for Monta Ellis. Between Ellis and Brandon Jennings, you have one of the most electrifying backcourts in basketball. The only problem? As good as the two of them will undoubtedly be offensively, they'll be just as much of a liability on the defensive end. The Bucks will be exciting to watch, but don't expect a playoff berth.
22. New Orleans Hornets -
Anthony Davis. The Brow. He and Eric Gordon will make this group an interesting team to watch, but they're still a few years away from having serious playoff aspirations.
23. Phoenix Suns -
The Steve Nash era has finally come to an end in the Valley of the Sun. Enter Goran Dragic, who makes his return to Phoenix as the new starting point guard after earning a nice contract because of his late season play with Houston. Michael Beasley, Wesley Johnson and Luis Scola are also new roster additions. While I feel like this year's team will be better than last year's squad when it's all said and done, they'll likely still finish near the bottom of a tough Western Conference.
24. Washington Wizards -
A starting five of John Wall, Bradley Beal, Trevor Ariza, Emeka Okafor and Nene is clearly a vast improvement over the Wizards' lineups we've seen in recent seasons. They still have some work to do in the coming years, but I feel like they've finally taken a step in the right direction in terms of building their roster.
25. Sacramento Kings -
DeMarcus Cousins and rookie Thomas Robinson make up one of the best young frontcourts in basketball. They, along with Tyreke Evans, are the future of the Kings going forward. Now, if only they could get a new arena...
26. Toronto Raptors -
The fifth overall pick in the 2011 Draft, Jonas Valanciunas, joins the team after one more season overseas. Kyle Lowry and Landry Fields are the new additions to the backcourt for Toronto and Andrea Bargnani, now in his eighth season in the league, is a fringe All-Star big man in the mold of Dirk Nowitzki. Look for a breakout season for DeMar DeRozan this year. He has all the athletic ability in the world and has consistently getting better with his shot. Still, no playoffs for the Raptors.
27. Cleveland Cavaliers -
Reigning Rookie of the Year Kyrie Irving proved to be as good as advertised last season for Cleveland, and this year the Cavs' added a backcourt partner for Irving in the former of the No. 4 overall pick Dion Waiters out of Syracuse. The Cavs' are slowly but surely getting better, but they'll still be near the bottom of the pack.
28. Detroit Pistons -
I'm not sure how I feel about the Andre Drummond pick. Granted, a duo of Drummond and Greg Monroe in the frontcourt could make Detroit very dangerous if the Drummond pick actually works out. Nothing much else to say here. Detroit is just another young and rebuilding team that won't make much noise.
29. Charlotte Bobcats -
While Michael Kidd-Gilchrist is no slouch, after the season the Bobcats had last year, Anthony Davis would have been a godsend. A new head coach and veteran additions like Ben Gordon, Ramon Sessions and Brendan Haywood should make this team a little better. At the very least, you can bet they'll win more games than they won last year. Still, expect a few more high draft selections in this team's future.
30. Orlando Magic -
Dwight Howard has been traded and by receiving no real legitimate talent in return but a bunch of draft picks, it's obvious that this team will be looking to build through the draft. It'll probably be a few years before they're out of the cellar.
Be sure to follow Beard And Stache on Twitter 
@BeardAndStache
, and also Adam 
@Adam_Parker43
, Like our Facebook page 
HERE
!