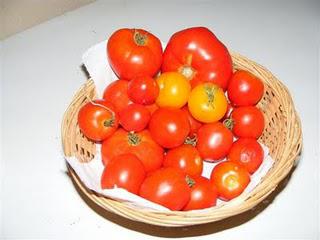 Overall, the best Tomato harvest for some years!
The varieties of Tomatoes I grew this year were:
Black Russian: yield 275g (2plants)
*Golden Sunrise: yield 5359g (2plants)
Green Zebra: yield 138g (2plants)
Tommy Toe Yellow: yield 266g (2plants)
*Kotlas: yield 12976g (4plants)
Red Oxheart: yield 529g (3plants)
Red Cherry: yield 573g (3plants)
Ida Gold: eaten outside without weighing (3plants)
*Silvery Fir Tree: yield 8812g (3plants)
*
Best Yield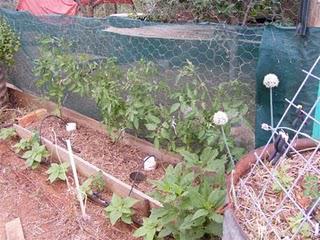 Oxhearts
planted 14 Oct 2010
Notes:
Were planted in a shallow wicking bed next to the chookrun fence
No pruning but tied to wire of fence
Problems:
This wicking bed needs rebuilding the growing area is much too shallow
The wire moved in strong winds this weakened the plants roots
50% white shadecloth overhead but the 70% shadecloth on the eastern side of (supporting) fence meant no direct sun reached the tomatoes at all
End of season:
They grew slowly and only started to set small fruit in mid January
Were removed in April to allow the wicking bed to be re-built.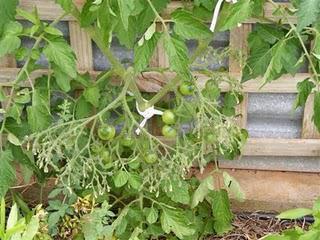 Red Cherry
planted 14 Oct 2010
Notes:
Grew up an old trellis on the eastern side of the house
Had little pruning but were tied to the trellis
Were not grown in a wicking bed but were on drippers
Received morning sun for only 2-3 hours
70% shadecloth directly above
End of season:
Have produced an adequate crop, still producing (end April)
Intend giving some extra TLC (pruning and feeding) to prolong harvest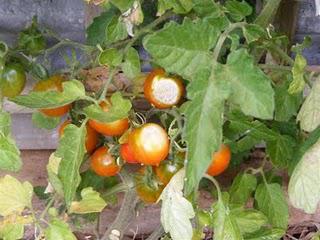 Red Cherry Tomatoes suffered minor sunburn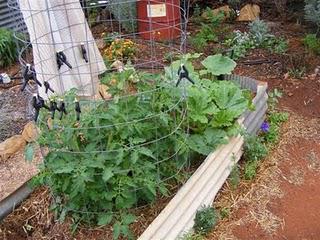 Golden Sunrise
planted 14 Oct 2010
Notes:
Planted in bed 6 Main Veg Garden - new wicking bed.
Grew within a wire cage 2 metres tall, placed as wicking bed filled
No pruning or tying
Holes in wire cage were large enough for hands to reach in for harvest
Hose was attached to top of wire when shadecloth added
The tops of plants pinched were out as they neared the top of cage
Suffered minor burning to leaves from hot wire during extreme heat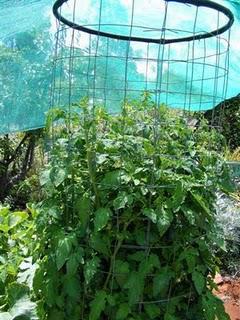 End of season:
Growth has been excellent with little work or extra feeding.
Still producing until mid April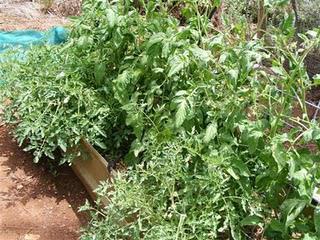 Kotlas and Silvery Fir Tree
planted 24 Oct 2010
Notes:
Planted in old chook run in a new wicking bed
Minimal pruning or tying
Weldmesh** (1 metre high) placed in centre of bed when plants were young
Plants trained to this by weaving shoots through (Kotlas)
Outgrew mesh but were not damaged by this
50% white shadecloth thrown over on sunny days and loosely attached
Both varieties produced well
End of season:
Growth was good with little attention and no extra feeding.
Kotlas still producing fruit (end April)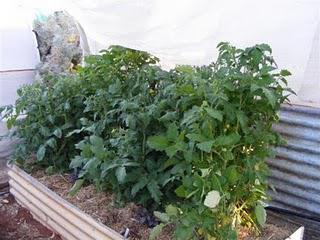 Green Zebra, Black Russian and Tommy Toe Yellow
planted 23 Nov 2010
Notes:
Planted in bed 5 wicking bed in Main Veg Garden
Weldmesh** support added for climbing - only 1 metre high
No pruning but tied to mesh support (this was needed)
50% shade cloth over bed
Tommy Toe developed yellowing leaves and did not produce well
Green Zebra and Black Russian put on moderate leaf growth at the expense of fruit
End of season:
Produced a small harvest until March when they were removed to make room for brassica planting.
Should have been better controlled - on higher support with regular pruning and tying
- my bad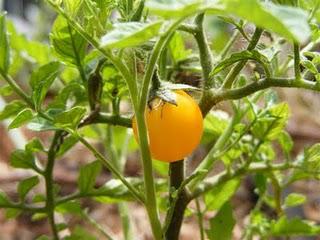 Ida Gold
Notes:
Where planted in Tank Bed f (non wicking)
Grew slowly
Produced an adequate crop for grazing/nibbling while gardening or while feeding the chooks!
End of season:
Were removed during March to allow Kale to be planted.

Our favourite eat of the bush tomato this year was

Golden Sunrise
!



Further Reading:
A review of the South Australian tomato growing year from ABC (radio) Adelaide Saturday Talkback Gardening.
Jon Lamb's 2011 Tomato Review
To see how the various Garden areas fit on our half acre block check out the newest Map of our place
HERE
**Weldmesh is used to reinforce concrete
,
available in sheets and cut using bolt cutters
.