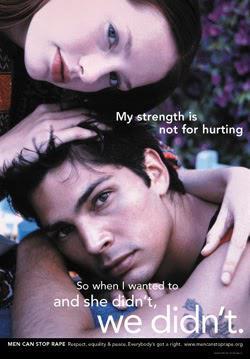 (Above) One of the many campaign ads
from Men Can Stop Rape, an
organization that seeks to redefine
masculinity and "mobilize men to
use their strength for creating cultures
 free from violence, especially
men's violence against women."
It's heartbreaking that I have to post this, but
clearly
sexual assault is an issue that we can't overlook. According to the
Rape Abuse and Incest National Network (RAINN)
, a person in the U.S. is sexually assaulted every two minutes. According to that logic, there will be another victim —  maybe two —  by the time you finish reading this article.
Extending emotional support to sexual assault and rape survivors is certainly a topic for another post, but the link I'm about to share contains tips that could potentially spare
you
the pain of ever being caught off-guard in a dangerous situation. Sure, some of the tips are no-brainers (i.e. be aware of your surroundings), but if it could mean the difference between going into a situation
prepared
and going in
unprepared
, why not take a few minutes to look these tips over?
Here are the first 3 tips from
20 Ways to Lessen Your Risk of Sexual Assault
:
Enroll in self-defense classes: Nearly every major city — and plenty of suburbs — hosts at least a few different self-defense and martial arts schools, as do many colleges and universities. Try to find one within a viable price range and workable schedule and put forth the effort to take regular classes. Make sure to also thoroughly research both the businesses and the different strategies they teach before making any commitment. Even if participants never have to put their newfound skills to use (and here's hoping they don't!), self-defense is one of the most valuable investments individuals make for their own safety and peace of mind.
Carry a weapon: Consider supplementing those self-defense classes by keeping a weapon concealed somewhere, like a purse or underneath a jacket. For those uncomfortable with the thought of owning a gun, options such as pepper spray, mace, stun guns or batons and plenty more provide a satisfactory level of protection as well. No matter which one proves best, however, anyone owning such devices must absolutely familiarize themselves with proper care, use, maintenance and (of course) legalities. Particularly when looking into gun ownership.
Travel in packs: It's not always possible to step out with a few friends in tow, but take advantage of any situations where it is. Predators feed on vulnerability, as assault and rape have everything to do with power and almost nothing to do with sex. A small group, particularly one with a little self-defense training and/or weapons in the ranks, will certainly make each member feel far safer than if they were to travel alone. This strategy works well for parties, too, as a throng of trusted pals can look out for one another and intervene when it looks like something ugly might happen.Read the rest of the article here!Check out these unsettling statistics from the RAINN's website: