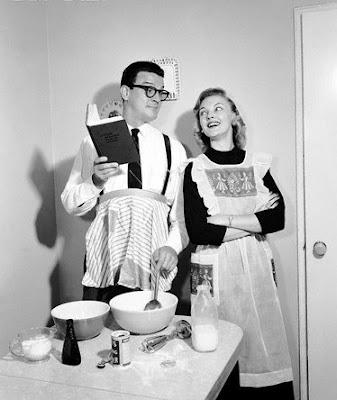 *Begin Dream Sequence*
And a maid, a driver, a hair dresser, a make up artist, and a personal trainer.
*End Dream Sequence*
Last week, we found ourselves in the kitchen, trying to figure out what to have/make for dinner. It was 7pm and we only had a bunch of exhausted looking arugula and a red pepper. In the freezer, we had half a bag of cooked shrimp. In the pantry, we had 5-minute couscous and a can of chickpeas. Hmmmmm. What to do? We decided to throw together a healthy, hearty salad instead of ordering in. I'm particularly cautious about eating a meal after 8:00 pm
since it's apparently not the greatest idea.
Mind you, I never really know who to trust when it comes to healthy living. Dr. Oz says one thing, another Dr. says otherwise. Don't you ever wish someone would just cut the crap and tell it like it is?.... Frustrating! Anyway, they say necessity is the mother of invention (well, we didn't exactly invent anything but we did create a salad that didn't make HH roll his eyes). The salad requires a handful of ingredients that you most likely keep in your fridge. It's easy, quick and full of goodness.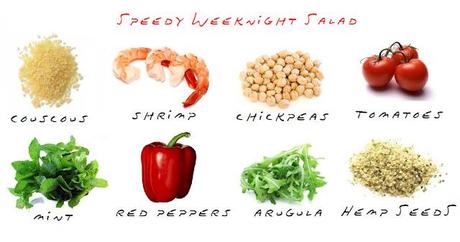 The 8 ingredients above are all you need but of course, you can replace with vegetables or beans that you prefer. Whatever the combination, it will be delicious especially with the addition of hemp seeds and mint. Hemp seeds taste like pine nuts and add a level of depth to the simple salad. The couscous and chickpeas are perfect to fill you up (for hours and hours and hours) and the shrimp and veggies are a light compliment. We made a simple dressing of olive oil, balsamic vinegar, salt, pepper and a spoon of mustard. Whisked together, poured, mixed and voila.... deeelightfully deeelicious!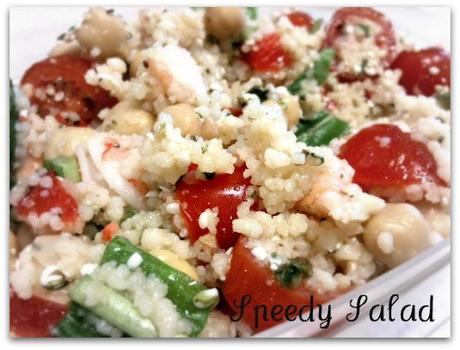 The salad tastes really really good the next day (so you can pack it up for lunch). If you're ever in a dinner bind, here is a great website to bookmark. 20 minute supper club. You can find some wonderful recipes that will satisfy hungry husband's and all. 
Enjoy.