Electronic document distribution in the online medium has been monopolized for a handful of years by Adobe's Portable Document Format, PDF for short. Not only does it provide unmatched convenience by supporting over three hundred file types but it's also the preferred go-to method for sharing text content worldwide.
This particular format is used widely, and a lot of extensions are being accepted, thus conferring it a significant number of people who opts to use this service to share data.
PDF is however not recommended when it comes to image sharing as files which contain such images tend to be large and also make them a lot harder for downloading as well as sharing.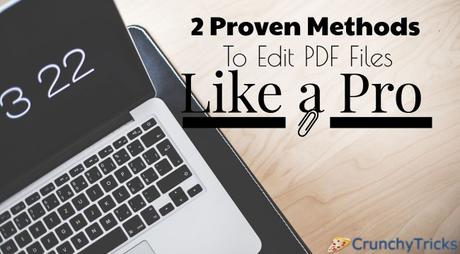 Irrespective of how skilled one can be in handling PDF content, editing is an entirely complicated story as if one wishes to do so he will need a broad range of PDF tools. Editing is usually done when people are not content on how the way an article, brochure or flyer looks, and there are a large number of options on how such files can be edited.

Microsoft Word is perhaps the easiest tool with which a PDF file can be edited as it offers a simple menu which does the job extraordinarily. One just has to click on the Open option from the drop-down menu and figure out where the PDF file is.
Afterward, he is to locate the PDF file and then open it. After that process is complete, select whatever editing tool just like one would edit a Word Document. Do bear in mind however that the format of the text might be changed automatically but you can tweak that by manually changing the font in Word.

If one is required to edit PDF files regularly then he is advised to purchase desktop editing software such as Adobe Acrobat which comes with a price tag of $450 for a one-time purchase or via a subscription system of $50 per month. Or one can opt for alternative i.e. Soda PDF which offers a wide variety of PDF tools.
Adobe Acrobat is very beginner friendly and intuitive, and it also comes with a detailed set of instructions on how the program should be used. The first step is to locate your file, open it in Acrobat and then select the Tools option and look for Content Editing panel.
PDF editing will be devised into parts such as links, bookmarks, attaching a file, images, and texts. Select which part needs editing, and you are pretty much set. Make sure an appropriate tool is used, and options might be slightly different, depending on which software version it is used.