I bought this 
17 Wild Metallics
cream eyeshadow about a month ago and actually forgot about it. When I tested it in the shop, I loved the color and how smooth it went onto my skin.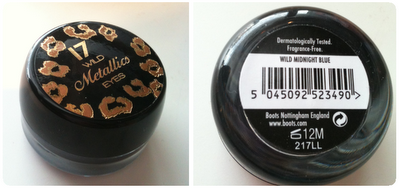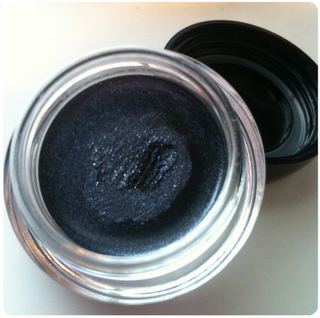 As you can see, the color is so pretty. It's a black cream shadow with all different flecks of sparkly color. I was going through my make-up drawers earlier, spotted it and took it out straight away to try and do a make-up look to post on here. Well, I haven't been so disappointed with a product as this one.  When doing a blog and posting reviews, I think it's only fair that I post an honest opinion about something good or bad. I don't know if it's just me or the product but it's not good at all.
I applied a foundation over my eye, like normal, gently powdered, like normal and applied my Benefit stay don't stay primer as a base. I wanted to try and do a black smokey eye so I applied this and then buffed it out with my MAC 217 brush. I then used MAC's carbon over the top. When doing this with any other eye cream/mouse/paint pot it's fine, this one creased straight away and gathered in my crease area.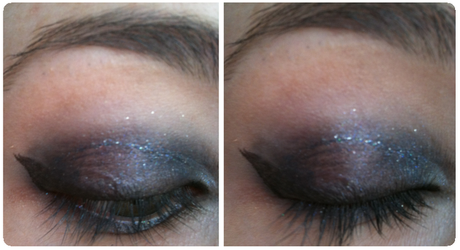 I then just applied (rather messily I might add) some eye liner for the sake of it, but can you see how it's already gathered into the crease? If it did that after a minute, I hate to think what it would look like at the end of the day.
I'm so disappointed as I love the color of this so much, but it's really put me off buying anymore from 17. Luckily it's only priced at £3.99 it's not such a waste but I still don't want to throw it away. I love 17's normal powder shadows as they are actually really really pigmented, but never mind. I guess we can't like everything.
Have you tried this cream shadow? What did you think of it?