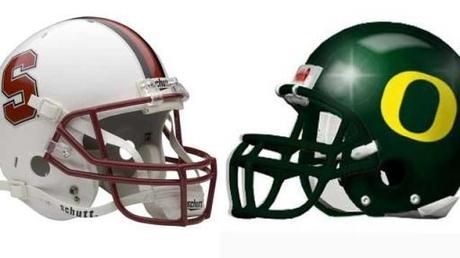 #13 Stanford @ #2 Oregon
The Cardinals travel to visit the Ducks in a game that has BCS Championship hopes on the line.
The Stanford Cardinals are looking to spoil the Oregon Ducks trip to the Championship game with a win.  Though the Ducks look to prove to voters they belong in the Championship game.
Not only could this be a spoiler for a BCS Championship spot, the Cardinals could jump the Ducks in the Pac-12 North standings.  This would leave the Ducks hoping they can at least secure a spot in a BCS Bowl game.
The Cardinals have only allowed an average of 17.1 points per game while the Ducks are scoring an average of 54.8.  The Ducks however have allowed an average of 22.3 points per game and the Cardinals have scored an average of 29.1.
Let us know who you think will win this game!