Good morning everyone and MERRY
CHRISTMAS
to all of you!! May each Christmas be the warmest and most wonderful one for you and your family! Of course, I trust that we have been good all year so I hope that our Christmas stockings are filled all that we wished for too! ;)
Today also marks the first of our 12 Days of Round-Up series so let's begin with a brief recap of the nail polish trends that have fought for the spotlight in 2012!
Perhaps they were feeling the heat from the indie polish makers... 2012 turned out to be a busy year for the nail polish companies. Apart from cranking out new shades, they have worked very hard, sometimes too hard, to put out innovative nail polishes to satisfy our never-ending demands for fresh new manicures. 
OPI Spotted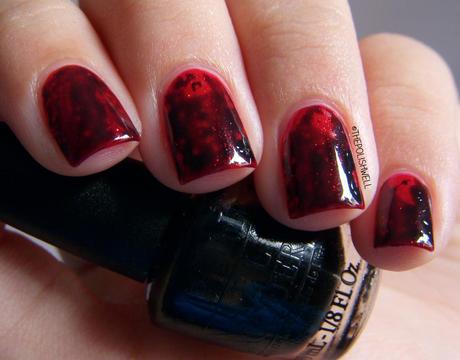 OPI Spotted over Sally Hansen Red Carpet
No doubt, the shatter/crackle trend is so two-thousand-and-eleven - yes, that includes glitter shatters/crackles *looks at OPI and CG* But when OPI released Spotted exclusive to France as part of the Amazing Spiderman Collection, the nail community went into a frenzy and everyone wanted a piece of it. And it is not hard to see why! Leaving aside the fact that it has been labeled with the magic word "exclusive", OPI Spotted creates a more elegant and mysterious shrouded effect as compared to shatters/crackles. While the latter gives a punk-rebel look, Spotted exudes more style and class. 
Application is not easy though. The base color must be completely dry or Spotted will crack. For the best results, you must use
very
very
thin coats or the effect won't show. Clearly I still need to work on my application. Wear time isn't fantastic either and it peeled off with the top coat (leaving behind the base color) on my second day. For more details, you can check out
Nailderella's post
. 
Unfortunately, this is (was?) only available in France because of a substance that was prohibited in some other countries. Alternatively, you may consider the Layla Bubbly Effect polishes in a range of colors - although I think black is the most elegant color for this effect.
Caviar / Fishegg Manicure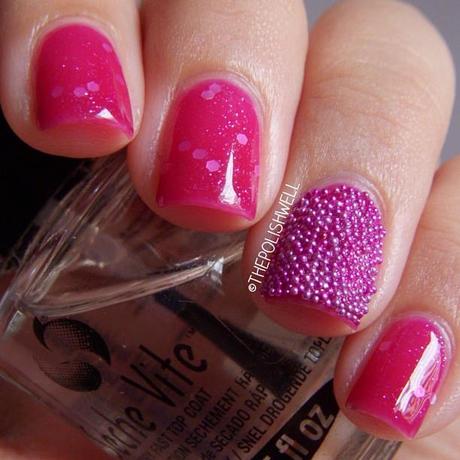 Craft beads on the ring finger; Jelly sandwich with OPI Houston, We Have a Purple and Pirouette My Whistle on the rest
Now, this is a trend that got entangled with some controversy when Ciaté attempted to claim intellectual property rights over it. That aside, I was not too impressed with the look when I first heard of it. Being a typical pragmatic Singaporean, I wondered if the beads will even stay long enough on the nails for the day. It would look pretty ugly if bald patches start appearing on my nails.
I finally took the plunge and wore it for my mum's birthday dinner since it is just a quick and small family affair. Instead of putting the beads over a wet mani, I stuck them over a coat of PVA glue and they held up pretty well. Removal was also easy since I could just peel the beads off in one sheet. The only downside was that the glue turned wet each time it comes into contact with water so I think I will try something else next time, if I even do it at all. It didn't look too bad but it wasn't very impressive either. I ended up touching it the whole time just because I was fascinated with the texture. lol!
Velvet Manicure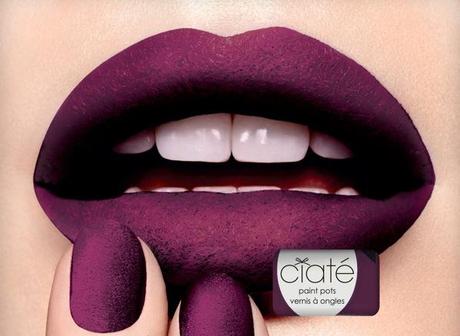 Magnetic Polishes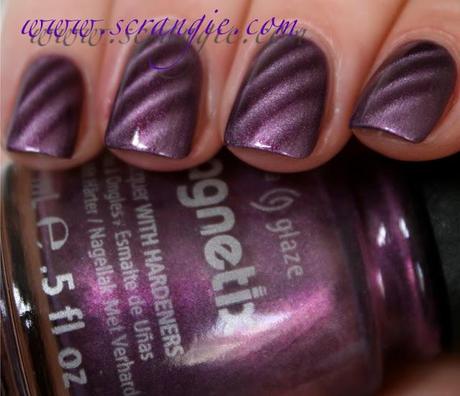 Source: scrangie
Strictly speaking, magnetic polishes may have been around even before 2012 but most of the big brand companies jumped onto the bandwagon this year. Before we knew it, the whole market was flooded with magnetic polishes from high-end brands like Deborah Lippmann to drugstore brands... you get the idea.
I had been really attracted to the idea at the start of the year but my interest kind of withered out even before I bought one to try for myself. There are just too many of them! Admittedly, there are some that stood out from the rest by having different magnetic designs or adding holo glitters (OPI) so those are the ones that I would try if I ever decide to.
For a useful post on how to work with magnetic polishes, please see
this on Scrangie's
.
Goldleaf Toppers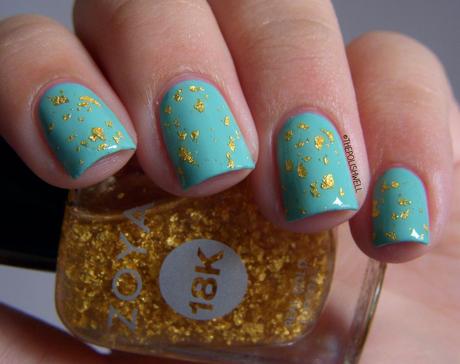 Zoya Glitzy over China Glaze For Audrey
Gold - the one metal that has captured human hearts since time immemorial. So, it is really not that surprising to see a brief gold craze when the big brand companies (OPI and Zoya) started to release their own goldleaf toppers late this year. They were not the first to have goldleaf toppers but they definitely made a huge wave with their large followings.
I did my best to resist but my resolve crumbled into pieces in no time at all (I'm only human!). Thankfully, 
Lacey from Lace and Lacquers
 offered to help me get Zoya's limited edition (damn those magic words) Glitzy set. She also sent me a freaking awesome swap package but that's a story for another day (I really need to stop procrastinating with my blogposts).
To be honest, I am not a normally a gold lover because it can come across as being too heavy sometimes but I love how the goldleaf topper adds just the right amount of class and luxury without overdoing it. I think it is the only way I will ever wear yellow gold. It is also versatile and goes really well with several colors. This is one of the rare times I splurge but at least I know I won't be buying
real diamond polishes
. :et
If you have missed the boat for Zoya's Glitzy, you can also consider Ninja Polish's gold (
The Midas Touch
) and white gold (
He Went to Jarred
) topper.
So, after hearing so much talk from me, what do
you
think of the nail polish trends in 2012? :i
Which nail polish trend caught your heart and which did not make the mark?
xoxo,
mich