How are you celebrating 11-11-11?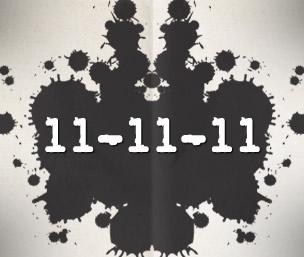 Some people are getting married, gambling, or making wishes. A lot of people are honoring Veterans, which I wrote about how important that is in yesterday's post. I just got back from running a couple of errands and it seemed like a lot of people are out and about doing something or other.
In numerology, today is a day that favors matters of the heart rather than the mind. More practical matters should take a backseat.
According to Numerology.com:
"The number 11 is directly associated with the feminine number 2, but while the 11 is therefore feminine, it takes these traits to much greater heights. The symbol "11″ itself, even – the numbers 1 and 1, side by side – actually shows us a tunnel or funnel that represents the 11′s most important trait: the power to channel what is not visible or known, and bring it down to our level. It is the link between two worlds – the 11 is the gray area."