Nothing says "Punjabi's" much lounder than the aroma of its culture and traditions. Famous for its richness and distinctive style in dance, food, cloths and its traditional songs. Punjabi's none celebration or occasion is completed without the distinctive graceful style of mehndi in hands of sultry punjabi girls. These desings in itself shows the tale of punjabi mehndi. Unlike gujarati, arabic, western mehndi styles the beautiful punjabi mehndi designs has its own uniqueness and tale of its culture and legacy. If wondering what kind of mehndi to put on hands which gives a balance between modern functionality, simplicity and a tale embeded on hands with warmth. We bring you some ideas of classic beautiful punjabi mehndi designs.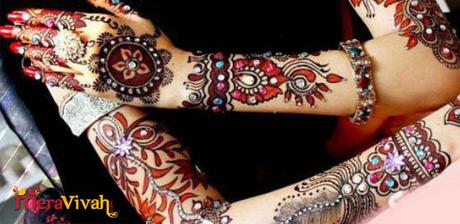 #

Jewellery Pattern
This is one of its unique pattern of punjabi's. A classic mehndi style which is embedded on hands as it is full of unique jewelry patterns and this design surely lets you mesmerize by all for long.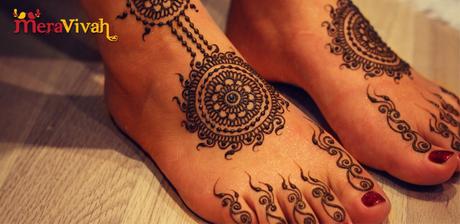 #

Legs Design
Punjabi mehndi art can be seen beautifully on legs of girls and women, it is carved so beautifully that it seems like an anklet in legs or also depict like wearing a traditional jewerelly of toes in legs. This type of punjabi mehndi designs in legs gives you an awesome look.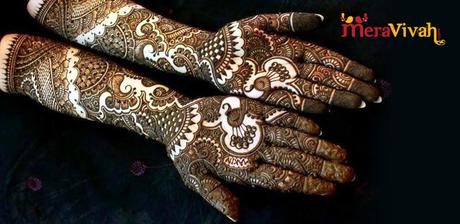 #

Peacock('Mor' in centre) Design
The oldest and most traditional Punjabi mehndi design is Mor. A peacock is made in the center of the palm and the designs is stretched upward and downwards in hands to give it an exceptionally beautiful look.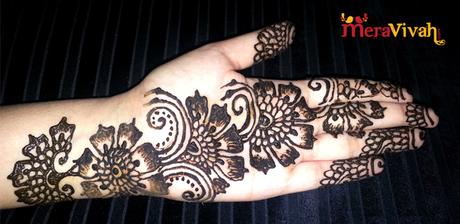 #

Flowers Pattern
Flower pattern mehndi is an amazing art which is fragmented and stays in eyes of everyone for a long long time when applied in hands. An art with all knitty gritty.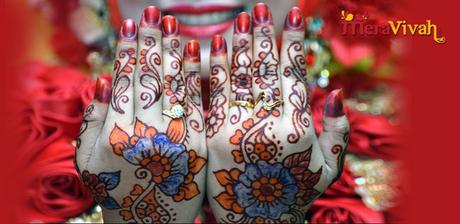 #

Colour Mixing And Shadings Designs
This unique shadings in punjabi mehndi gives you  different look from all others and a center of question. An amazing work.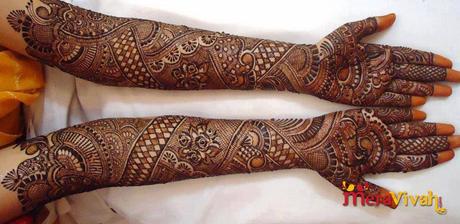 #

Punjabi Culture
This design depicts faith in real Punjabi culture besides it's a blessing carved on hands aesthetically. Hardly seen but principally remembered.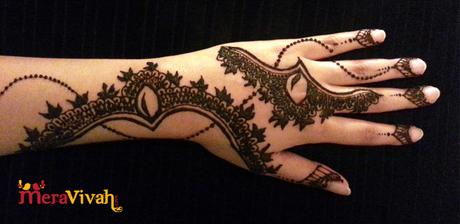 #

Zigzag Patterns
These types of Punjabi mehndi designs are good for casual outlook. Another good Punjabi art looks fascinating and can be matched with your dressing sense.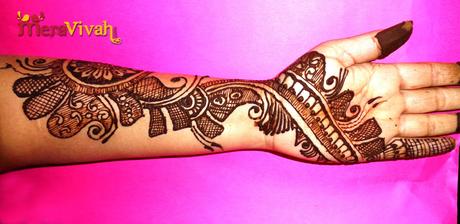 #

Corner Patterns
This Punjabi pattern is woven very carefully, an artistic design loved by most and gives you a look of delicate henna art.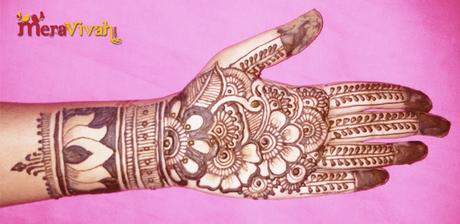 #

Creepers and Leaves
One of the most beautiful patterns of real leaves encarved on hands this goes best with sari. Creepers and leaves on hands is an outstanding charismatic henna art.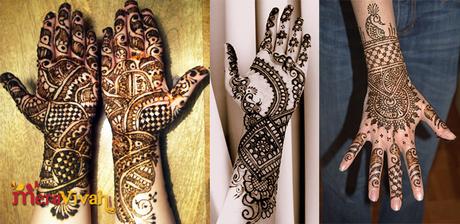 #

Fishnet Pattern
This Punjabi mehndi design looks beautiful and has its own unique art in itself with fish nets. It gives you a look of gloves in hands. A unique style of Punjabi's mehndi in hands.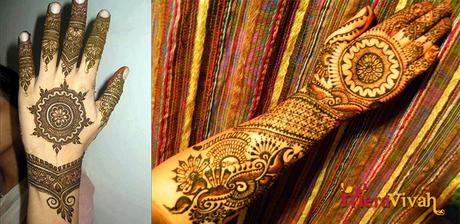 #

Circular Motif
It has its own beauty and show simplicity and an amazing keen artwork on hands which stays in eyes for long.
Punjabi weddings, its culture and its exclusive mehndi are not remained or stick to punjabi's only. They have fused with every culture and loved by all the most. Decorate using your imagination for distinctive, graceful style.
Meravivah.com, brings for you the most unique and exclusive KYC Profiles to match your fusion and culture. Join here to find your weaved imaginative partner with all the social unique features. Get register to get married with all the 3 rights, right partner, right time and right match.
Comments
comments