BEAUTY
❤ ❤ ❤ ❤ ❤ ❤ ❤ ❤ ❤ ❤ ❤ ❤ ❤ ❤ ❤ ❤ ❤ ❤ ❤ ❤ ❤ ❤ ❤ ❤ ❤ ❤ ❤ ❤ ❤ ❤ ❤ ❤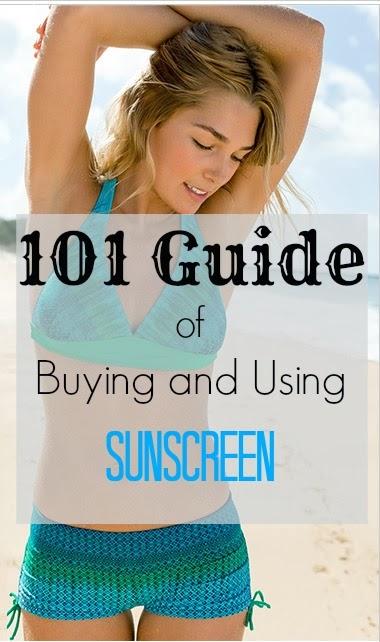 S

ummer is around and there is one product that we get dedicated to i.e. sunscreen.
Sunscreen
is a must-have and must-use product these days. Dermatologists emphasize on using it, we buy it and forget using it out of laziness, and probably because we do not really know how MUCH it is important for us. I researched many articles to know everything about sunscreen/sunblock and simplified it.
Difference Between UVA and UVB Rays: 
There are two types of sun rays that we protect ourselves - UVA and UVB. Here is a quick difference between both rays.  
UVB
is more harmful and affects our skin during/after noon, summer and around snow and water. SPF No.  on a sunscreen defines how effective it would be in protecting our skin from UVB rays. 
UVA
is more harmful than UVB as it can penetrate clothes, glass and goes deeper in our skin causing skin cancer, premature aging, skin damage etc. PA i.e. Protection rate of UVA on a sunscreen defines how effective a sunscreen would be in protecting us from UVA rays. It also protects from UVB rays.
Difference Between Sunscreen and Sunblock:
Sunscreen absorbs, sunblock reflects. 
Sunscreen gets absorbed in the skin, sunblock often appear white on skin.
Sunscreen contains benzophenone (protection against UVA), cinnamates and salicylate (protection against UVB); sunblock contains titanium dioxide and/or zinc oxide.
Ingredients To Look For While Buying Sunscreen
Buy sunscreen with zinc or avobenzone which helps block UVA damage.
Antioxidants like green tea, pomegranate, Vitamin C etc. that will protect from free radicals, environmental pollutants.
Use a sunblock with titanium dioxide or zinc oxide to block UVA and UVB rays both.
The Right No. Of SPF
Apply at least SPF 15 daily and for prolonged sun exposure.
Apply SPF30 with water resistant formula when around water or snow like beach, mountains etc.
Higher the SPF, the better.
 PA rating (PA+, PA++ or PA+++) should be the highest, it means it would provide maximum protection to the skin.
How To Apply and How Many Times (Peak sun hours are between 10 AM and 4PM)
Apply every one hour or two hours.
Apply either on top of the makeup or underneath.
 Wear it over moisturizer.
Fair skin? apply every two hours.
Olive or medium skin? apply every three or fours hours.
Darker skin? Three times a day.
All skin tones must apply more often when in and out of water.
Never apply an expired sunscreen.
Use sunscreen on lips too.
Dermatologists say we should wear sunscreen on scalp too, just go for an oil-free formula.
P.S.
This guide will be updated as more and latest information is available.
Sources:
1
2