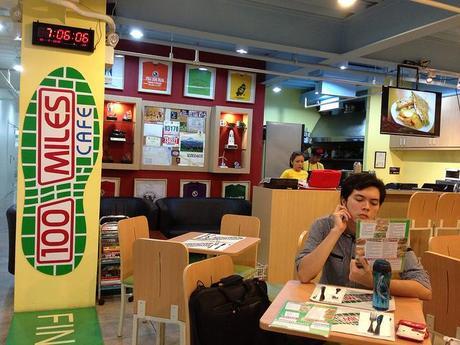 Now, I'm not claiming to own this fine establishment. It's just that it's such a well-hidden good place that most of the time that we eat here, including Friday nights, it's pretty barren. I'm not complaining, far from it. We have come to enjoy the privacy and quiet that goes with a meal at 100 Miles. Well, as long as they never close due to lack of customers.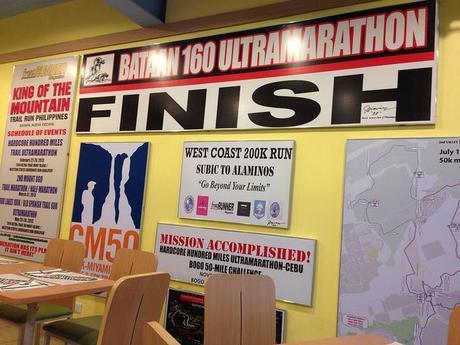 As you can see, the place is very running-themed, hence the name. It's more than just a theme, because they offer lockers and even their showers for nearby runners who want to use the facilities before or after dining here. I love it here for the same reason I do our recently featured Stacy's: near the office, good food, relatively cheap, too! We've eaten here many times already, and these are what we usually order.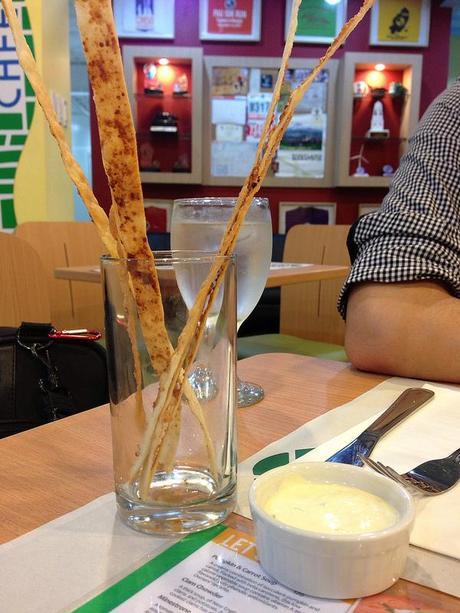 Complimentary Bread Sticks
This comes before every meal. A bit too thin for me, but it goes well with the sauce and hey, better than nothing!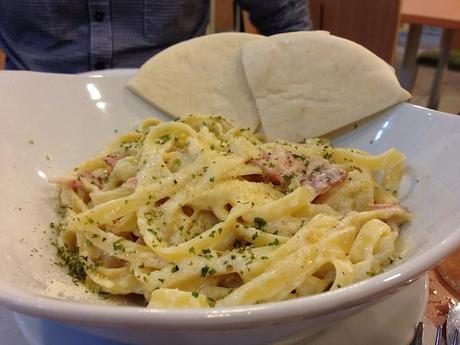 Fettuccini Carbonara, P180.00
Pasta with the classic and comforting creamy white sauce topped with bacon bits. Served with bread.
Ahh.. my usual creamy pasta choice. The taste is okay, but what I love about this carbonara is the noodles. I usually prefer the wider noodle varieties, and especially if it is cooked
al dente
 as it is in 100 Miles. This is how carbo-loading should be done! (pun not intended)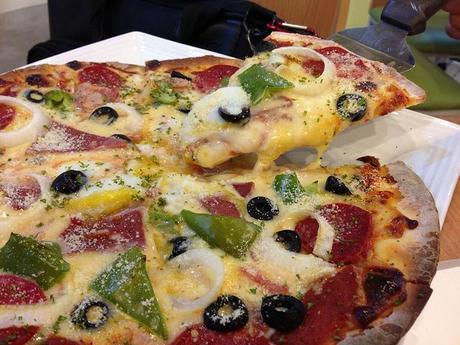 100 Miles Pizza, P215.00
Guaranteed to satisfy that carbo-load craving (with added protein). Chicken, salami, bacon, arugula, red bell pepper, green bell pepper, button mushroom, white onion, black and green olives layered with mozzarella. To top it all off - one sunny side-up egg. A complete meal!
There's just something about sunny side-ups that make it go well on everything in its own sloppy way. Pizzas are definitely the case. This pizza isn't thick-crust like I wish it was, but the ingredients on it were quite good.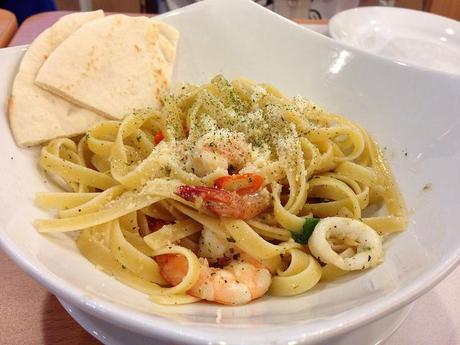 Seafood Aglio Olio, P195.00
One of our most popular pasta dishes. Pasta with spicy seafood made up of white prawns, squid, and mussels mixed with garlic and olive oil. Served with bread.
This is Alvie's usual order, since she's not much for the creamy pasta. It's very flavorful,
al dente
, and mildly spicy. A tasty combination! This is one of the best 100 Miles has to offer. Look at that squid and shrimp (skinless!).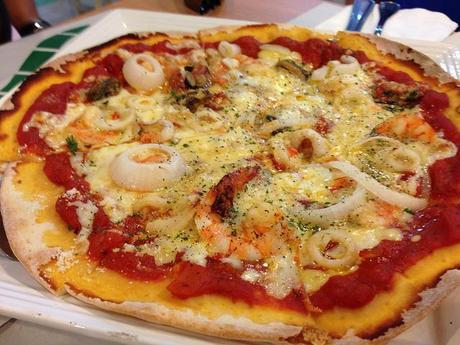 Seafood Pizza, P215.00
The seafood treat for seafood lovers. Prawns, squid, mussels, white onion, mozzarella and parmesan cheese.
This pizza's about as good as the 100 Miles Pizza. Not my favourite, but still very good. But wait, isn't that true for all kinds of pizza? Haha.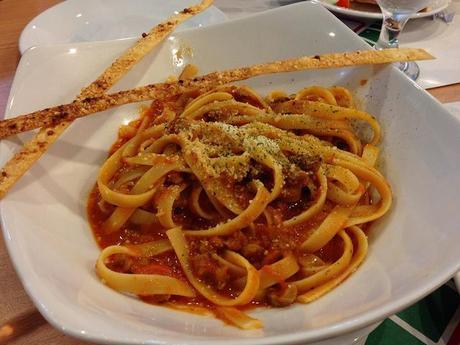 Spaghetti Bolognese, P180.00
Everyone's favorite. Ground beef and herbs mixed in the familiar Italian rich red tomato sauce. Served with bread.
Truthfully, I do not remember this very much, apart from the fact that the noodles are good. I guess they use the same noodles for any of the types of pasta we ordered. I prefer the other two kinds much more, as I'm not much of a meat sauce person.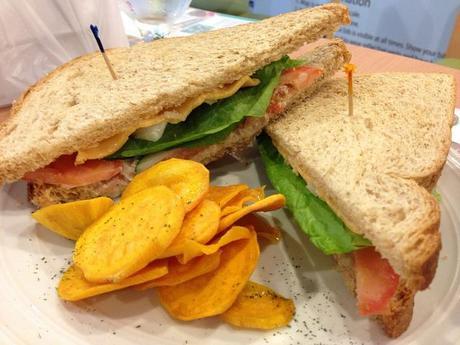 Tuna Melt Sandwich, P160.00
The go-to protein meal. Juicy tuna flakes topped with white onion, tomato, cucumber, and cheddar cheese. 21 grams of carbs, dietary fiber at 1 gram and 23 grams of protein. Served with sweet potato chips. Your choice of bread - whole wheat bread or full grain bread.
Purely a healthy choice, not for taste. For the price, I would much sooner choose pasta, but if you need something that would make you a little less guilty and would have more protein, this is for you. As a sandwich, it isn't bad and the sweet potato chips are good on the side too.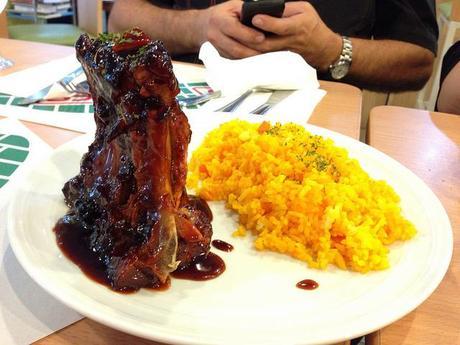 Barbeque Pork Spareribs, P195.00
Experience the "falling off the bones" moment. Tender pork spare ribs in an unbelievably flavorful sweet BBQ sauce. Served with java rice.
When I saw my brother order this tower of a meal, I asked myself why I never tried their rice meals before. Haha. It ain't no Racks, but it tastes good, it was tender enough, and there was a lot of it, and that's more than good enough for me. The rice was flavorful, too!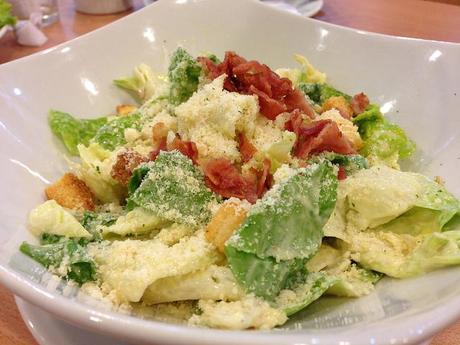 Caesar Salad, P180.00
Traditional salad of iceberg lettuce, cheddar cheese and cucumber, with bits of anchovies and bacon. Choice of honey mustard, thousand island or caesar dressing.
I feel sad to admit that since I joined a BMI reduction challenge at the start of April, this is pretty much the type of food I've been eating and it's what I'd be inclined to order if I visited here nowadays. Their salads are good, I tried the Mediterranean salad too and it was truly enjoyable. It's just that for the same price, you'd wish you were wolfing down Carbonara or the tower of ribs. Haha.
Menu:
Page 1
Page 2
Verdict:
Complimentary Bread Sticks: Okay
Fettuccini Carbonara: Very Good!
100 Miles Pizza: Good
Seafood Aglio Olio: Very Good!
Seafood Pizza: Good
Spaghetti Bolognese: Good
Tuna Melt Sandwich: Good
Barbeque Pork Spareribs: Very Good!
Caesar Salad: Good
The last time we ate there, the place was packed by the time we left (a definite first), so I hope everyone hasn't found out The Fort Strip's best kept secret! Drop by and check the place out, and feast on their good selection of healthy or carbo-loading food!
Love 100 Miles? Hate it? Let me know by commenting below, or just
tweet
me!

100 MILES CAFE
2/F Fort Pointe II, 28th St.,
Fort Bonifacio, Taguig City
(02) 808 6001
Operating Hours: 11:00 am - 9:00 pm
Facebook: 100 Miles Cafe
View Larger Map
Other Restaurants in The Fort:
Brasas: Latino Heat
Chuck's Deli: Buffy the Sandwich Slayer
Good Earth Roasts (GER)
Gyu-Kaku: The Time is Ripe to Grill Some Tripe
Hungry Hound Pub + Kitchen & Niner Ichi Nana
IHOP: The Latest Pancake Craze
Jollibee: Ultimate Burger Steak and Flip Float
Kasbah: A Moroccan Lunch
Kebabers: Cheese Kebabs
Órale!: The Best Quesadillas
Pancake House: Cookie Butter Pancakes Surprise
The Best Pasta of Pasto
SM Aura Premier: Pepper Lunch Express under the Sky Park
Racks: My Favourite Ribs
Red Garlic Bistro: Trotting the Globe, Clove by Clove
S&R: My Favourite Pizza
Saboten: Enjoyin' Some Loin
Saint's Alp: Taiwanese Chicken Goodness
Sbarro: Rolling in the Deep Dish
Seattle's Best: Sea Salt and Salad
Stacy's: A Slew of Snacks
Stella Wood Fired Bistro: Nothing Less Than Stellar
Sunshine Kitchen: Second Dawn
Tapeo: Spanish Surprise at the Fort Strip
The Cheese Steak Shop: Philly Cheese Steaks in the Phillyppines
Toast Box: Going Goreng
Tokyo Tokyo: Burgers and Chopsticks
To
nchaya Japanese Kitchen & Bar: Okonomiyummy
URBN: Dining with Style
Uncle Cheffy: A Piece 'a Panizza
Wildflour's Cronut: The Doughnut and Croissant's Love Child
Wrong Ramen: The Weirder, The Better
Yabu: Bed of Rosus
Let Me See That Zong