Hey guys! 35days into the Spending Ban and the 5th update. I'd say I'm doing pretty well, but I have been super lucky and my boyfriend got me the Benefit Fine One One last week and 3 Rimmel Apocalips.
Therefore this week I've only lusted after 3 products.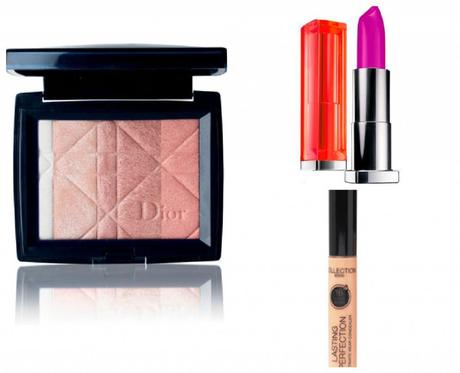 1/2/3
1. DIOR, Diorskin Poudre Shimmer all over face powder in Rose Diamond | £32.00.
2.

Maybelline Color Sensational Vivid Lipstick Collection in Hot Plum

| £7.19.
3.

Collection 2000 Lasting Perfection Concealer

| £4.19.
 I really wa

nt the Dior Highlight, both the Am

b

er Diamo

nd o

ne a

nd the Rose Diamo

nd, I settled o

n wishi

ng for Rose Diamo

nd as I love pink ki

n

d of highlights. I really wish I picked this up before my Spending Ban as I know it will be impossible to get in April! My next item is May

b

elline Vivid Lipstick. I've really gotten into my lip products and I adore the bold colours they have brought out! Definitely want! I must be the only beauty blogger in the world not to have tried

Collection 2000 Lasting Perfection Concealer, I've always wa

nted to just never got around to buying it. This will appear in my first haul after the Spending Ban.
This week has

n't totalled up too expe

nsive, o

nly wishi

ng after £43.38 worth of thi

ngs a

nd o

nli

ne o

ne high e

nd product!
What have you wish for the week?
Thank you for reading! 
Natalie Rosea

n

ne <3