Hey guys! I'm well into my 100 Day Spending Ban, already on day 23. Last week wasn't so hard in the sense of make up, I only got annoyed with the MUA 50% - that started Monday - but my boyfriend was so kind to get me some things for Valentines day. This week I've bee struggling not getting fashion items more than anything! I actually have 5 things on my wish list this week.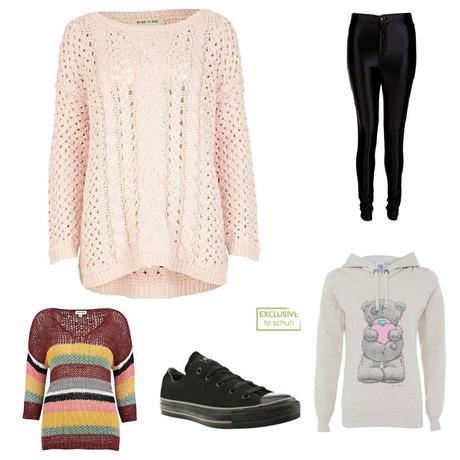 1/2/3/4/5
1. Pink cable knit boxy jumper - River Island | £38.
2. Glamorous Dance Pants - Republic | £28.
3. Brown striped tape knit jumper - River Island | £35.
4. Womens Converse All Star Ox Trainers - Schuh | £43.
5. Me To You Grey Valentines Teddy Hoodie - New Look | £19.99.
I've wanted Disco Pants for so long and Republic finally have an all black looking pair, I really want to wear them with just a day look. I love cardy jumpers at the minute, I mean literally adore them, I have quite a few. I love the neutral kind of colours, so that's why I chose a pink one, but also there brown striped jumper keeps standing out to me as I pass the shop. I love the colours and I'm itching to get it! The Converse are for a more practical reason, or so I say, because I really want them for work. I live in Converse every single day, ad it sucks I have to wear all black shoes for work ad so these would work so well! Finally I just fell in love with this cute Valentines day hoody, it would be perfect for the cold we've been having lately.
This week I've would have spent an eye watering £163.99, which is more than I get paid weekly! The 100 Day Spending Ban is really putting into context how much I want to sped each week.
You ca
n see my rules here, update #1 here a
nd update #2 here.
What have you guys wish for this week? Or even bought? Let me know in the comments!
Natalie Roseanne <3