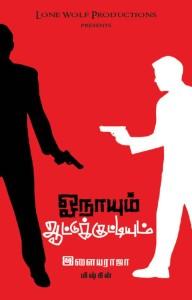 Out of the 500-odd films released in four southern languages – Tamil, Telugu, Kannada and Malayalam, the following films may not have earned a robust box-office number but still managed to elicit positive response from the audience and critics alike.
10 best southern films of 2013:
"Onayum Aatukuttiyum": It's the most underrated Tamil film of the year from filmmaker Mysskin, who also featured in it with a bevy of newcomers. Fittingly titled "Onayum Aatukuttiyum", which translates to "The Wolf And The Lamb", it is a touching story about the redemption of an ex-assassin (wolf) on a mission to amend his past with the help of a medical student (lamb). Maestro Ilayaraja's background score breathed life into the masterpiece.
"Lucia": This film changed the way how others looked at the Kannada film industry, usually popular for producing loud commercial films, mostly remakes of its southern counterparts. Not only did "Lucia" earn critical as well as commercial acclaim but also introduced the concept of crowd-funding and paved the way for aspiring filmmakers. A story set against the backdrop of lucid dreaming, the film is already being remade in Telugu, Tamil and Hindi.
"Mumbai Police": Contrary to how cop flicks are made in Indian cinema, this Malayalam crime thriller is a cut above several films in the same genre across industries. "Mumbai Police" is a well-narrated and well-performed realistic picture backed by the support of an apt cast, to which you don't mind rooting for.
"Soodhu Kavvum": This dark Tamil comedy shows what it means to make a film just to make audiences laugh. Unarguably the funniest film of the year, "Soodhu Kavvum" is powered by the presence of poster boy Vijay Sethupathy. A box-office blockbuster, it revolves around four misfit kidnappers who try something way out of their league. Imran Khan will feature in the Hindi remake of the film, which will be produced by Rohit Shetty.
"Anthaku Mundu Aa Tharavatha": A rare Telugu film that proves it is possible to make a modern-day romantic tale sans sex and vulgarity. With Indraganti Mohan Krishna at the helm of it, "Anthaku Mundu Aa Tharavatha" doesn't dare to experiment, but questions the spate of romantic films that reek of cheesy one-liners and respects the intelligence of a viewer. And what a comeback film for "Roja" fame Madhoo!
"Neram": A story that revolves around the events that take place in a single day in the life of the protagonist, the Tamil thriller-comedy focusses on the importance of time in one's life and its subsequent repercussions. "Neram" was one of the few films in the language that pleasantly surprised everybody who watched it. Alphonse Putharen, who directed the film, will soon remake it in Hindi.
"North 24 Kaatham": An endearing story about the meeting of three strangers on a hartal day and their journey. Debutant director Anil Radhakrishna Menon's Malayalam drama "North 24 Kaatham" is about life's randomness and hope. Packed with intermittent humour, this is one of the best films of actor Fahadh Faasil, who had 10 more releases this year.
"Swamy Ra Ra": A simple story about fate, the Telugu crime-comedy revolves around three friends who rob for a living. Laced with humor and occasional thrills, "Swamy Ra Ra" is a welcome change for the industry plagued by mindless commercial outings. The film's music was one of the best soundtracks of the year.
"Neelakasham Pachakadal Chuvanna Bhoomi": A Malayalam road movie that more or less could be termed as a coming-of-age story of two friends, who hit the road and along the journey learn about politics, friendship, family and religion. It's a whiff of fresh air for moviegoers. Strong performances by an ensemble cast and apt music make it nothing short of spectacular.
"Mallela Theeram Lo Sirimalle Puvvu": A clean and dignified Telugu film about a woman's search for love, liberation and self-respect, "Mallela Theeram Lo Sirimalle Puvvu" is one of the finest works in the family genre albeit melodrama and emotional outbursts. It's a shame that such a beautiful film had to release only in fewer cinemas.
Originally written for IANS news wire