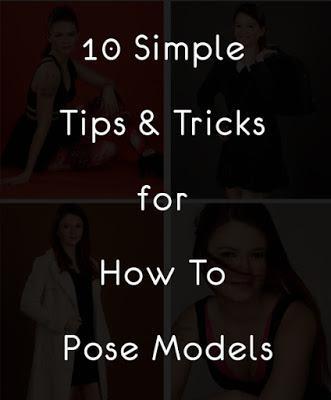 As many of us know modeling is all about posing for the camera, be it photographs or videos. One of the main actions throughout the process of modeling is to pose! Posing is more than just moving the upper body, it is posing from head to toe. Creating angles from different perspectives, adding dimensions to your shots and making your frames count!
Have you ever wonder how those bloggers who are petite in size in real life but looks really lengthy and tall in pictures? Like oh my God how do they do it? Or fashion models who doesn't have curves but yet look so curvy like an hourglass on front covers of magazine spreads? Here are some tips and tricks on how to pose like a pro.
Ever experience the awkward moment where you're unsure where to put your flimsy arms or hands when you're about to get your picture taken?
Here are a few steps on what you could do!
By placing your hands on your hips and cross your knee a little, it doesn't just have a place for you to place your hands but also even make your hips look smaller. You can even open one of your legs a little wider and place on hand on your upper thigh and the other on your hip!
Cross one arm in, the other on the top and gently pull your chin down a little with your fingers
This helps create a suspicious look.
You can play with your hair (For female models)
Cross one arm and take the other free arm and create a 'L' shape then take your finger and twist a small strand of your hair, chin down a little and look straight at the camera. This creates a sexy, fierce, playful look. Very Victoria Secret-like.
Open your arms and place your hands behind your neck, don't grab it! Just place it gently. Lift your chin a little (for smaller forehead), relax your lips and cross your knees for a smaller waist!
Don't know how to position your legs?
Here's how:
Turn to your side and stick the inner leg out in a downright 'L' shape and the outer leg standing straight.
Cross know your knees in (to create the illusion of smaller hips)
Heels up and point your toes.
Widen your legs, one heel in and leg facing outwards. And the other just straight facing the camera.
You can smile at the camera!
Your smile will always make any kinds of shot look jolly and pleasant to the eyes.
'Smize' like how Tyra Banks would say
Smile with your eyes to create energy, adding tension between you and the camera
Slouching is a No-no on runway 
We want models to walk tall and poise as they storm down the runway, all eyes on you and the clothing you wear. Thus don't slouch as it will affect you and the brand's reputation.
Always show your neck! Never hide your neck
By that it adds length to your body and fills up more spaces on the image.
Your shoulders are your frame.
By turning your body a little and lift one of your shoulders up can power up and add elements to an image.
Relax your mouth even if there would be an opening in between your lips.
It helps tone down the strength of the image, and relaxes the viewers' eye. Giving it a more sophisticated looking picture.
Know where the light is! Awhhhhh *sound of heaven's doors opening*
It is unadvisedly to block light with props or even your own body parts. Because it will increase the F-stop of the image. Thus creating shadow on your face or your body, distracting viewers attention.
Look towards where your nose is pointing
Your nose is more than just for breathing, it can also be use as a 'direction pointer' for your eyes on where to look instead looking everywhere your nose ain't pointing to. Minimizing awkwardness on the photo.
These are only tips and tricks but the only way to make it look effortless on photos is to practice, practice and practice. Be it at home in front of your mirror or even by recording it down in your camera. Practice, watch, improve and repeat. You can even get some inspirations by watching fashion shows like American's Next Top Model or International Fashion Weeks. Modelling is very practical, you can't learn just by reading articles or by glancing through magazine spreads. You got to work on it, don't play safe. Be courageous and try new poses. Work together with your photographer on set or your model trainer (if you have one) for some guides to correct and improve. Go crazy even if you have to! Psst, your favorite music playlist can help pump you up on set, allowing you to pose more than usual.
Okay ladies and men, now let's get in formation and slay your next modeling assignments.
 Find out more on how to become a Model. Visit their website at
i Models Holdings
Visit their YouTube channel
iModels