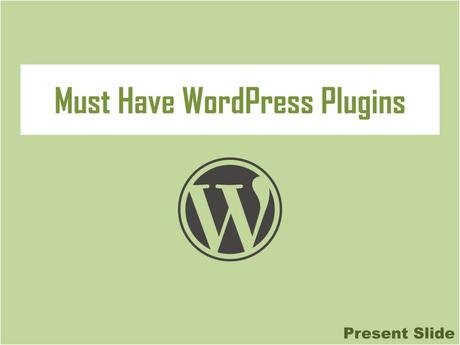 WordPress is one of the most popular content management system. One of the reason which makes it so popular is its plugins. WordPress Plugins make it easy for us to get more out of our blogs without stressing on programming languages.
There is a plugin for every need and the use is very much simple. With the help of themes and plugins you can develop any website with WordPress easily. Thousands of WordPress plugins are available both officially and by third party developers. Not all of them became so popular and only a few of them are suitable for every blog.
Many things should be considered while choosing a plugin for your WordPress blog including:
Ratings of the Plugins by its users.
Number of time the plugin has been downloaded over time.
Current number of user of that specific plugin.
The last time it got updated by the developer.
Choose a plugins that can handle multiple processes at a time.
These were just few of the things that should be kept in mind while choosing a plugin for your WordPress blogs. A bad coded and low quality plugin can make your WordPress blog less secure.
Always go with a plugin that is developed officially and not a cracked version of it. Hackers can attach malware with the plugins and which can cause severe security issues.
So now we have talked about choosing a plugin for your WordPress blog now i will be listing out some must have WordPress plugins.
1. Akismet
Akismet WordPress plugin comes inbuilt with your new WordPress installation. Akismet is the best WordPress plugin for protection from Spam comments. It uses several guidelines and strategies to find out if a comment is genuine or Spam.
This will save both your time and energy that is wasted on dealing with Spam comments. It is very much accurate while handling Spam and only a few times it occurs that a genuine comment goes to Spam folder and that too because of the previous bad records of that IP address.
You should activate Akismet right from the beginning to fight with the people spamming your hard work.
2. Jetpack
Jetpack is a WordPress plugin that can do a lot for your blogs. Almost every WordPress user uses Jetpack plugin because you can replace many plugins for just one. It can be used to add widgets to your blog including email subscription, Recent Posts, Popular posts etc.
Jetpack shows Site Stats by directly connecting to your WordPress website. The stats are pretty much accurate and the plugin is also not heavy. Your visitors can subscribe easily to the comments they made for any follow up notification afterwards.
So every WordPress blog must have Jetpack plugin for doing more in less. I myself use Jetpack and use it for the email subscription widget too.
Here are 6 Reasons you should Install Jetpack - Jerod Morris
3. Yoast SEO
Yoast SEO is the plugin for all your On Page SEO needs. It is one of the most popular SEO plugin for WordPress blog and the list of its features is huge. Lets see what Yoast SEO can do for your blog\
It can create XML sitemaps for your blog.
It can create Meta tags and description for your posts.
Yoast SEO can be used for On Page Search Engine Optimization.
Can create Breadcrumbs - If your theme is compatible.
Help you with RSS feeds.
These were just few of its features and it can do a lot for you. Yoast SEO is used by thousands of bloggers to write quality content optimized for search engines. If you are struggling for ranking your website you should give it a try.
4. Loginizer Security
The main problem with a WordPress blog is that you yourself have to handle its security. Being so popular they are many times hacked by the hackers. Hackers can use a script which uses random passwords in your login form to guess the password and gain access to your blog.
One thing which you can do to save your blog from such attempts is to keep the maximum login attempts in your control. Loginizer can help you to set a fixed number of login attempts after which the IP address will be blocked temporarily. A specific IP address can also be blocked with the help of Loginizer.
You can also add your IP address in the white list so that if your write the wrong password by mistake, it will not block you. Every blog should have Loginizer installed to make the blog more secure.
5. W3 Total Cache
Your website speed plays a great role in search engine optimization. A slow website tends to get low rankings in the search engines. It takes time for WordPress to execute the PHP scripts and show up the related content.
The website speed depends on many factors including:
Theme for WordPress blog
Additional Scripts used for some information.
Heavy and bad coded plugins.
Hosting that your WordPress blog is using.
Redirecting Errors
W3 Total Cache helps you by compressing your pages, making cached copies and by integrating website with CDN (Content Delivery Network). It will help you to improve your website speed magically. I am currently not using this WordPress plugin but will definitely recommend it to every blogger.
6. SumoMe
It is one of the most essential WordPress plugin for blogs. Making it easy for your visitors to share your content and bring more traffic to your blog. SumoMe helps you in making your content more shareable by providing floating share buttons etc.
Not only it provides share button but it also has many more features. The features includes:
Welcome Mat: Welcomes the readers with a Call to Action and making it a landing page.
List Builder: Integrates with major email marketing service providers and shows Pop up Forms.
Image Sharer: Sharing the whole content is good but not effective. Used to make image sharing easy.
Heat Maps: Helps you to analyze user behavior on your blog.
There are more features in the list but I will be focusing on the post and thus ending the list here. You should install SumoMe plugin in your WordPress blog to get more out of it.
7. Google AdSense
When it comes to monetizing and earning money through your blog, AdSense comes the very first in list. Google AdSense is one of the most popular Ad network which runs on Cost Per Click system.
Google AdSense WordPress plugin helps you to integrate and manage you AdSense account right from your blog. Not only the AdSense account but you can also work with Google Webmaster Tools. While adding ads to your blog this plugins comes very helpful.
If you are using Google AdSense then you must have this plugin installed in your WordPress blog.
8. CommentLuv
It is good to see from people for you written hardwork. CommentLuv helps you to get more comments to your blog with less Spam. Whenever someone comments on the post it gives a link to the commenter's latest post.
It also deals with Spam comments and do not let any one spam your comment section. If you love feedback and interaction with readers then must give CommentLuv a try.
9. Click to Tweet
The more you will make it easy to share your content, the more you will see the results. Click to Tweet WordPress plugin helps you to add a button for some specific text in your post. Anyone can click the button and tweet the text through his Twitter account. Below is an Example to the plugin:
Just give the button a try and see the magic of plugins that come with your blog. Such flexibility are making WordPress so popular blogging platform.
10. Insert Headers and Footers
Although Jetpack provides you with accurate stats of your website, Google Analytics is still better choice. The plugin is not anyhow associated with Google Analytics. When integrating Analytics to your blog you have to add a code to your blog.
The above plugin makes it very easy to integrate that code with your WordPress blog. Just copy paste the code and you are done. You do not have to worry about any coding or anything else. So if you want to get more enhanced stats with ease then use this WordPress plugin while setting up Google Analytics.
Here comes an end to the list of must have plugins for WordPress. Try the above written plugins and tell us about the change you see in your blog afterwards.
Hope you liked the article, Share it with your friends as Sharing is Caring 🙂