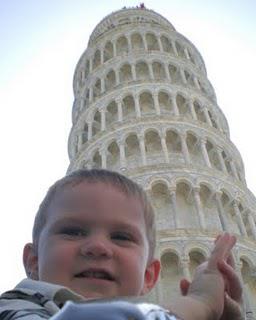 Pisa, Italy - April 2011
My family loves to travel.  We take a vacation almost every month.  My son just turned 2 and has already been to 17 countries.  Obviously in order to travel as much as we do we have to be wise in how we spend our travel budget.  Here are ways we save money while traveling so we can take more vacations.  
1. Look for free things to do.
  Websites such as Free-Attractions.com make finding free things to do in every state easy.  You can easily find free museums, zoos, parks, concerts, and more.  If you live in Europe or are planning a trip here, check out http://www.freetodo-europe.net/.
2. Take a cruise.
  Believe it or not cruising is one of the more economical ways to travel.  If your plans are flexible, book a last minute cruise to save even more.  My
travel cruise agent
has always helped me save money on cruises.
3. Go camping.
  Camping is a cheap way to travel.  Most campsites cost less than $20 a night.  See my camping article for lots of tips.
4. Share a hotel room.
  If you have two or three kids you can generally share a hotel room.  Get one room with double beds and add a roll-away bed if you need to.  Or if you are really adventurous you could try something like
CouchSurfing
, where you stay on someones couch for free.  Couch surfing probably works out better if you are not traveling with children.
5. Consider flying.
  If you have to spend more than one night in a hotel to reach your destination it may be worth it to fly, especially if you only have one kid.  Remember, if you spend two nights in a hotel on the way there, you'll have to spend two nights in a hotel on the way home.
6. Join Priority Hotel Clubs.
  Most hotel chains have a hotel priority club.  Members get points for every night they stay that go toward free nights and upgrades.  Also don't be afraid to call a hotel directly and ask if you can get a discount if you stay more than one or two nights.  A cheaper hotel chain in the Europe is Ibis.  We have stayed at Ibis Hotels in Germany, London, and France.
7. Look for a package deal.
  Package deals can save you money, especially if you are traveling last minute.  Book a hotel, flight, and rental car together and save.
8. Travel during the off-season.
  Spring, fall, and winter are generally cheaper times of year to travel than summer.  Traveling during the off-season can save you a lot of money.
9. Stay at a bed and breakfast.
  Many bed and breakfasts are cheaper than hotels.  Plus they usually include a nice breakfast.  We spent a week in Ireland and only booked our first and last night.  You can read about our Ireland vacation here.  You can find many bed and breakfasts
here
.
10. Rent an apartment or condo.
  If you are going to stay somewhere for a week or longer sometimes it's less expensive to rent an apartment or condo.  Not only will you save money sleeping but you can cook some of your own meals and save money by not eating out every meal.  Homeaway.com has a great list of apartments and condos for rent.  We rented an apartment in Cinque Terre, Italy, and in Florence, Italy.
How does your family save money when traveling?