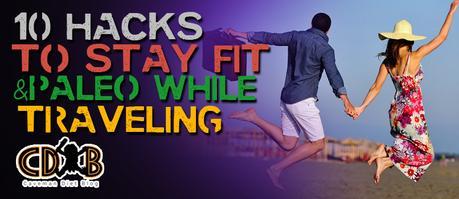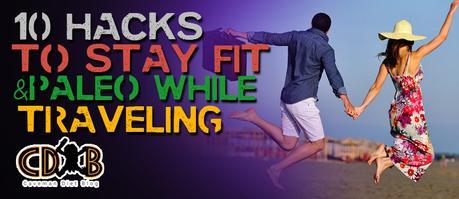 Stay Fit & Eat Healthy While Traveling!
It is very simple to stay fit and healthy while maintaining good habits. All you really need to do is keep the focus of what you are trying to accomplish with your lifestyle. Once this crucial step is achieved, there is nothing you can't do from then on.  All your choices will be naturally good choices, from what you eat, to what you do with your body.
Here are some tips on how to stay Paleo fit while traveling.
Plan your meals-
When you travel, eating out is not just expected, but sometimes the only available option to get food.  Do not deprive yourself from eating out. Just list ahead of time a list of meals that fit your dietary budget.
Divide your lists into appetizers, desserts, salads, soups and entrees. Just jot down specific meals so that ordering in a restaurant is easy and effective.
Google the restaurants, supermarkets and eateries near your location.
Check ahead of time where you can actually go to get food. Maybe you will end up saving your "eating out money" by going to the local farmers market and keeping items in your hotel.  Going "urban wandering" and exploring is fun, but not knowing a location is all it takes to get you in a grease spoon, or somewhere you don't even want to be. Explore ahead of time, and you may be able to help others find better options, too.
Explore menus
As you research food locations and meals, also look into the menus of the restaurants, and check out the ingredients used to cook meals.  In one of our articles, we mentioned the differences among cooking oils and how they affect our health, in general. Sometimes it is not the food that affects us, but the added ingredients that are brought into the cooking process. Also, remember to mind any potential allergens.
Pack your tennis shoes
Or any walking shoe. Give yourself at least 15 minutes in the morning and 15 minutes at night to engage in any type of physical movement. Walking is the preferred method, but it can also be step-walking in place, stretching, and light jogging in place.
Use your smartphone for fitness
No excuse. Pull up a video, song, or music list from just about anywhere online. You do not need to have an iTunes playlist to start exercising. Get on YouTube for your background sound, or follow the plenty of online traveling fitness clips that are all over the net.
Don't forget your headphones
Perhaps you never think about packing headphones before you go on a trip, but if you didn't, just find your local big name pharmacy and get yourself a set for less than $10.  With headphones you can disconnect yourself from the crowd and carry on with your walking. You can even dance in place all night. A smart phone, good shoes and a nice, small set of headphones will make your stay way cooler.
Check hotel offerings.
Sounds obvious, but some people book hotels without knowing much about them. Some hotels offer gym areas to work out, but if that is not your style, then use the pool, the green areas, or even the staircase to get yourself active. By the way, did you know that some hotels allow you to "rent" tennis shoes, running pants and a shirt for $5 per day?  They deliver them to your room, too!
Build a DIY routine for all your trips
Google exercise reps or check out the hotel room exercises over from nerdfitness.com at to create your own in-room routine. Call it the "Roomtine," or something like that. It is a great, independent and innovative approach at getting yourself in shape.
Pack exercise essentials that do not bulk up.
A jump rope, resistance bands, and two empty plastic bottles that can be filled with water are great for both cardio and muscle-building exercises.
Pack up Paleo snacks
The best part about the Paleo lifestyle is that our entire repertoire of admitted foods is 100% inflammation-free. Paleo snacks don't make you ill, or bloated. Traveling (not vacationing, just the "getting there") sometimes is stressful enough. The last thing you need is to feel sick, deprived, or hungry.
Be prepared before your trip, and enjoy it much more the Paleo way!