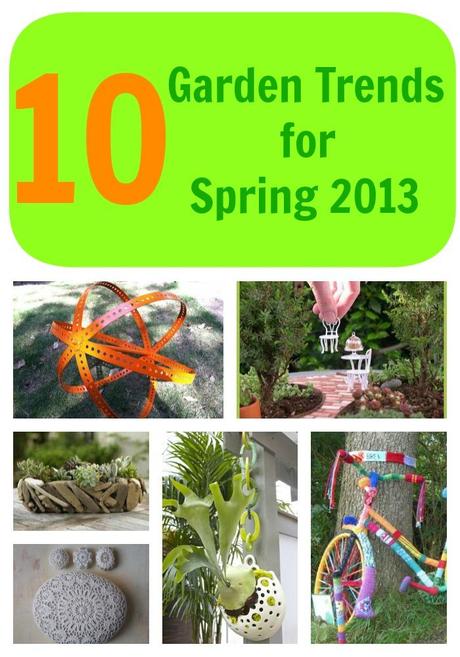 10 Garden Trends for Spring 2013 
I love to keep a pulse on what's trending in everything from crafts to weddings and especially all that is garden! Let's take a look at 10 Garden Trends for Spring 2013 that are hot right now.
#1. For the Love of Moss!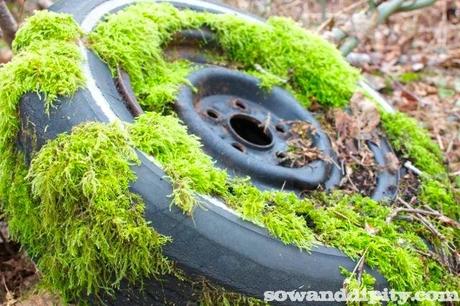 I found this tire in the backwoods behind my house, magnificent isn't it!
Moss is scorching hot right now! From candles to furniture, this lush green carpet is covering everything in site. Whether your using live moss or dried deer moss, the project idea's are endless.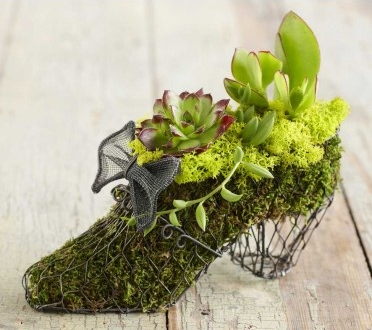 This little darling is from VivaTerra, my newest favorite-est store….ever! Where could you use a little more green? ( Besides your wallet…yeah, I know…you thunk it! )
#2 Yarn Bombing
Say whatta? Yep, yarn bombing….it's a thing.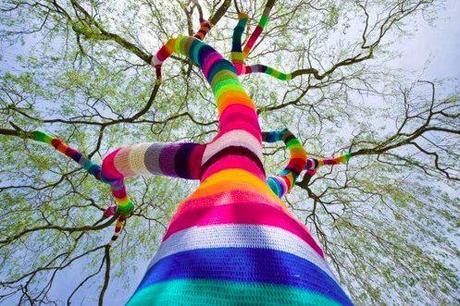 yarnbombing.org
Here's what you do. First, learn how to knit. Second, go cover random stuff in places you'd least expect to see it. Go ahead, Google it….. Yarn Bombing. Then feast your eyes of some colorful and often hilarious spectacles. Funniest of garden trends I've seen.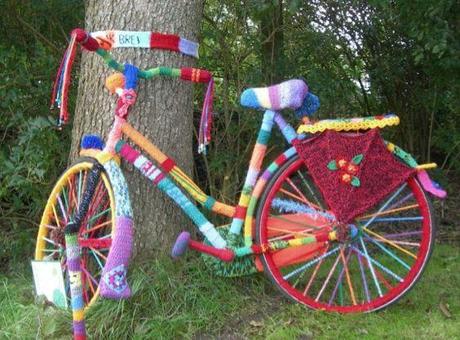 Tunisian Times
Watch for a textile near you….
#3 Looking Lovely in Lace
There are two camps….those that knit and those that crochet. Knitting has had it's resurgence in the last decade, but never underestimate the power of one needle… just take a look for yourself.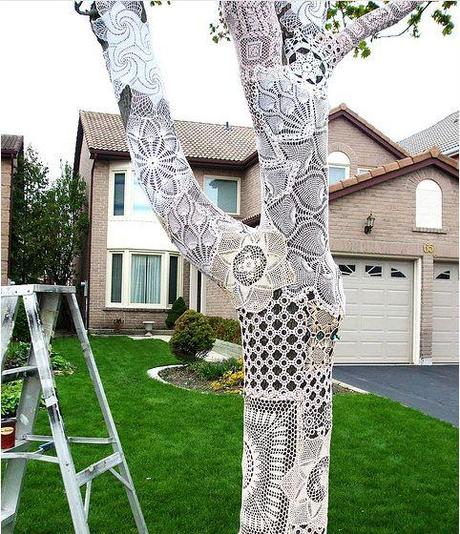 Exquisite really. And just look to your left….well, I'll be…that's a Tim Horton's coffee cup. Seems our artist is a Canuck! But tree's aren't the only ones getting the royal treatment. Rocks are getting it too.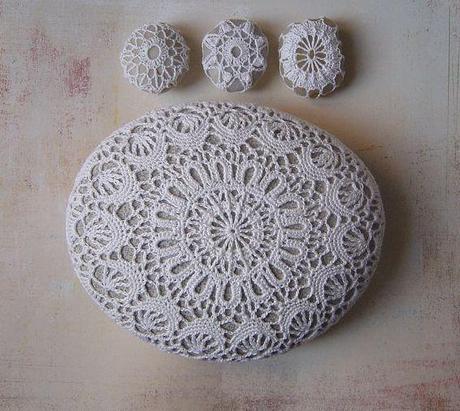 MonicaJ Etsy Shop
Amazing what a little lace will do. My thoughts? I LOVE these idea's, every little bit!
#4 Drifting Away
Sticks and stones may….
…..look super awesome with a little imagination. I keep saying that this years garden trends are all about sticks and stones, sticks and stones.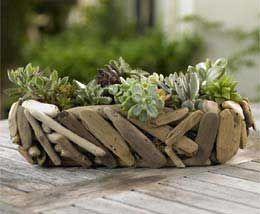 VivaTerra
Super cute planter made out of driftwood and beautiful Rain Chain. I saw a lot of this during Christmas in the form of stars and tree ornaments….not surprised to see that it will continue on throughout the year.

#5 The Mighty Staghorn Fern
As far as I'm concerned, this is the IT plant for this year. I've been watching this unsung hero surface here and there over the last 8 months and when I saw this fella at the Northwest Flower and Garden Show it was confirmed. No doubt about it, this plant is jet setting in garden trends right now. I got lot's of great pictures from the show that you can check out here.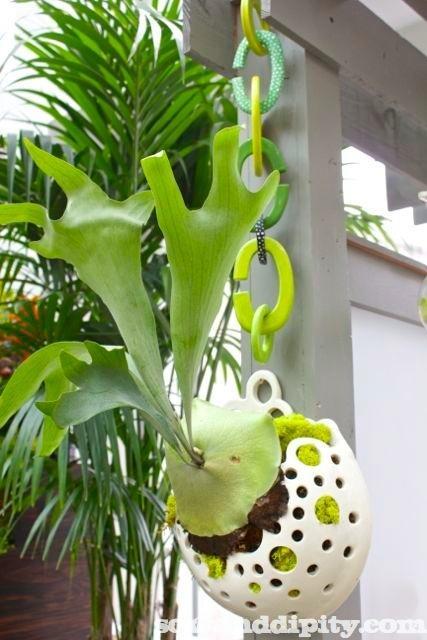 Seen at the Northwest Flower and Garden Show.
#6 Sphere's, Orb's and Globe's

This years IT shape is round! Everywhere I look, sphere's of all types of materials are appearing in the garden.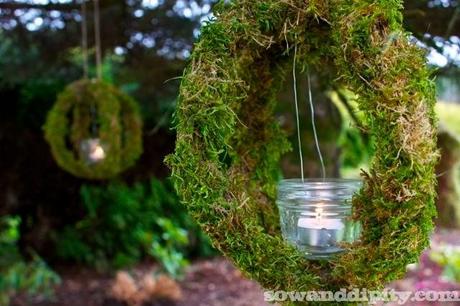 I made these moss garden candle orbs above, cute eh? Perfect for an outdoor summer evening party. Click on the pic for the how-to'y.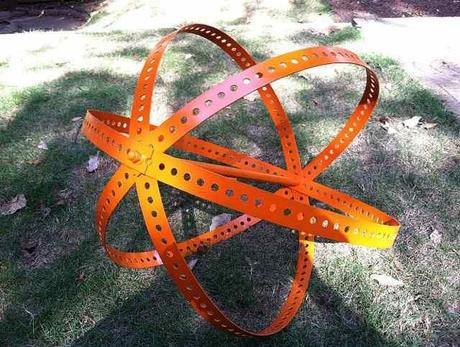 This is brilliant! Metal tape is formed into an orb and painted in a bright sunny color. Thanks to Cultivator's Design and Landscape for sharing this great project idea. I am so making a few of these for my garden this summer.
#7 String Gardens
Fedor van der Valk from Amsterdam is the original designer of this trend that is sweeping across North America. His bonsai inspired hanging gardens are the freshest thing I've seen in floral design in years. It's based on the practice of Kokedama, a traditional Japanese style of flower arranging.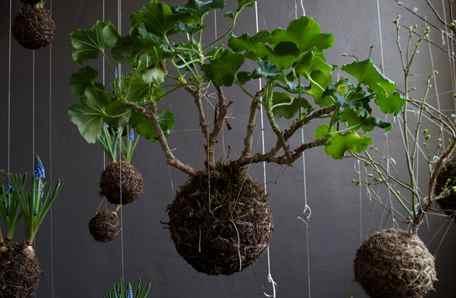 Image from Trendland.com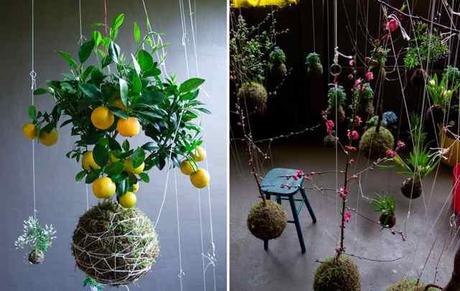 Image from Trendland.com
There is so many more fasinating images to see in this article about Fedor Van Der Valk on Trendland.com
#8 Perfectly Purple
Pantone announced that Emerald was the color of the year….hmm, in nail polish maybe. In garden trends and decor however, I'm seeing punches of purple popping up everywhere. I just love how it makes everything around it even greener.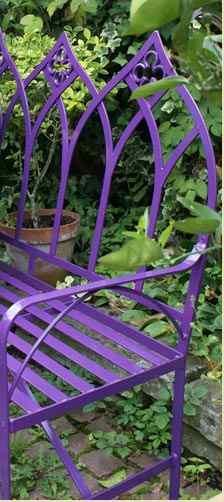 Metallic Garden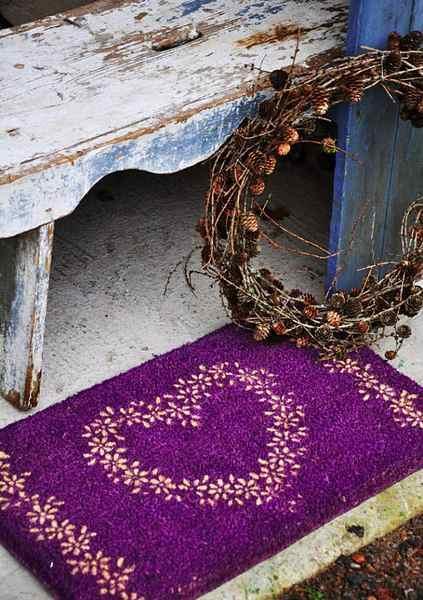 #9 Re-Pop Gardening
Aka Junk Gardening, this trend is still running strong with new ways to use old items popping up everyday. We saw the explosion of wooden pallets and rubber tires erupt last year but more recently, glass and tin seem to be taking front stage.
Re-purpose, Recycle, Re-Use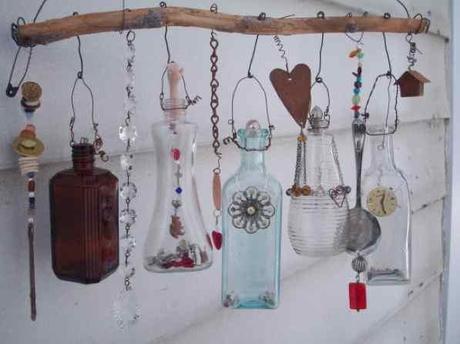 Creation Designs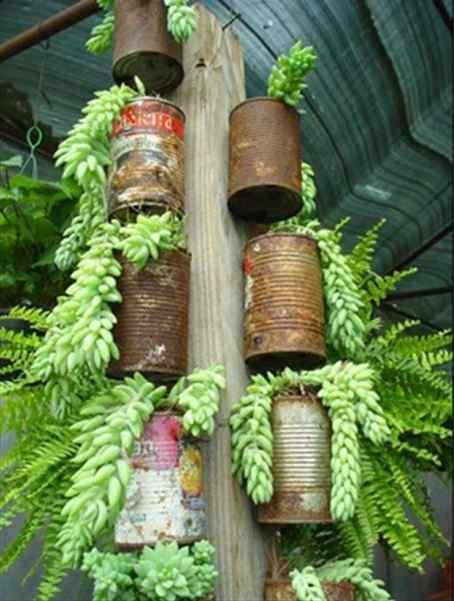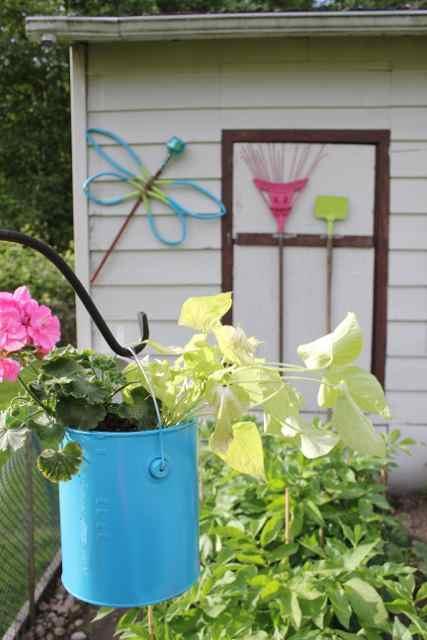 #10 Mini Gardens are where it's at!
It's a small world after all…this is THE hottest of garden trends blowing up right now. This years Mini-Gardens are a spin off of last years terrariums ( still hot BTW ).
Folks of all ages are finding a lot of joy creating their mini worlds. Whether your making a home for fairy's or just shrinking a dream garden into a small suitcase….the possibilities are endless. I CANNOT wait to make mine!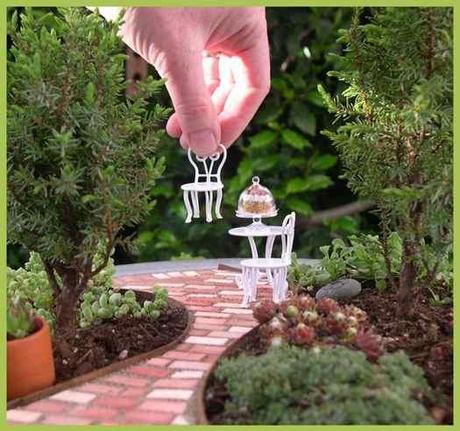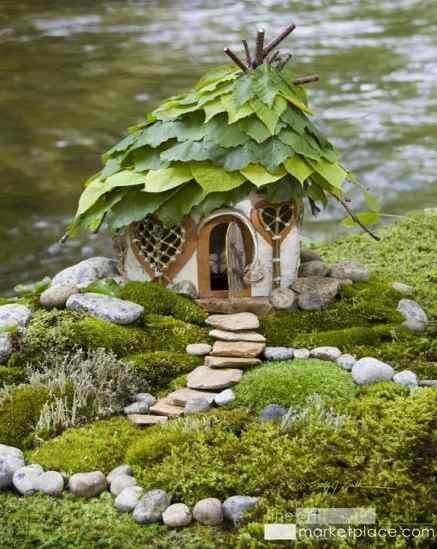 By Sally J. Smith, Fine Art Marketplace
So that's the top 10 Garden Trends for Spring 2013! I can already see the summer trends emerging, if you don't want to miss them, be sure to subscribe or follow me here: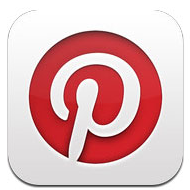 Peace Love Garden