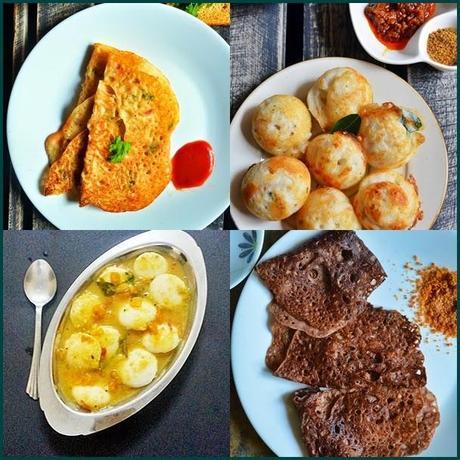 Collection of 10 easy Indian breakfast recipes- Yet another addition to my collection posts.The other day when I blogged about 10 healthy and tasty toddler/kid's food,I got many requests to blog about breakfast recipes that are easy to prepare as well as wholesome.There are around 70+ breakfast recipes here in the blog,and in the list I have compiled the 10 easiest recipes that you can prepare in a whim with simple ingredients from your pantry. Try these recipes and you will have a fuss,stress free breakfast time,make it large-the first meal of the day :)
Few words about saving time:
1.Keep idly batter and handy and you are never going to go without food.Yeah it is the savior for many women in the kitchen not only to feed their family also to welcome unexpected guests,midnight hunger pang etc.
2.If you are planning for chapathi/paratha it helps to prepare the dough beforehand and refrigerate.
3.Plan making easy and wholesome breakfast on weekdays and you can make special ones on weekends :)
Here is how to prepare the basic idly batter
Idly batter recipe
Other than normal idly,dosa,masal dosa,you can make so many dishes with idly batter.
Check here for all the
breakfast recipes
I have blogged so far.
Check here for
chutney recipesRecipes are linked with the title of each picture,please click the name of the dish to get the recipe.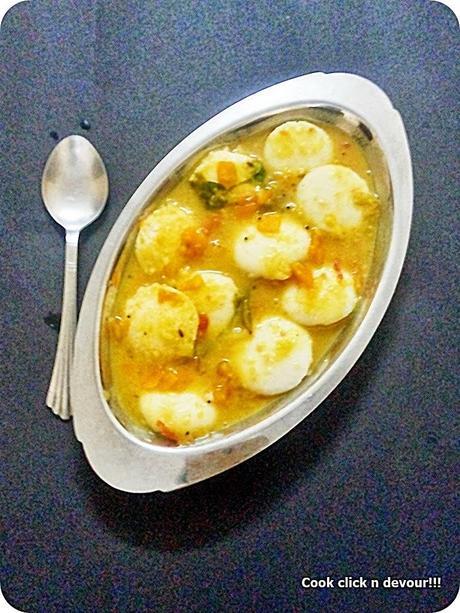 Sambar idly:
Mini idlys dunked in a piping hot bowl of sambar is not only a palate pleaser and tasty breakfast,also a powder house of nutrition. This bowl has everything you need to kick start your day. Carbs from Idly,protein and vitamins from sambar with dal and veggies,add a dash of ghee to increase the flavor and taste,if calorie conscious are looking for vegan option,leave out ghee.

Uthapam
Small,soft and fluffy little dosas,this uthapam is loved by all,age no bar :). Usually idly batter which is old and sour is used for this and the sourness is balanced by liberal usage of pearl onions.Here I have also added carrot for taste and color.Best paired with sambar and chutney.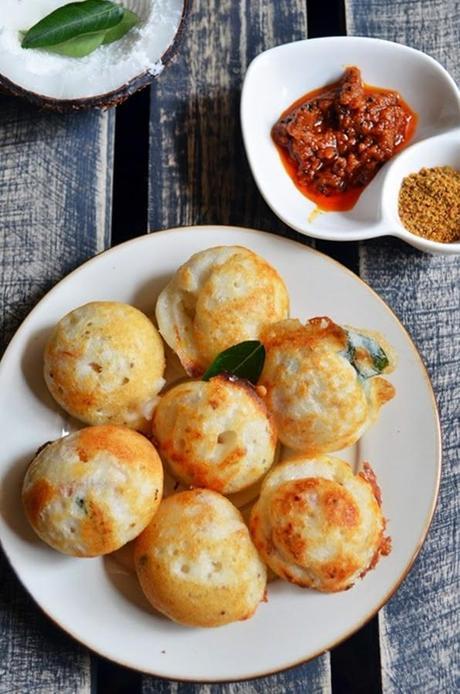 Kuzhi paniyaram: 
 This little soft and spicy balls are chenttinad special and an absolute delight to your taste buds.Anyone who tastes this for the first time will fall in love with this just like I did :). You will need a special mold called paniyara kal to make this,worthy investment it would be.Again this is also prepared from sour idly batter and the sourness cut off by tadka/tempering.


Bread dosai:  
Bread has become synonymous to breakfast in many home,try making this instant dosai with bread rather than same old toast or bread-butter-jam.I have got raving responses about this dosa from many readers,try this for once at least if you are yet too


Instant ragi dosai:
This instant ragi dosai will be a very healthy and tasty way to start your day,you can prepare these in 40 minutes,out of which 20 minutes is resting time for batter.Just prepare the batter,finish all the works and get your breakfast at table in 20 minutes flat!. Millet is great for your health,eat 'em :)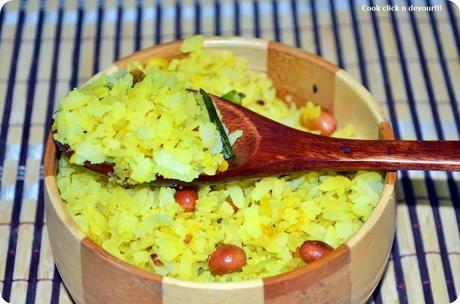 Batata poha: 
One more easy breakfast that will keep you full for hours.Beaten rice/rice flakes are low in cal,very tasty and wholesome.In this recipe,softened rice flakes are sauteed with boiled potatoes and tadka,very tasty one!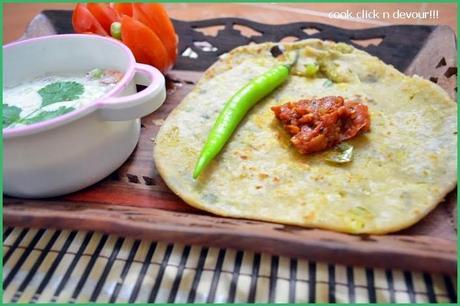 Gobi paratha 
Whole wheat thick flat bread with delicious cauliflower stuffing is a very common breakfast fare in north India.To save time you can prepare the dough before hand and refrigerate,make filling the next morning and prepare paratha.You can serve these with thick curd and pickle,so easy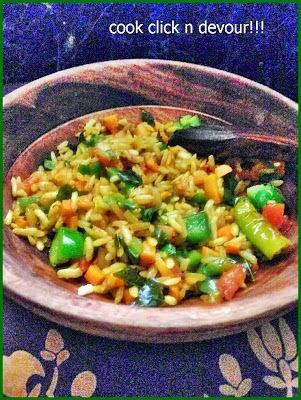 Arisi pori upma:
This is somewhat uncommon in Tamil homes but a very famous Karnataka recipe.Puffed rice is slightly moistened and then sauteed with tadka,a very tasty breakfast that you can prepare 10 flat 10 minutes,tastes great,filling and low cal,what more do you need :)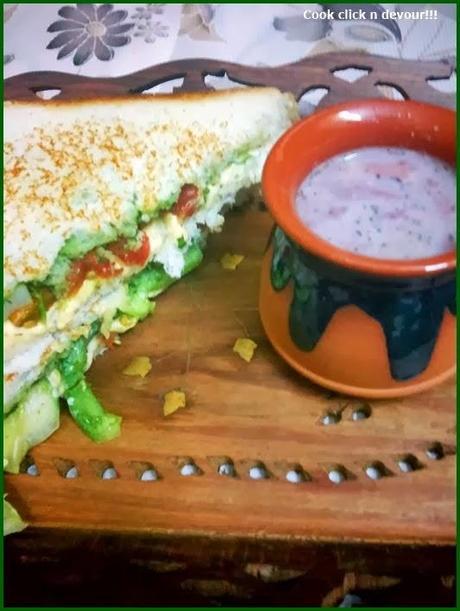 Vegetable cheese sandwich:
Famous Mumbai style vegetable cheese sandiwch,of all the breakfast recipes,this is my most favorite.I used to have this regularly for breakfast while I was working.You can skip cheese to limit your calories but a small amount of cheese is really great in this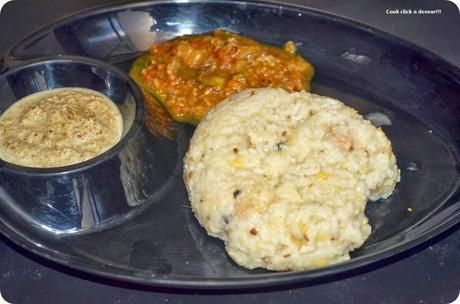 Ven pongal: 
An eternal favorite among south Indian breakfast varieties.This again is a balanced meal which is also know for is heaviness.pair this with a vegetable side dish and you are good to got hours together
This is list is by no means a full list,there are so many many more breakfast recipes that I have not listed.In this list I have mainly given recipes that are easy to prepare in less time and minimum ingredients.If you are looking for a specific recipe do write to me or comment in this post.