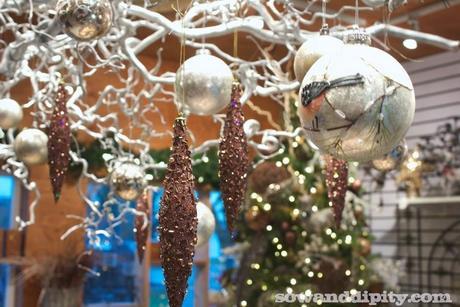 10 Cool DIY Christmas Decor Ideas
Sow and Dipity is a blog dedicated to Gardening and Seasonal Decor. When I'm not digging in the dirt, I'm covered in glitter… which makes my career as a manager at Milner Village Garden Centre a perfect fit for this girl.
If you live near Langley and can visit the store, you can see all the creative decor in person… it's our mission to become an idea and inspiration center so even if your not a local, you can visit our website or follow our Facebook page for all the latest digs.
Here is a sampling of what we did for Christmas 2013…
#1. Farmhouse Glam is the words I would use describe this wagon wheel wreath. I added lights, some bling and some berries to create a fun idea that's fitting for our little barn style store in the country.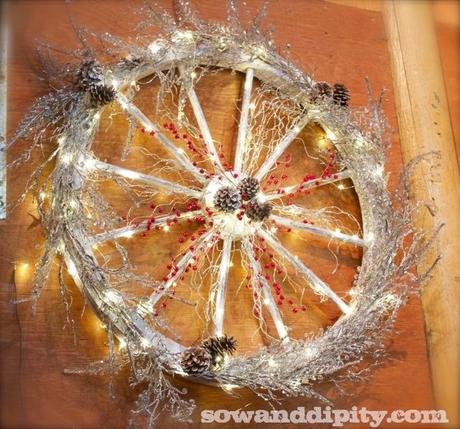 #2. Peacock is out, Ombre is in…. this trendy Christmas tree goes from light green to dark purple. I wanted to show off how even just using the decor mesh  ( aka Sinamay ) can make for a gorgeous tree.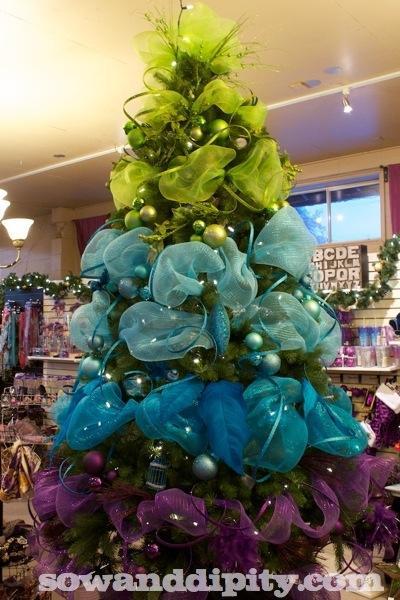 #3. Horizontal wreaths hung from the ceiling make dramatic statements and deserve to be one of our 10 Cool DIY Christmas decor ideas, especially when you float some stars through the center like this gold and bronze beauty you would see right when you walk through the door. The stars were put on a disco ball spinner, the movement allows the stars to catch light and sparkle.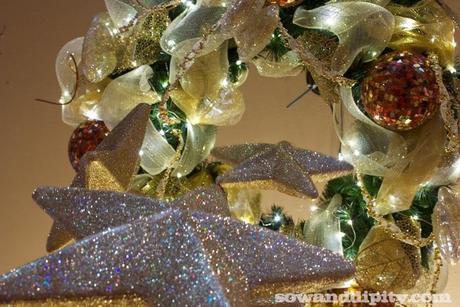 #4. Candy Land Trees are fun, stick to a simple color scheme like this one in green, white and pink. Use over sized lollipops to add whimsey.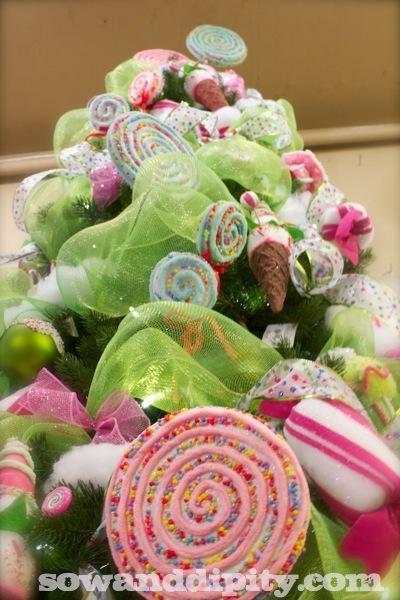 #5. Twig Chandelier…. this silver painted curly willow branch has made it's rounds around the store and most recently it was hung above our dining room table area to be used as a holder for Christmas balls. I love the neutrals and pewter pairings this year, so I made sure our chandelier was a good example of this trendy color combination.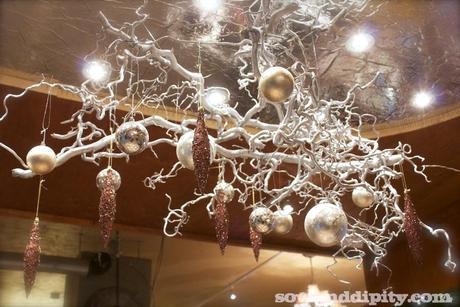 #6. This Funky Wreath was done up to show people how to use the several different sizes of sinamay that is available as well as the organza we have in stock. The fun colors are perfect for a girly themed decor.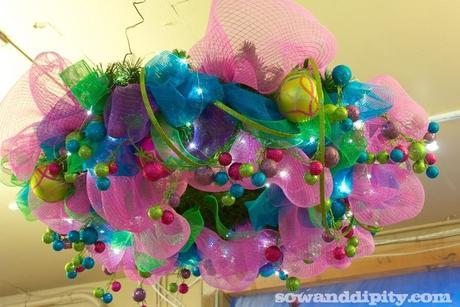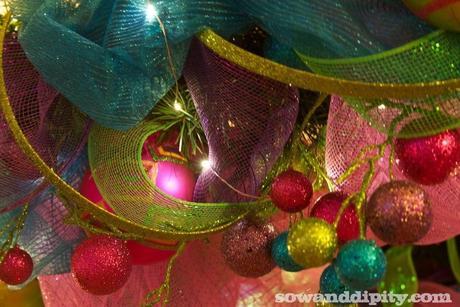 #7. Another trendy color scheme is what I dubbed Rustic Bling. Incorporate natural woody elements with a bit of sparkle and everybody's holiday favorite woodland creature, the deer. A separate post will be done on this theme soon!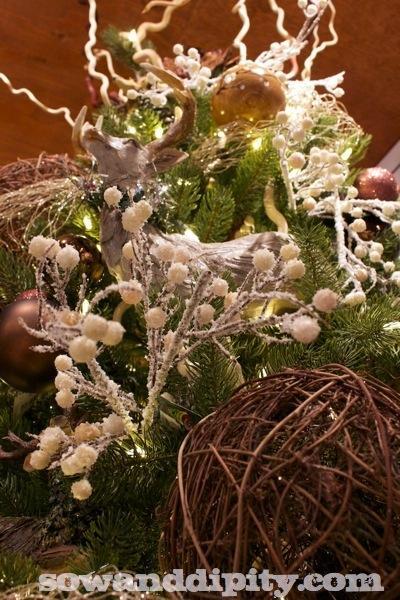 #8. If I can wire it into a tree… I WILL! My Country Christmas themed tree is dedicated to the horse lovers here in Langley.
We've come to call this one the Milner Downs Tree in honor of our neighbor's and this old saddle provided by my employee Hannah was a perfect fit for this theme. I'll be releasing this post later this week, ya'll come back now.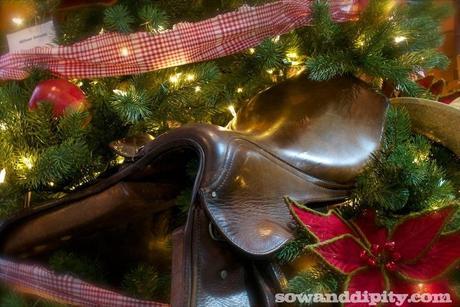 #9. If you can't buy it, make it! I had plenty of props to work with using our own merchandise for this tree made to celebrate vintage style, but our Downton Abbey inspired theme needed a little shabbiness to make it just right.
So, what do you do when you can't find petal pink antique Christmas balls? I found a box of old silver balls used in previous seasons so I antiqued them. To see more on this beautifully themed tree, visit the post:
Downton Abbey Christmas Tree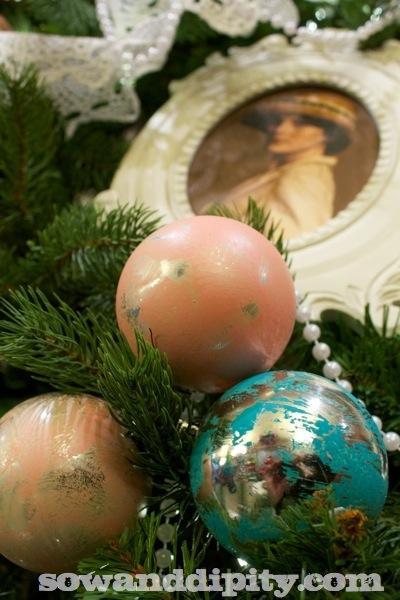 At Milner Village Garden Centre we re-cycle, re-purpose, and re-new….it's just our culture here. So don't be surprised when you come into the store to find an old toilet planter, a bath tub pond or a classic car display unit.
It's all about inspiration and we love sharing our idea's!
#10. We had a big Winter Reveal Party on November 16th to show off our 2013 Christmas decor and to showcase local designers, cheese's and wineries.

We grew pretty pink poinsettias called Sparkling Punch just for this event and proceeds from these beauties went towards a Breast Cancer Fund to help ladies in our community affected by this disease.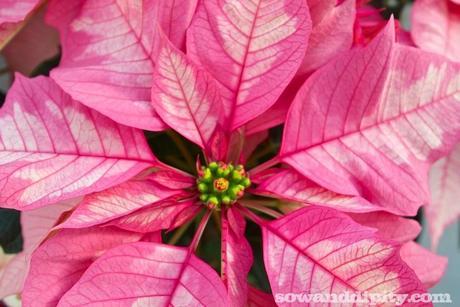 If you think this is beautiful, then you would love the tours we give every Saturday of the 10 acre greenhouse behind the store. Come check it out.. and be prepared to be blown away!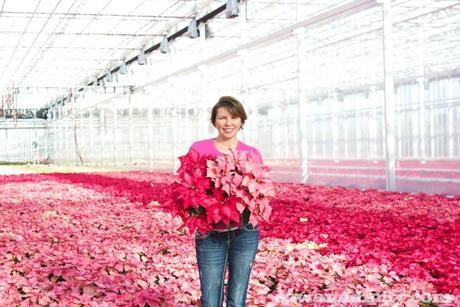 So our final Cool DIY Christmas Decor Idea comes from our special event…
It was only fitting to do up one of our mannequins in a 'Hort' Couture dress to match the evenings fashions. Using fresh evergreen branches and ribbon available at the store, I came up with this little number that any dirt diva would love!
I would wear it… would you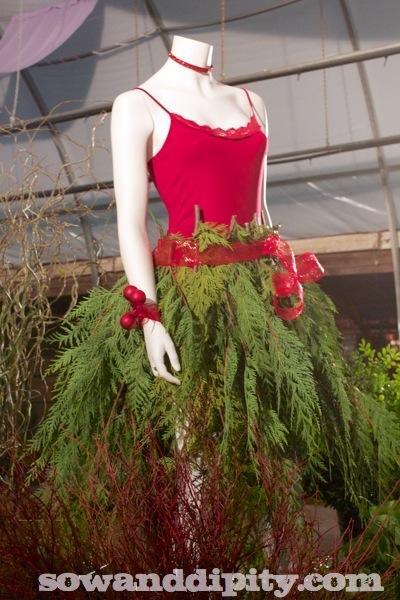 I hope you were inspired by our 10 Cool DIY Christmas Decor Ideas and enjoyed this peek at our themes for 2013….
and that's just my first year here, I'm just getting started!
Happy Holidays!
Peace Love Garden