The today's world is a marvel where everything can fit into the fist of our palm. Yes! Gone are the days when a mobile was used as a means of communication which enabled a person to talk with another person on the other side of the phone. It is now the age of smartphones which has become a basic and an essential commodity of our existence. Be it a Blackberry or a Windows phone or a Google built Android mobile, they've entirely changed the way we see everything, the way we perceive things and ultimately our life itself.

It is a well known and universally accepted fact that a smartphone has the ability to influence our perception everything diametrically a lot. The most favorite and popular among all the smartphones available in the market is the Android. Android is developed and run alongside the tech giant Google, who evidently has the maximum number of satisfied customers around the globe.
Any geek can quickly explain to you in a layman's language the best features of an Android and very few drawbacks associated with it too. One most common problem that might probably arise when one doesn't like the way the home screen of his/ her mobile looks like. Generally, an Android mobile comes with an inbuilt Google launcher which takes care of the aforementioned attribute along with how an app opens and closes and also ways in which one can switch screens.
The solution to this problem is simply available in the Google play store. A number of wonderful android launcher apps have come up giving you the privilege of customizing your smartphone as and when you wish. Here is a list of carefully handpicked launcher apps for android which might come in handy for you.

Top 10 Android Launcher Apps
Action launcher is one of the best launchers which adapt itself to its full potential in The best feature about this app is that this gives your Android mobile a Windows mobile effect with its bar that resembles the Windows Start Menu. This bar is a Android lollipop and further updates. This launcher like any other launcher gives you the options to customize the app arrangement and home screen layout designs.
pop-up bar which pops out from the left corner and has the list of all the apps from which you are free to customize them as you wish. This is also popularly called the Windows' fan's launcher.
Price: - Free with in-app purchases

This is probably the best launcher in the market if you are a video games freak. This app specializes in excellent graphics and 3D effects which render you relentlessly restless making you want to explore more and more of its features. Though it is not a free app, the high-end development and the excellent visual effects of the app makes it worth the amount.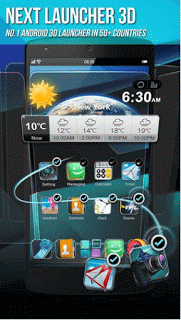 Price: - Free with in-app purchases

It is a custom launcher which is probably one of the most famous launchers with its Google play downloads crossing slightly over a million and an average rating of 4.3 stars with satisfied customers' comments flooding its downloads page. It provides more than a hundred different optimization styles including app launchers, home screen transition effects and themes and animated icons.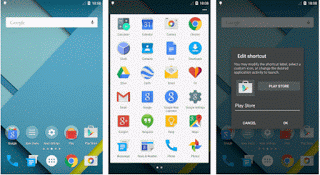 This is the most commonly used and one of the best launchers of all time with over a five million downloads at the Google play store, Nova Launcher is crowned the king of all app launchers in a market. Its user-friendly interface makes it the best to use and easily understandable yet excellent features are everyone's favorite and can be found in almost anybody's mobile who is a launcher freak.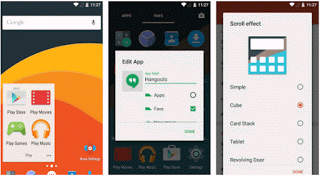 It is a very popular launcher which not only allows you to customize your app icon and arrangement, but also customize your entire home screen. With over an 800,000 exotic inbuilt themes, one can never run out of themes to explore and play with them.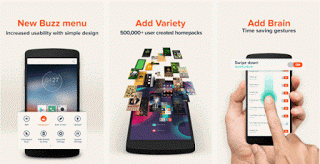 This app after downloaded into your Android phone leaves you wondering if it is the same Android phone which you bought earlier or the new state of the art Windows Phone that will leave you speechless. Yes! This launcher lets you use your Android apps and almost every other feature of an Android mobile in a completely super cool Windows phone environment.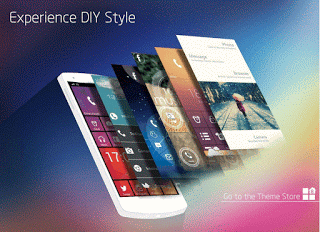 This is an amazingly unique app which is an intuitive launcher to make the best out of your Android mobile phone with an average rating of 4.4 on the Google Play Store and a whopping number of over a twenty million downloads within a short span of its launch. This launcher has a single home screen with all the apps arranged in customization patterns and offers over a million different themes to download from.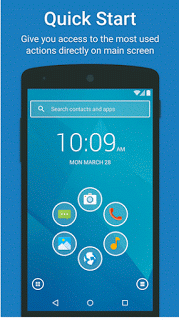 Price: - Free with in-app purchases

It is a product of the Microsoft which is a sensitive yet cool launcher which automatically arranges the apps according to the frequency of use and enables sticky notes and memos with a swipe. This is a user-friendly launcher with contacts, call logs and recent activity grouped in an easily accessible way.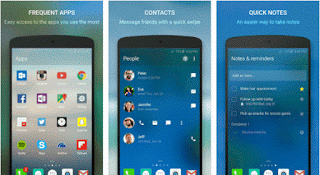 This is a launcher which best suits both smartphones and tablets which have replaced the normal and usual home screen apps and has revolutionized the home screen view, widget hosting and app arrangement. This launcher offers over 5000 interactive themes, colorful live wallpapers, lock screens and app icons.
This is an innovative and interactive launcher which has a 4.5 rating on the Google Play Store and is awarded the Google Play Best of the year 2015 for the best app launcher in a market. With over a million different downloadable themes, app icons, wallpapers and various other customization options, this app is very well known for its user-friendly interface and excellent user experience.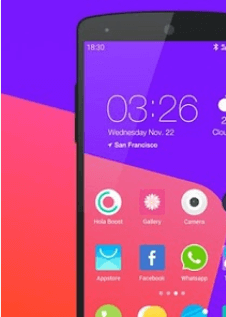 Price: - Free
So it was all about some of the best home screen launcher apps for Android. Hope you loved them. Keep reading and sharing!!