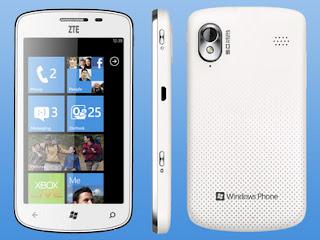 Chinese vendor ZTE launched its
Windows Phone 
smartphone called Tania in China.
Tania is the first smartphone from ZTE's Windows Phone, launched exclusively for China Telecom operator, and was launched with a processor speed higher than the global version. 
By relying on the TFT screen of 4.3 inches with a resolution of 800x480 pixels, but this smartphone is powered by a 1400 mAh battery.
4GB of internal memory is present to support the user's multimedia storage and a 5 MP adorn the back of the phone. The difference with the global version, 1.4 GHz Qualcomm Snapdragon processor, while the global version only 1GHz. Both use a 512 MB ​​RAM.
source