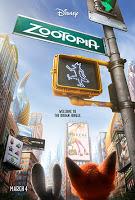 Today it's going to be a short one because (nearly) all I've got to say is:
"Go and watch this film!"
Zootopia is for sure one of the must-see movies for everyone this year. Why? It's an amazing film, very current and has the perfect message for the world we're living in today: Respect each other and we can all live together in peace.
But it's not just that, the newest Disney animation is a story about dreams, courage and adventure. And it is a lot of fun to watch.
Not for nothing it has 99% on Rotten Tomatoes and this Critics Consensus:
"The brilliantly well-rounded Zootopia offers a thoughtful, inclusive message that's as rich and timely as its sumptuously state-of-the-art animation - all while remaining fast and funny enough to keep younger viewers entertained."
Another remarkable thing I've got to mention is the passion for detail. All the animal versions of film posters and adverts are super cute and they even bothered to make up animal related song titles. And there's even more pop culture references, CINEMABLEND has collected ten of them in a gallery,
have a look
.
With Zootopia, Disney has once more proved that they can make wonderful movies for everyone and I think I know already who will be taking home the Oscar for Best Animated Feature next year.
I loved it and hopefully you will love it too. Let me know when you saw it and tell me what you think by commenting below.
Till the next time
Julia