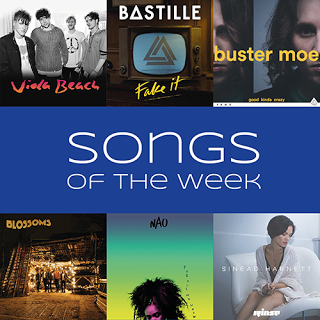 Hello August, hello Monday, hello new week, hello new music!
Lot's of hellos there - I wish there was a fitting new song to accompany that but Adele was too early with her release for me.
As always I listened to loads of new releases over the weekend and on the list today are the six tracks that I enjoyed most.
I put them all on my Songs of 2016 playlist (Spotify // Apple Music) and these are the new additions of the week:
I want to start this week with a tribute to Viola Beach, the band that died in a car crash this year. Their self-titled album was released on Friday by their families. It's a great album and it's very sad that they're not here anymore to witness how well their music is going. Go Outside is a track from this album which I really like, so I hope you do too.
This is the song you've probably been expecting on my playlist this week: Fake It by Bastille. They've released another song from their upcoming album Wild World which will be out in September. Fake It sounds so different to the brilliant first new single Good Grief, that was released some weeks ago -  it's got electronic and hip hop elements but is nevertheless a decent pop song. Also, the song itself goes through some kind of change in its four minute length and features loads of different sounds. It is a proper musical experiment and it's a good one.
Furthermore, there is a new single by Buster Moe, a singer-songwriter from Sweden. Good Kinda Crazy is his third single. It's uptempo, happy and has a real good saxophone on it - I love that. And aren't we all a little crazy?
Honey Sweet is another brand new song by British indie pop rock band Blossoms, whose song At Most A Kiss I really enjoyed. The new one is a good follow up - it is again very melodic and has a very relaxed sound.
NAO is a British singer-songwriter from East London. She was featured on the BBC's Sound of 2016 list and her debut album was now released last Friday. Get to Know Ya is taken from said album and it's the song I like the most. It's funky and has a very catchy R&B vibe.
The last song is a collaboration of singer-songwriter Sinead Harnett and producer GRADES. It is called If You Let Me and is another fine R&B track. I like the minimalistic production and her beautiful voice - a great combination.
And this is it - I hope you enjoyed all the brand new Songs of the Week. What is your favorite new song at the moment? Just leave a comment below, I love hearing your opinions.