The actress, singer, and model Zoe Kravitz recently announced an exciting new partnership with Swarovski Crystallized. The daughter of rocker Lenny Kravitz and actress Lisa Bonet launched her first jewelry line with nine pieces inspired by her style, her life and her travels.
Her first inspiration was turquoise, Zoe's birthstone. As she's traveled all over the world, she's also seen this color in places like India and Morocco, and she also mentioned the textures of those cities had some influence on these pieces. The collection also draws inspiration from ethnic and Native American jewels and includes necklaces, a ring, bracelets and earrings. Each item is delicate and simple, but can also be layered or piled-on for a more dramatic look. In a personal touch, each of the pieces carries a leaf shape with Zoe's engraved signature.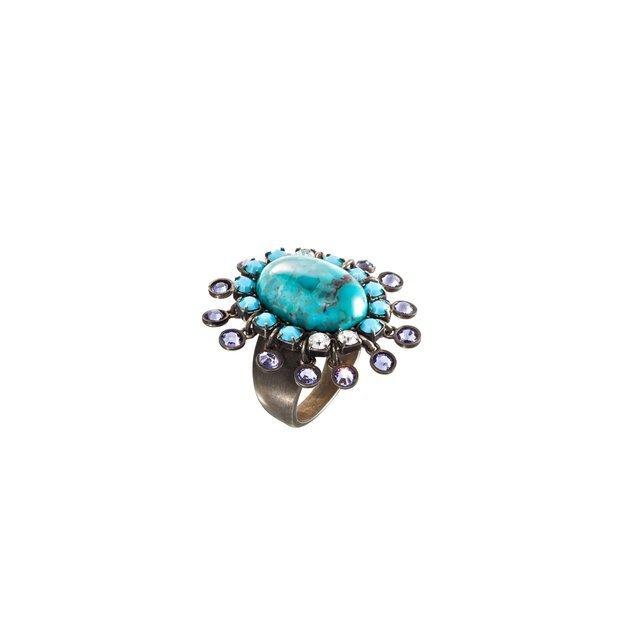 How did Zoe add a fourth trick to her triple-threat actress, singer, and model skills? She worked side-by-side with Swarovski's designers to capture her unique spirit. While she has a strong understanding of the ability of jewelry to add flash, pizazz and detail to any outfit, even a talent like Zoe doesn't just sit down and make jewelry. Working with experts helped her capture her essence and bring it to life in this collection. Combine the leather rock start look with the glamour of an elegant actress and you've got that adventurous energy that comes through in each of these pieces that Zoe describes as a "young, fresh, funky line."
The collection became available for purchase on March 22nd at Swarovski Crystallized stores and online via Fancy. The collection is modestly priced, each of the items is between $90 to $194. You can call the pieces hippie-chic, boho-chic, or just plain gorgeous. No matter what you call them, they'll look great on anyone.