Hello All! Hope you're well.
So, the end of 2018 is nigh, and what a year it has been food wise. I've gone completely vegan (separate post to follow on this), which has made eating out socially very interesting.
On that note, we recently visited Zest in Edinburgh for some lunch. I don't frequent Edinburgh very often, so was delighted to find that Zest is conveniently located just off Princes Street, on North Saint Andrews Street. I wouldn't recommend driving around this area personally. We parked the car at Ingliston Park and Ride, and got the tram into Edinburgh for £3.20 return each! A no brainer really; the trams were every 7 minutes, and stops right outside Zest.
Now onto the restaurant itself. It was small, but perfectly formed, and tastefully decorated. We were greeted warmly by our host, and owner of Zest, Anis Chowdhury. We explained to Anis that we eat a vegan diet, and he was more than helpful in suggesting suitable options for us, of which there were many (yay)!  We opted for the following:
Starter – Poppadoms and the usual accompaniments , followed by "Lovely" garlic mushrooms, and vegtable pakora – safe but delicious: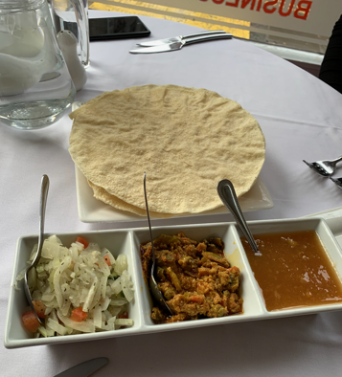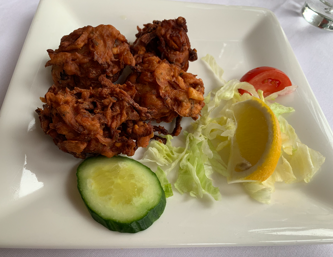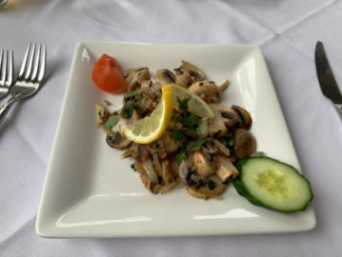 Tastebuds titillated, we were excited for our mains! I opted for saag aloo, containing spinach and potatoes, and Stewart went for the Bombay Chana Massalam, which contained chickpeas and potatoes in a hot tomato sauce with fresh coriander. Both dishes were exceptional, but I did prefer Stewart's, as it was just bursting with flavor.
We ordered some naan bread to go with our main, however Anis explained theirs was made using butter and milk. Anis subsequently offered a tandoori roti as a vegan alternative. It was a perfect replacement, and a light, almost fluffier version of naan.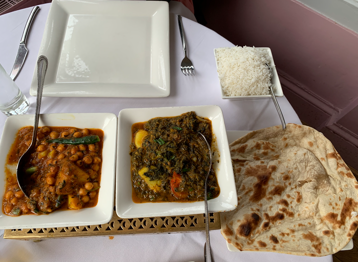 I was absolutely stuffed after our main meal, and said no to dessert (ME, declining dessert!). Stewart ordered an orange sorbet, and the presentation was fantastic. I pinches a taste, as I couldn't help myself. It was refreshing, and zingy; a perfect palate cleanser.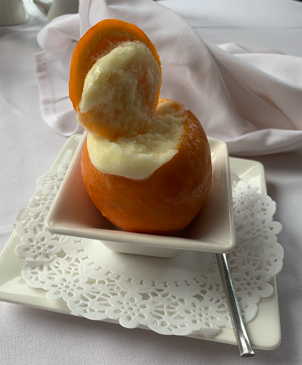 Overall we thoroughly enjoyed our visit to Zest. A great number of options for vegans, and non vegans alike, convenient location, and a warm welcoming atmosphere. We look forward to returning on our next trip to Edinburgh.