Hey there, hi there! How are we all? So it's June, how did that happen? Seriously..
We were recently invited to review The Dhabba in Merchant City, which was a delightful treat as who doesn't love Indian Food?!
The name Dhabba refers to roadside diners in North India, and The Dhabba in Merchant City boasts a comprehensive North Indian menu. Established in 2002, The Dhabba has gone from strength to strength over the years, building up a regular client base, and becoming one of the most popular Indian restaurants in Glasgow.
We were greeted ever so warmly by our lovely host Mindutt, and shown to our table. The restaurant itself is spacious, and tastefully decorated. There was a lovely ambiance, and almost hypnotic Indian music playing softly in the background, which was so relaxing.
Nestled, and promptly served some drinks (Kingfisher beer for Stewart, sparkling water for me), we perused the (very cool) menus at length.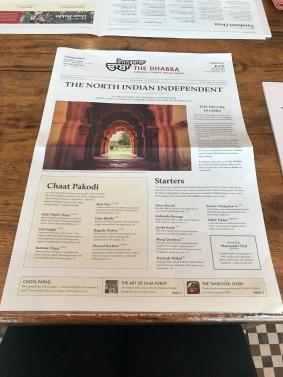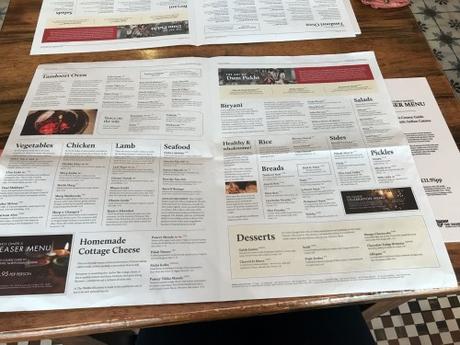 After agonizing over what to order from the extensive options, I decided I was in a veggie kind of mood, and ordered Samosa Chaat – samosa pieces, chickpeas, served with crisp salad in sweet and sour yoghurt, to start. Stewart ordered Murg Qualiyn – chicken marinated in tandoori spices, gently cooked in the chargrill. Whilst we awaited our starters, we were given some teeny tiny poppadoms to tide us over, which were delish! I particularly loved the coriander, mint and yoghurt sauce, it was to die for. Cue embarrassing Stewart (as per) with my audible mmm's.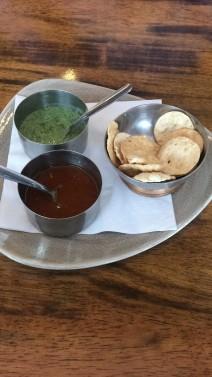 My starter was delicious, but the sweet and sour yoghurt sauce was a little too mild for me. Stewart's starter was spectacular! The chicken was cooked perfectly, and the accompanying sauce packed a flavoursome punch, with a nice hot kick.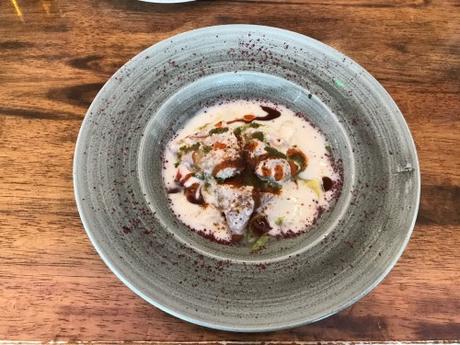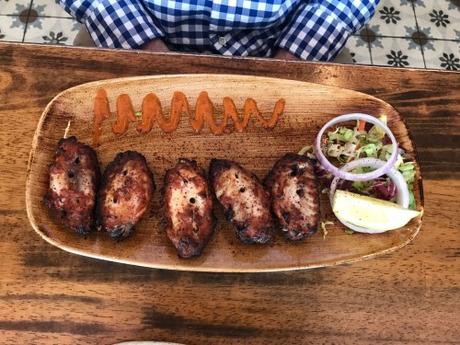 Next up were the mains. Continuing my veggie notions, I went for Subzi Seekh – paneer cheese, cauliflower, potatoes, mushrooms and peppers, with a masaledar sauce on the side (blend of onions, tomatoes and chillies, quite hot, but not overwhelming). It.was.sublime. An array of wonderful flavours and textures to tantalize my taste buds. Stewart went for Murg Maskawala – tandoori cooked chicken with cream, tomatoes, and ground cashew nuts, which prompted lots of "yummies" and eye rolls, always a good sign. Again, the chicken was cooked perfectly, and there was the most delightful buttery flavor to the dish. All food was inhaled, along with a fluffy garlic naan, which had the perfect depth – not too thick, not too thin.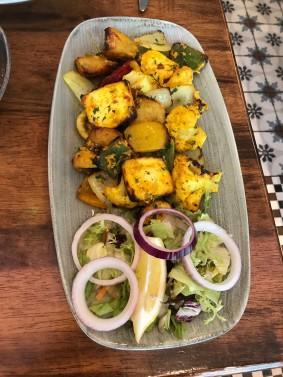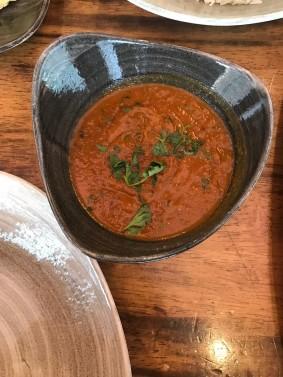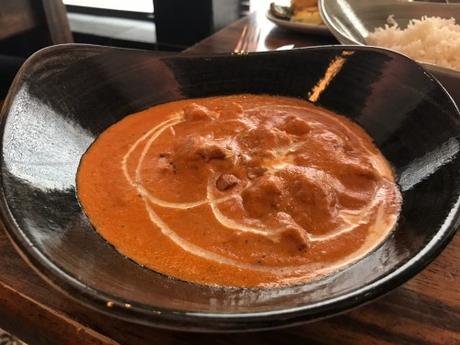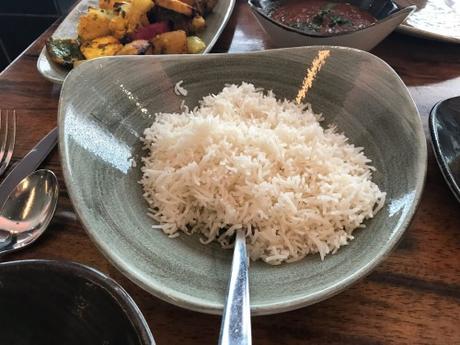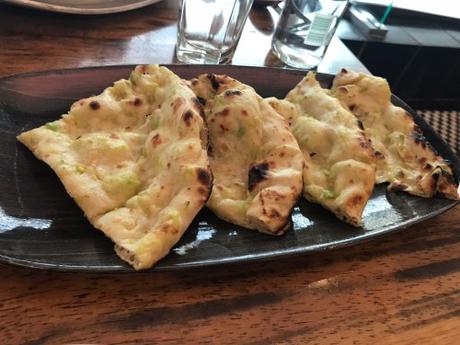 Suitably stuffed, we relaxed and had a think about what to have for dessert (a cheek really, as I had visibly slumped in my chair by this point from succumbing to my greed). I opted for sorbet, and Stewart went for mango cheesecake. I was instantly jealous of Stewart's cheesecake when it arrived, and had a slight pang of regret over my sorbet choice, until I tasted it that is! Oooh it was so refreshing and light, a perfect palate cleanser. The flavours were lime, mango and raspberry. Now, the cheesecake.. sigh. It was decadent, but not sickening. Bursting with flavour, it was frankly tear inducing-ly good. I only had a sliver (huff), but could have eaten 10 more portions of it, I am not joking. Stewart wolfed it down (to ensure I didn't steal it all). He agreed it was divine.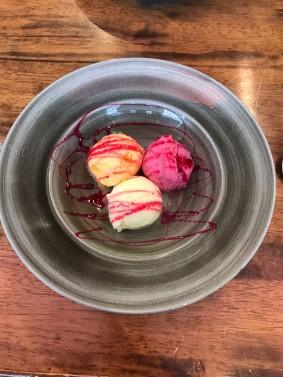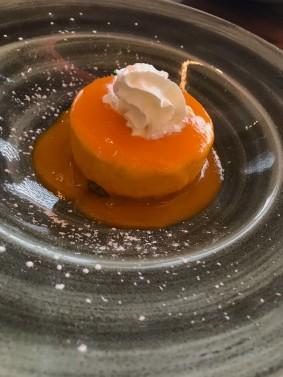 Like all good things, our Dhabba adventure had come to an end, and it was time to waddle home.
Overall it was a fantastic night. Impressive, and attentive service from Mindutt, and his team (I spotted one of the waiters eyeing a wine glass carefully to make sure it was clean, swoon). Not only does the Dhabba offer delicious, great quality food, at very reasonable prices, it offers an education on North Indian Food, and opens your mind to new options one may not have considered before.
I heartily recommend The Dhabba to my fellow food lovers, I can't wait to go back.
धन्यवाद The Dhabba for a splendid evening.