Happy New Year Everyone!
I hope you're all well.  Did we have an indulgent festive season? I ate an inordinate amount of chocolate, I'm surprised I have any teeth left. All worth it at the time though!
So here we are in January, how did that happen? Who's all on a health kick then? I have a lovely indulgent, but not too naughty, recipe for all you to try; Chocolate chip banana muffins!
These are SOOOO easy to make, and only take 20 mins to bake. Ingredients below: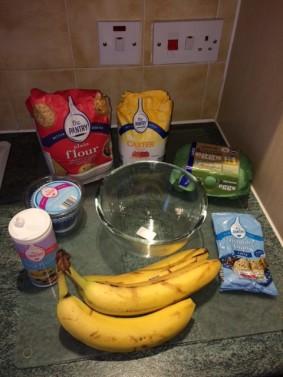 Plain Flour – 220g
Caster Sugar – 100g
Baking Powder – 1 tablespoon
Chocolate Chips – 80g
1 Egg
Vegetable Oil – 4 tablespoons
Milk – 4 tablepoons
Bananas – I used 3 large ripe bananas
Muffin Tray (recipe makes 12)
Muffin cases
In a large mixing bowl, add the flour, caster sugar, baking powder and chocolate chips, and mix together.  In a separate bowl, add the mashed bananas, egg, vegetable oil and milk, then add to the flour etc and mix thoroughly to moisten the mixture: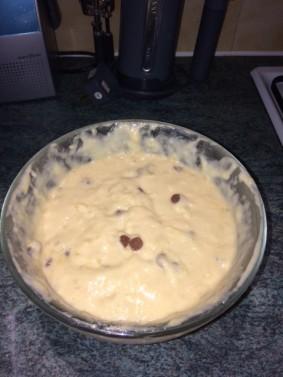 Once suitably mixed, fill your muffin tray with some lovely little cases, and spray with frylite sunflower oil.  Fill the cases with the mixture, just over half in each: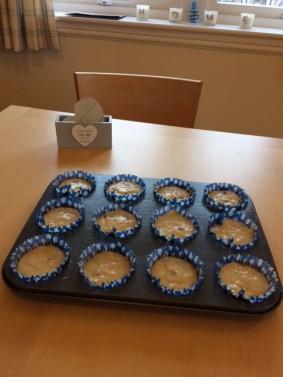 Pop in a pre-heated oven for 20 mins at 180 (fan oven), and watch your muffins rise. Or like me, stare at the muffins and catch your greedy, longing reflection staring back at you…I do love baked treats.
20 mins later and your muffins will be ready for munching!
Lovely wee treat, easy to make, and not too sinful on the hips! For anyone following weight watchers, these are 6 points each! Just don't eat 4 in one sitting..
Enjoy!!
Irene