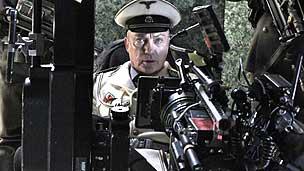 "
"Nazi sci-fi film Iron Sky 
becomes Berlin talking point"
By Emma Jones Entertainment reporter, BBC News in Berlin 

"Fantasy is hardly an escape from reality. It's a way of understanding it."
— Lloyd Alexander
The reason I highlight this is that Science Fiction is a great vehicle to look at our current milieu and cultural zeitgeist.   It is interesting that a film featuring Nazis brings so many interested viewers at the Berlin Film Festival.  I think it is time that Germany looks at their Nazi Selves with truth and a touch of humor.   A truthful look is an important part of healing.