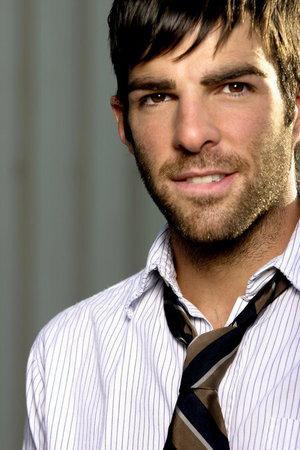 Out & Proud
10/20/2011 – by Vanessa Vargas
For some time now there has been speculation regarding the sexual orientation of Zachary Quinto who is well-known for his roles as 'Spock' in Star Wars and 'Sylar' in the television series Heroes.
The people want to know, is he gay or isn't he?
Well in an interview with New York magazine, Quinto tells all.
A publicist for New York Magazine issued the following press release last week:
In this week's New York Magazine, on newsstands Monday October 17 and online now, actor Zachary Quinto, perhaps best known as Spock in J.J. Abrams's Star Trek, says definitively that he's gay. Quinto tells New York contributing editor Benjamin Wallace, of his eight-month role last year in Angels in America, "…as a gay man, it made me feel like there's still so much work to be done, and there's still so many things that need to be looked at and addressed."
Quinto explains in a blog post why he felt the need to come out to the public:
when i found out that jamey rodemeyer killed himself – i felt deeply troubled.  but when i found out that jamey rodemeyer had made an it gets better video only months before taking his own life – i felt indescribable despair.  i also made an it gets better video last year – in the wake of the senseless and tragic gay teen suicides that were sweeping the nation at the time.  but in light of jamey's death – it became clear to me in an instant that living a gay life without publicly acknowledging it – is simply not enough to make any significant contribution to the immense work that lies ahead on the road to complete equality.  our society needs to recognize the unstoppable momentum toward unequivocal civil equality for every gay lesbian bisexual and transgendered citizen of this country.  gay kids need to stop killing themselves because they are made to feel worthless by cruel and relentless bullying.  parents need to teach their children principles of respect and acceptance.  we are witnessing an enormous shift of collective consciousness throughout the world.  we are at the precipice of great transformation within our culture and government.  i believe in the power of intention to change the landscape of our society – and it is my intention to live an authentic life of compassion and integrity and action.  jamey rodemeyer's life changed mine.  and while his death only makes me wish that i had done this sooner – i am eternally grateful to him for being the catalyst for change within me.  now i can only hope to serve as the same catalyst for even one other person in this world.  that – i believe – is all that we can ask of ourselves and of each other.

zq.
That should put an end to the speculation.  Kudos to ZQ for being so brave.