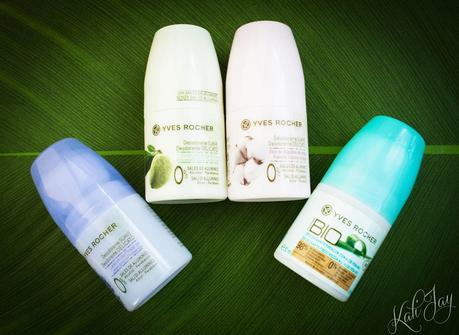 I opted for Yves Rocher deodorants since they have a fair price (4.5$) for being natural, so I felt I had to try them out to tell you if they are worth it. As you can see, they contain no aluminum salts, no alcohol and no parabens. A good start! 
I tried four of them and there is a substantial difference between the Bio one and the others. If you look at the ingredients, the former has no deodorant actives in it, just some peppermint water, which is subtly astringent. This one has a lovely scent, it's very delicate, but it won't ever work as an effective deodorant, even if I've been using it with pleasure when I've had irritations on my armpits. Moreover, by buying one, YR will plant a tree. Nice initiative, isn't it? 
The other ones are a good discover since they work and are delicate. Why are these effective? They contain Triethyl Citrate, a deodorant active used in natural cosmetics, which also works as an antioxidant. Like the Bio one they contain an evident amount of aloe vera juice, which is essential for soothing irritated skin. The only downside they have is that being so liquid, they last a short time, I'd say more or less 1 month if you use it everyday.