I found a great recipe for zucchini bread which I plan to make someday. But since I was all out of the long green squash and yet loaded with carrots, I decided to make a Carrot Nut Bread instead. And oh, how delicious it was! I used Pamela's Baking/Pancake Mix for the flour and it rose into a perfect bread, golden and nutty on top and deliciously dense with a whole lot of carrot and natural sweetness (without a lot of refined sugar).
Here is the recipe. Enjoy!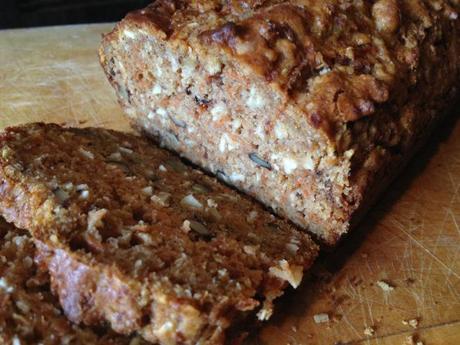 Carrot Nut Bread – Not too Sweet, But a Whole Lot of Yumminess (and great texture, too)!
1/4 cup of oil
1/4 cup of brown sugar
2 packets of Stevia
2 eggs
2 cups of shredded carrots
2 cups of Pamela's baking/pancake mix
1/2 cup of coconut flakes, unsweetened
1/2 cup of chopped pecans (or walnuts)
1/2  - 1 teaspoon of vanilla
2.5 teaspoons of cinnamon
1/4 tsp nutmeg
Preheat oven to 350 degrees F. Grease and flour a loaf pan. Cream Smart Balance with brown sugar and Stevia. Add in 2 eggs and vanilla and blend well. In a separate bowl, combine dry ingredients (Pamela's baking mix, coconut, cinnamon and nutmeg). Mix dry ingredients into wet mixture. Finally fold in carrots and pecans. Fold into loaf pan, draw a line down the center and add 2-3 little dabs of Smart Balance Light or a drizzle of milk (I use almond milk). Bake for about 55 minutes or until toothpick inserted in center comes out clean.
It's Mmmm- Good and with only 5 grams of sugar (paired with 5 grams of protein/fiber combined) and wholesome ingredients, it's a Nutri-Savvy "Better-for-You" Treat. Here are the Nutritional Facts: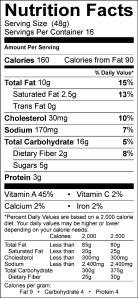 Filed under: diet, healthy lifestyles, Nutri-Savvy, nutrition, Recipes