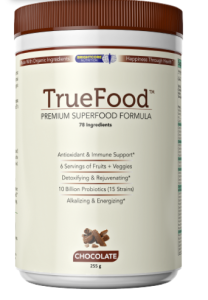 I recently had the opportunity to review two supplemental powders from BrightCore Nutrition — their True Foods™ Premium Superfood Formula: Chocolate and Original flavor (Chocolate pictured). And because I've got a hubby and kids – they got to be my taste-testers.
True to their motto "Premium Superfood Formula," these powders do include plenty of superfood ingredients, including Wheat Grass, Alfalfa, Spirulina, Chlorella, Kelp, Milk Thistle and Goji Berry … just to list a few (there are many — including powders derived from a variety of fruits and vegetables, and even whole grains such as quinoa and amaranth). It also contains a probiotic blend and digestive enzymes. I was pleased to see the Chocolate contained cocoa and stevia, instead of added sugar.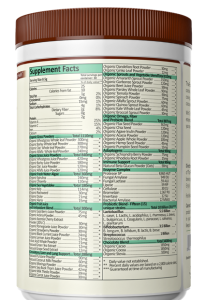 At first I was a little disappointed in the fact that this product didn't mix well when incorporated directly into a liquid (milk, coconut juice, or any of my alternative milks). However this really is a good sign. Why? Because sugar dissolves quite well in liquids (this product is not made up of sugars — whew!). I processed it into my Nutri-Bullet to get the creamy, smooth consistency I desired. Then added a couple dates and just a hint of coffee to enhance the Chocolate Flavor.
My husband has used both flavors of TrueFood™ powder in his fruit and yogurt smoothies because he recently had dental surgery and can only consume smoothies, pureés and juices this week. He is really trying to incorporate nutrition into his soft diet. This definitely works for him. My kids enjoyed the Chocolate blend which I whipped together with lots of fresh strawberries, soy milk, vanilla extract and a couple dates (and some ice to froth it up). And, even though they had an opportunity to smell the powders earlier (didn't care for it), they drank it all up and didn't even know it was in there.
With only 25 calories per serving, this is a great choice to add in more nutritional bulk to my family's smoothies or simple shakes. Although, it is not a protein powder (only 2g protein per serving), it definitely adds a super boost of nutrition to our smoothies and drinks. And bonus: they are #gluten-free #nonGMO #raw #soy-free  and #dairy-free so they are #super-clean and suitable to those with certain allergies.

Disclaimer: Although I was not paid for this review, I did receive full-size complimentary containers of both TrueFood™ Superfood Formulas. This is purely my opinion and not at all influenced by the fact that I was compensated.
Filed under: diet, healthy lifestyles, kids and toddlers, Nutri-Savvy, nutrition, parenting, Product Review