Youth Lagoon, the project of Idaho-native Trevor Powers, made an explosive debut onto the indie scene in 2011 with the release of the self-recorded debut album The Year of Hibernation. That album, much like Wondrous Bughouse, manages to mimic the sound of a full pop orchestra, rather than sounding explicitly like one young man alone in his bedroom / kitchen / garage. But The Year of Hibernation was still very much an album of bedroom pop songs. An album that was sullen and blanketed; one that you could take with you under a thick quilt and hibernate alongside. Wondrous Bughouse, on the other hand, is a full-on studio affair, and the results of this upgrade are mixed.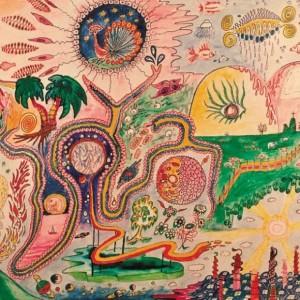 I would first like to mention that I actually think Wondrous Bughouse is just as good as The Year of Hibernation. I think that Powers has largely used the studio resources now at his disposal to his advantage, managing to evoke powerful, otherworldly tones from otherwise average instrumentation. The songs on Bughouse are also much more direct: they force their weirdness down your throat with an almost caustic exuberance, rather than just steep in their own sorrow. Songs like "Attic Door," and the early single "Dropla," perfectly balance psych-riffs and indie pop catchiness, made a little more amusing by their morbid and fretful lyrics.
The Youth Lagoon present on Bughouse is easily compared to bands like The Flaming Lips or even MGMT; all three acts share a proclivity for meshing Beatles-styled psych progressiveness and more modern ideas of indie pop. Unfortunately, this means that a song like "Raspberry Cane" will only be seen as envelope-pushing or genre bending to the extent that you selectively forget about the 1960s. This isn't to say that "Raspberry Cane" is not a well written song; only that there is very little to be refreshed by here.
I do have some gripes with the album's production; the hazy and spaced out sound of every instrument results in the album sounding kind of flat and dull. It is almost like the instruments have just been laid out flat, without any dynamic to their interactions, and then just doused in reverb. In the end, Wondrous Bughouse is a collection of some well-written songs, but they are songs that are barely done justice by the less than stellar melodrama of their psychedelic display.

3/5 bars