Because after all, I'm not planning my wedding – but you are. And I know from your comments, your emails and your tweets that you are a wonderfully creative and inspiring bunch of brides, grooms, even bridesmaids and wedding suppliers who are reading English Wedding blog.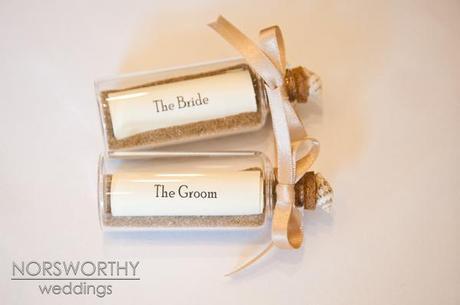 Photo credit: Norsworthy Photography www.norsworthyweddings.com
I need your creative wedding ideas!
So… I want to hear about your best creative wedding ideas. Don't be shy – share the little things that you've invented to make your wedding personal, special and a little bit unique.
Creative weddings aren't always about bunting. If you're doing a bit of wedding DIY, then brilliant. But it's not just about that. Creativity is in the way you think:
Are you having

a post-wedding shoot

?
Are you

naming your tables in a creative way

?
Will you be

singing or playing music

?
Have you found a unique wedding accessory or

discovered an amazing designer

?
Have you

saved money by doing things differently

?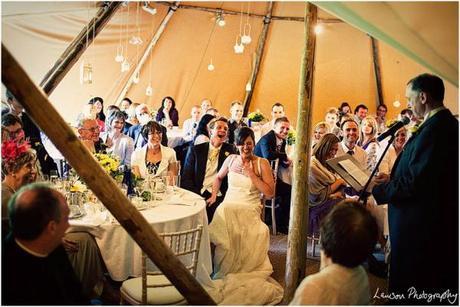 Rufford Old Hall creative wedding blog Lawson Photography
I know you're creative. I know I'll love your wedding ideas. I know you'll love the little prize I've got for you…
Win a Prada gift set from English Wedding!
Everyone who shares an idea in the comments box below will have their name put into a hat (virutally: see rules below), and a winner will be chosen at random to win one of my favorite perfume gift sets: Prada L'Eau Ambrée.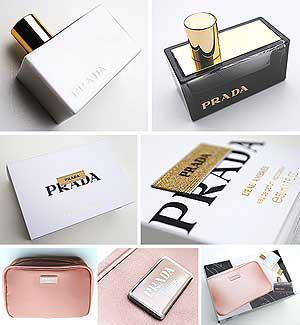 Win this Prada gift box
Inside:
50ml L'Eau Ambrée vaporiser
L'Eau Ambrée body lotion
Gorgeous Prada toiletries bag
Wedding blog competition rules:
To enter, leave a comment below with your favorite creative wedding idea – either from your wedding or a wedding you've been involved with

You must provide a valid email address when asked (this will not be published; it's only so we can contact you if you win).

The competition is open to brides, grooms, wedding suppliers and wedding guests resident in the UK only. All entrants must be over 18 years of age to enter.

The prize is a Prada L'Eau Ambrée gift set as described above. No cash alternative is available.

The closing date for receipt of all entries will be midnight on Monday the 7th of November 2011.

The winner will be chosen at random from everyone who shares a creative wedding idea in the comments below. Only one entry per person will be counted. English Wedding uses a random number generator (www.random.org) to fairly select winners.

A winner will be announced on this blog post within 7 days of the closing date. The winner will be contacted by email.

By commenting below you are accepting the rules of the competition as set out above.
Favourite creative weddings on English Wedding blog
After you've entered the competition you might want to browse English Wedding blog a little more. I've featured some fabulous real creative weddings over the past two years and I've been browsing through them this morning: here are just a few of my favorite creative weddings for you to enjoy!
Jayne and Luke's creative wedding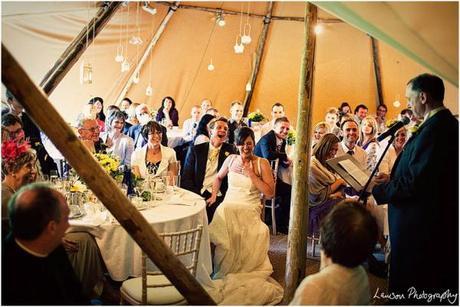 Jayne and Luke were married at Rufford Old Hall, a National Trust property in Lancashire. The wedding photos are by Lawson Photography.
Kate and Mark's creative wedding at Nunsmere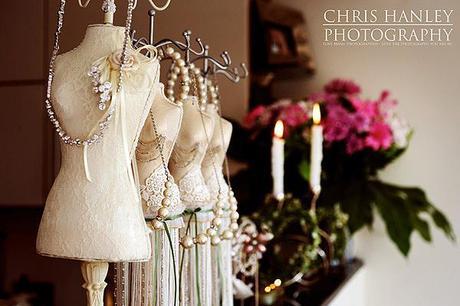 This Nunsmere Hall wedding is a treat, and all the more special for a very special little flower girl, daughter of the bride and groom and the star of the show. With top wedding photography by Chris Hanley
Emma and Andy's countryside creative wedding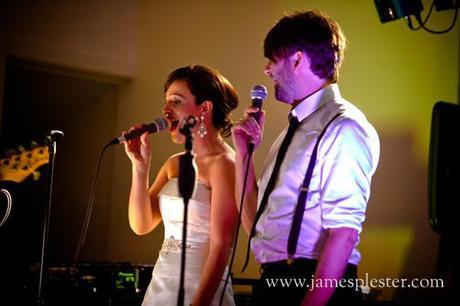 This is a wedding I love for its character. Emma and Andy's creative wedding day looks like so much fun! They've used their imaginations to create a day with a cool British theme – lots of red and blue – with a countryside twist: welly wanging being a definite highlight! Photography by James P Lester.
An all time favorite creative wedding blog: Jodie and David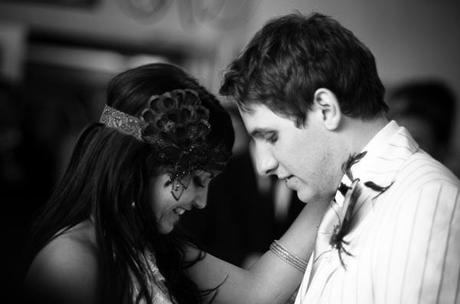 Jodie and David were married in May, and inspired my first wedding inspiration board on the blog! Jodie wore a white lace halterneck wedding dress with a veil trimmed with lace at the front, later to be replaced by a really stylish peacock feather headband. David wore a white suit with blue pinstripes, a yellow tie and a peacock feather buttonhole with scrabble piece! With photography by Joseph Yarrow.
An inspiring winter wedding: creative thinking for Jemma and Kevin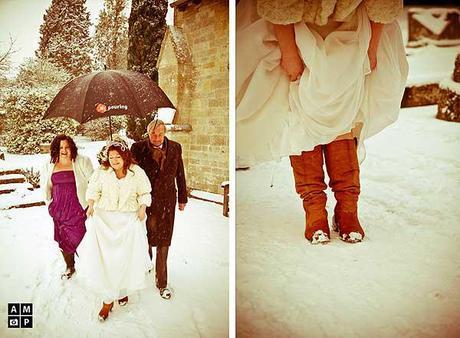 A creative wedding doesn't have to be meticulously planned. This is one of the most inspiring weddings ever featured on my blog – Jemma and Kevin had to think on their feet as the snow fell, and fell, and fell on their wedding day. Their story is an inspiration: against all the odds, this was an amazing wedding day. Creative thinking at its best! With photography by Anneli Marinovich.
Emma and Justin's creative wedding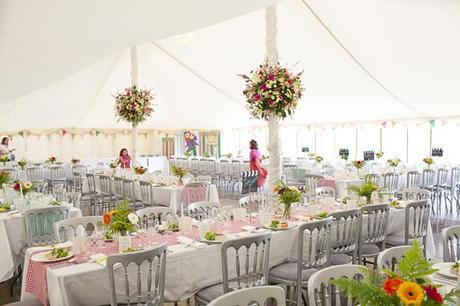 Emma and Justin's creative wedding day is coming up soon! Emma has shared a fabulous wedding report, including hymns which included Bob Marley's 'Three Little Birds'. The wedding reception included Scottish country dancing, a dance off for the first dance and fireworks while leaving on the tractor at midnight! Wedding photography by Clare West.
Ruth and Dan's colourful creative wedding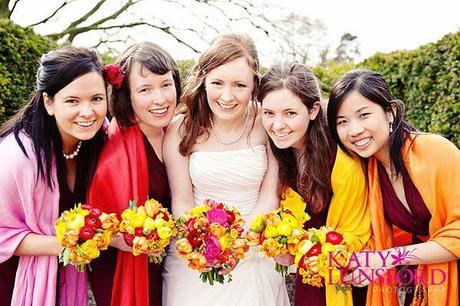 I absolutely adore how Ruth and Dan planned their creative wedding day – with lots of help from family and friends they created a stunning theme of beautiful colours to brighten up the spring day. The bridesmaids wore different coloured pashminas – an idea I love to bits! – and tables were fun and funky. Wedding photography by Katy Lunsford.
Kate and Steve's creative wedding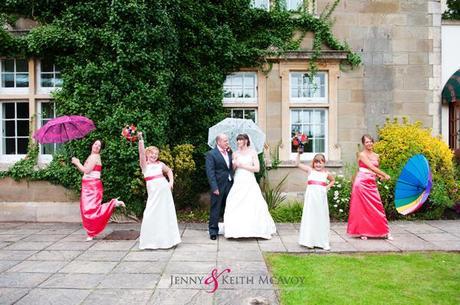 Another preview of a wedding feature I have yet to blog – meet Kate and Steve, along with their bridesmaids playing with Jenny & Keith McAvoy's colourful wedding parasols. Having a creative wedding day is about fun: have a blast, love every minute! Images by McAvoy Photography.
Amy and Charlie's wedding full of personality!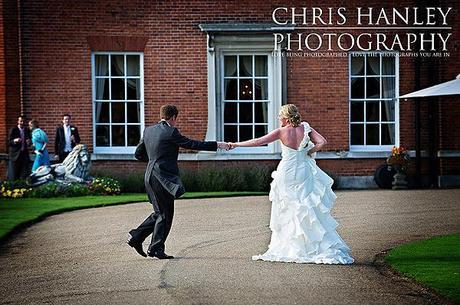 Another favourite: creativity on your wedding day can come down to your personalities, and there's a fabulous series of images in Amy and Charlie's wedding blog feature where Charlie dances along the path to Brocket Hall, hand in hand with his beautiful bride! Wedding photography by Chris Hanley.
 Rachel and David's crazy creative wedding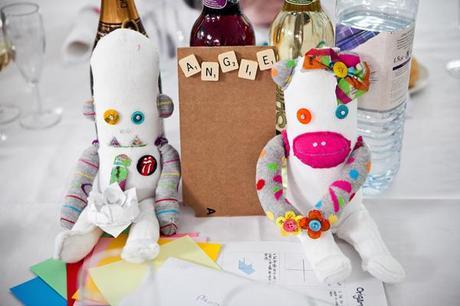 Courtesy of the fabulous Lucy West Images and with help again from Rachel and David – the most exciting bride and groom you'll see and fall in love with (these two are stars, they really are!)
Vanessa and Michael's classic vintage wedding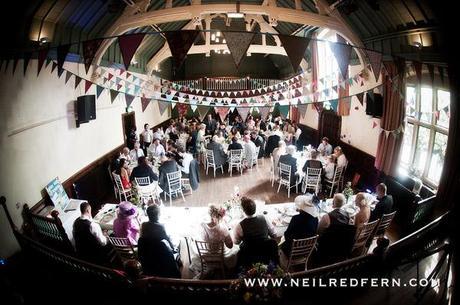 An English Wedding favourite: mention bunting to me and this photograph always flashes past my eyes. Vanessa and Michael's creative village hall wedding is a firm blog favorite. With photography by Neil Redfern.
Maria and Lloyd's Dartmouth Castle wedding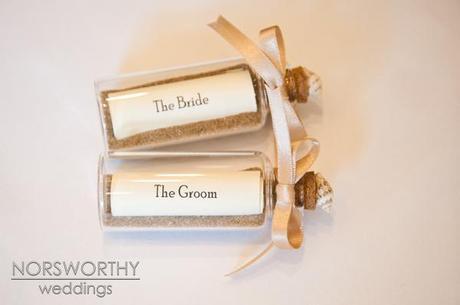 Photo credit: Norsworthy Photography
Maria and Lloyd's wedding blog is half wedding story and half inspiring details with a gorgeous bride in an Ian Stuart wedding dress – this is right up my street for creativity, glamour and elegance! With photography by Martyn Norsworthy.