The present scenario, among high school students, regarding education, is as simple as drinking a glass of water because 90% of the generation, plans of studying out of their country zone to get fresh exposure and experience. However, attaining that height is not as smooth as we think. One has to go through many significant steps that he or she has to clear, and the first step toward their journey is to pass any English Proficiency test. May it be IELTS, PTE, or TOEFL.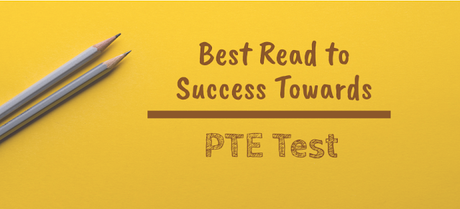 Best Read to Success towards PTE Test
Let us put our main emphasis on the Pearson Test of English, for which you all are here.PTE is a multi-level test that evaluates and approves the English abilities and capabilities aimed at non-native English speaker, by assessing real-life scholastic content, hearing extracts from the lectures, and viewing graphs and charts. Further, this is a standardized test that copes up with the scenario of the educational institutions that accept international students. It was introduced by the Pearson PLC Group under the endorsement of the Graduate Management Admission Council so that the students can comfortably participate in a University-Level English Language Institutional Program. However, the PTE exam is of two types: PTE Academic and PTE General. Like all other tests, both comprise four basic modules of English: Reading, Writing, Listening, and Speaking. However, the central difference is the purpose and the primary sections of each. PTE Academic is given by the applicants who want to take admission in the foreign educational institutes, whereas, PTE General is delivered by the persons to verify their realistic English communication abilities. Similarly, the prime sections of the Academic test are Writing & Speaking, Reading, and Listening. Conversely, the primary divisions of the General tests in Writing and Interview. In the PTE Academic test, there are a total of 20 tasks that need to be completed in a 3-hour single session by a candidate, under a secure test environment, at the Pearson test center. Moreover, this test is very affordable and demands a cost of $150-$210 (vary concerning the country). On top of that, you get the result of your test very swiftly, only within five days from the test date, concerning the Global Scale of English (from 10 to 90). On top of that, you can send this scorecard to the unlimited number of universities and colleges via a secure online account. Additionally, this test is very reliable as your questions are checked and judged by the computer, that is, Artificial Intelligence, using various programmed algorithms. Consequently, this is the reason why a majority of the students appear for this test to apply for student visas, Immigration purposes, to work, or to migrate.Now, to plumb the depth of this exam, we shall understand the format and pattern of this test which includes various features in it. The first to understand is the types of questions asked by the examiner. As it has been stated this exam asks a stock of 20 problems from which, seven are of the Writing & speaking module (
Read Aloud, Repeat Sentence, Retell Lecture, Describe Image, Answer Short Questions, Summarize Written Text, Essay Writing
), five are of the Reading module (
Choose Single Answer, Choose Multiple Answers, Reorder Paragraphs, Read and fill in the blanks, read and write te fill-ups)
, and eight are of the Listening module (
Summarize Spoken Test, Choose Multiple Answers, Fill in the Blanks, Highlight correct summary, Choose Single Answer, Select Missing Word, Highlight Incorrect Words, Write from Dictation
). Another topic one should learn is the length and timing of each task that in what time you have to complete that task, and each segment will ask you how many numbers of questions. For example, one must know that the machine will ask 10-12 points of the Repeat Sentence topic. Next, you must also know that how they present a question on the screen and what is the layout of a task. The monitor is very user-friendly, and you are provided with all the instructions during the examination, on the screen. Further comes the scoring pattern of this test which you should know to recognize how Artificial Intelligence accesses your questions and skills. There are two types of abilities that this test examines: Communication skills and Enabling skills. Communication skills are the four modules itself, but your
Oral Fluency, Pronunciation, Spelling, Written Discourse and Vocabulary
are computed as the Enabling skills of the candidate. Likewise, after understanding the structure of the test, you must prepare for it well. And for the same, countless sources and methods are standing in front of you. These include interactive online preparation materials, compelling books, and guides, reputed coaching institutes. All these locations provide you a variety of mock tests and sample papers, which you can practice and train yourself well. You need to practice all of them daily to get an optimal result. Along with that, you can also listen to various English conversations and lectures on television and radio, practice writing by keeping a journal. One can even interact with his or her friends and family in this language to improve communication skills and confidence. Another important thing is to read as many articles and texts as you can, from the newspaper, books, or magazines. PTE is a test that evaluates your practice and hard work, and preparation for this test is essential, not optional. Although you have a powerful hold on the English language, still you need to exercise for this examination regularly to attain high scores, which will even help you to save your time and money. It is a very satisfying feeling when things go your way and to perceive that feeling you must practice hard. Good PTE Scores will open the doors of prominent and reputed educational institutes, where you will acquire remarkable education and experience. Further, degrees and certificates of these institutes will also support you in finding a great job. In this way, you will be a successful person in your life and will jump through all the hurdles in your life.