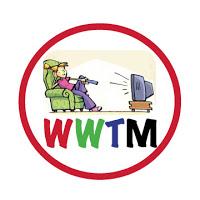 The answer to Thursday's Trivia Question: Hoffman and Associates was the firm in the Murder One series.
FIRST FIVES:  Neil Moffatt, Rachel Snyder, Monica Caraffa, Beth Hoff & Priscilla Paez Honorable Mention: Crystal Kyler
Wednesday's Broadcast Top 5
Modern Family-ABC 3.5/9.5
American Idol-FOX 2.8/11.0
Criminal Minds-CBS 2.3/9.9
Survivor-CBS 2.3/9.0
How to Live With Your Parents-ABC 2.2/6.2
Wednesday's Broadcast Trendrr Top 5
American Idol-FOX 212,880
The Voice-NBC 144,469
Concacaf Liga de Campeones-Multiple Networks 49,986
Criminal Minds-CBS 39,708
Survivor-CBS 39,066
Wednesday's Cable Top 5
NBA Playoffs-TNT 2.1/4.4
NBA Playoffs-TNT 1.5/3.4
The Big Bang Theory-TBS 1.4/3.0
The Big Bang Theory-TBS 1.4/3.0
American Dad-Adult Swim .9/1.9
Wednesday's Cable Trendrr Top 5
NBA Playoffs-TNT 213,065 NBA Playoffs-NBA TV 106,609 Stanley Cup Playoffs-NBC Sports
South Park-Comedy Central 41,394
Mythbusters-Discovery 23,450
Late Night Ratings for the week of 4/22/13-4/26/13
Leno.8/3.5
The Daily Show .7/1.6
Kimmel .6/2.4 Letterman .6/2.8   Colbert .6/1.3 Fallon .5/1.7 Conan .4/.7 Nightline .4/1.5  Ferguson .3/1.3  Carson .3/.9
Early Morning Ratings for the week of 4/22/13-4/26/13
GMA-1.8/2.0
Today Show- 1.7/2.0
CBS This Morning-.9/1.0
Glee
It was Steve Wonder-ful week on
Glee
and honestly...every single performance was awesome. I always forget how much I love Stevie Wonder. Kitty performed "Signed, Sealed, Delivered", Mercedes, back in town to film a music video and to help the Glee club win regionals, lead the gang's rendition of "Superstitious".  Kurt sang "You Are The Sunshine of my Life" to his Dad after finding out he's cancer free.  Mike, also back to help with regionals, danced with Jake while he performed "I Wish". Who knew Jake had such great moves? Mercedes and Marlie did "Higher Ground" which I always forget was Stevie Wonder, since Red Hot Chili Peppers is the version I hear more often. The last Stevie song of the night was "For Once In My Life". So good.  Also good was Kurt's Dad. He is just the best Dad ever, I guess it's easy to be that Dad when you have writers and aren't winging it like so many of us do on a daily basis.  I need Mr. Hummel's writer here in my house when my son screws up or needs some perfect words of wisdom to get him through a tough spot. How awesome was Kate Hudson again this week? Cassie July is such a great character. I loved it when she called Rachel David Schwimmer. Classic. Artie got in to the Brooklyn Film Academy. Which I'm sure is located right next to Rachel and Kurts place in NYC. Guess they better start adding ramps to the place. Did we know his Mom was Katy Sagal? Don't think so. So much nicer and softer then Jemma Teller right?  Okay, while this was a good episode, couple of issues: Britney getting accepted to MIT-ridiculous. Kurt having OCD out of the blue-ridiculous. Rachel able to purchase Debbie Allen's fame cane at a Broadway flea market-ridiculous. Mercedes, Mike, and Kurt all Glee Club experts back in town to help with regionals-sort of ridiculous. Like I said in past posts...it seems anyone can run Glee Club!
Parks and Recreation
Gotta admit, the season finale of
Parks and Rec
had a surprising ending. It was Founders Week in Pawnee and Leslie was celebrating her 1 year anniversary on the city council (that went fast didn't it?)  by asking everyone if they were better off now than a year ago. The idiots of Pawnee didn't think so. They built a Leslie Knope "No Fun For You" float and asked for her to be recalled from the council. Leslie's answer..."Bring it On".  In addition to the Leslie float, Chris was named "Nipple King" which is apparently an honor in Pawnee. I suppose it could be considered an honor everywhere no? Mona Lisa and John Raffio were still around. Burt Macklin, Andy's FBI agent alter ego was back to solve the :who's pregnant" mystery.  As you'd expect, Andy didn't figure it out, hence his inability to make it into the Pawnee criminal justice system...but we did find out who is actually expecting...O...M...G...Ron Swanson and Xena the Warrior Princess! WOW didn't see that one coming at all. 
Vampire Diaries
Didn't you think that Damon and Stefan were both auditioning for 50 Shades of Grey when they had Elena locked up, shackled in chains and burning her skin to bring back her humanity? What I didn't get was...if Damon could compel Elena to turn off her emotions, why couldn't he do it again to turn them back on? Silas was still getting into Bonnie's head and screwing with Caroline. I'm getting bored with him already. He's not hot, he's really annoying and we know that this veil thing can't happen. Poooor Matt. He's failing school, he's broke, and now he's needed as bait to help get his ex-girlfriends emotions turned back on so that she can pick one of the two other guys he's helping to be in love with.  Okay, he's failing school because he NEVER goes. How in the world could he be broke? He's always working at The Grill. Maybe because he, like everyone but Caroline on
The Vampire Diaries,
 he has no parents to pay for mortgage, taxes, food and his cell phone bill?  Faking Matt's death was the kicker and Elena's emotions came flooding back. Her big revelation...Katherine's to blame for EVERYTHING! Now, she must kill her. Dun, Dun, Dunnnnn...roll credits.
Scandal
HOLY COW what an awesome episode of Scandal. Has there ever been one that wasn't? I didn't breathe for more most of it. Clocks ticking all over the place. The mole, Cyrus, the team, Jake, Mellie and of course Fitz. Everyone watching a clock for one reason or another. Let's just cut to the chase...we needed Fitz and Olyvia to get back together, we needed it bad and even though there was something interesting about Olyvia and Jake, I needed Olyvia back with Fitz. I just wasn't sure how how it would happen. Olyvia gave Fitz the blueprint..."If you Want me? Earn Me!" Well, I believe he did what he was told. How intense was the scene when Fitz showed up at Olyvia's house with the clock ticking on his presidency and Marvin Gaye and Tammi Tyrell singing "You're All I Need To Get By". Fitz proved that he'd give up the White House for Olyvia and Mellie proved that she's got huge balls and moved forward with her plans to tell the world that Fitz is a cheater. As typed this, in my mind, Fitz and Olyvia won't hear this news until next Thursday. They won't leave that apartment or those beautiful white sheets until next Thursday when Cyrus fills them in.  Oh yeah, then we also have this mole situation...who the F is it? Any ideas? I really did think it was Cyrus, but now we know that it's not...so...who? Just for the record...nobody ate, nobody slept, nobody went to the bathroom and I'm surprised that phone service (even a network as awesome as Verizon-shameless plug) would work deep down in those White House tunnels. One last question. Is David Rosen on Olyvia's payroll at this point? Only 2 more episodes...
NEWS & INFORMATION:
-My fave TBS show, Cougar Town is getting a new showrunner next season. Hoping this guy will take the "if it aint broken" route. The shows fine the way it is so, this dude really needs to just stay the course like a good captain should. 
-Newly separated, Jason Aldean and new mom of baby girl Lincoln, Kristen Bell will host the CMT Awards in June. -Some VEVO facts coming out of the newfronts:

VEVO had more than 50 million US viewers each month, 60% are under 34 

Half of all video views on VEVO are happening on Smartphones

Mobile app viewers average 50 minutes per month

VEVO reaches a quarter of all US women watching videos online today

VEVO has 4 million Facebook fans
-The BBC hit, Orphan Black has been renewed for a second season. I know a few of you guys watch this one and love it. I feel so out of the loop on it, but I know that its not for me at all.  So congrats to all of you that love it so much, your loyalty and social chatter has definitely helped keep it alive for another cycle.

-This years Spike TV's Guys Choice for 2013 honors go to Ben Affleck, Jimmy Kimmel, Vince Vaughn, Emilia Clarke, and a few others. I'm hoping that my FBFF/FTSH, Jimmy Fallon, will be honored at some point, or was he honored already? Who can remember?




-Pretty interesting chart that finds all ages consuming tons of content everywhere and anywhere.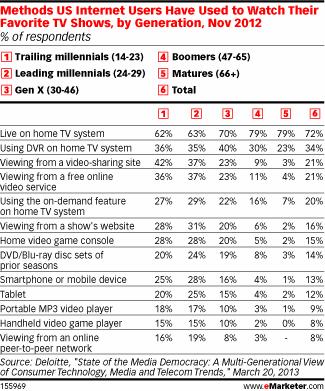 Friday's Trivia Question: MacKenzie, Brackman, Chaney and Kuzak  NAME THE SHOW
Friday's Bonus Trivia Question:

What was this weeks theme?
Have a great weekend!
WWTM-Kristy Follow me on Twitter at [email protected] Like my Facebook page at Watching Way Too Much http://watchingwaytoomuch.com

[email protected]