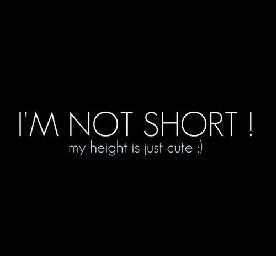 1) Shops don't cater to your size because they want to provide for people bigger than you like Matalan which caters for size 8 upwards even though their size 8 is still pretty big. Primark, Select and New Look are also culprits for sizing their clothes up especially the size 6's which could obviously fit a size 8.
2) You are able to fit into kids sections resulting in cheaper clothing, win win win! Though sometimes the kids parents give you a look of disapproval.
3) Body-con skirts and dresses look big on you and give you no shape whatsoever.
4) Dresses and skirts are way longer than they were on the mannequin because you're way too short.
5) People associate you with being younger than you really are because of height and weight.
6) You feel really offended when guys say they like curvy girls than slim girls. Talk about body-shaming.
7) You are "cute" because of your body.
8) People say "wow, you're short". Like I didn't already know.
9) Your feet just about or don't reach the floor.
10) Pay children's rates on holidays, day trips and bus fares.
11) Having to have your trousers altered because they're too long.

 
BLOGLOVIN  // GFC  // TWITTER  // INSTA GRAM