YOPE  skincare product  was part of the Polish delegation to Hong Kong, attending Cosmoprof Asia Hong Kong 2019.
This very creative brand works on future skin care issues, not satisfied with just "this has a great fragrance",  but rather how can they a responsible brand, work in an environment where care is needed in nearly every aspect on the home.
Take a look at their liquid soaps, that are 100% effective and safe for your health :
GINGER & SANDALWOOD, TEA & MINT and SALVIA & GREEN CAVIAR
'So far, we've been proud of the fact that our soaps don't contain cheap detergents, such as SLS or SLES. Now we have even more reasons to be proud, because we have added a special mixture of new-generation cleansing and foaming agents.
The TGA formula is an innovative mix of so-called plant tensides, i.e. 100% natural surfactants, which have good cleansing and foaming properties.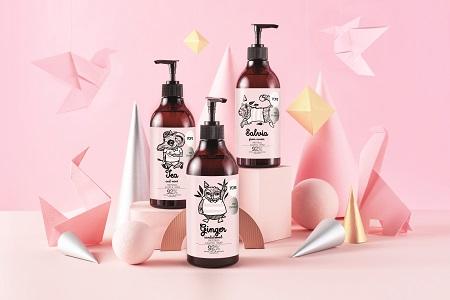 Thanks to the formula, YOPE soaps are not only safe but also environmentally friendly. And pleasant to use!'- says Karolina Kuklińska-Kosowicz, the creator of YOPE.
GINGER & SANDALWOOD TGA Soap
Gentle, regenerating and nourishing liquid soap, smelling of fresh ginger and sandalwood. It contains natural ginger root extract, which strengthens and elasticizes the skin, stimulates regeneration and fights free radicals which accelerate the aging of skin cells.
TEA & MINT TGA Soap
This liquid soap with the peppermint tea fragrance soothes skin irritations. Japanese green tea extract contains vitamins that are valuable for the skin, e.g. Vitamin C (fights free radicals, brightens the skin) and Vitamin K (strengthens blood vessels), as well as many polyphenols, which have inflammatory properties.
SALVIA AND GREEN CAVIAR TGA Soap
Delicate for the skin, rejuvenating and smoothing. It has a fresh herbal aroma. Sage extract has anti-inflammatory properties and algae extract, rich in vitamins and minerals, strengthens collagen fibers so that the skin stays firm and smooth longer.
Capacity: 500 ml
YOPE products are distinguished by three key features: FORMULAS (more than 90% of natural ingredients, no parabens, SLS, SLES, PEG or silicones), FRAGRANCES (sophisticated, interesting and long-lasting), DESIGN (original packaging).
YOPE product range includes bathroom and kitchen soaps with complementary body and hand lotions, hand creams and cleaning products.
Yope makes a creative move in Asia
YOPE cosmetics are developed in collaboration with dermatologists. Thanks to the immense experience of skin experts, they are totally safe and gentle on the skin.