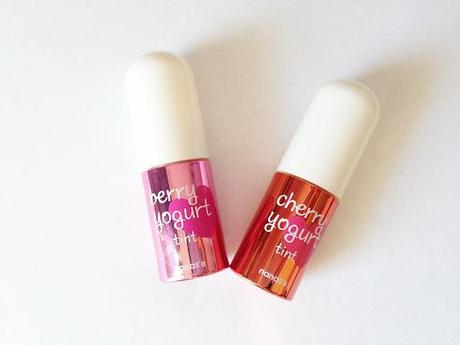 From time to time, I go through phases where I'd go nuts and purchase a bunch of korean makeup.  I got my hands on these two during one of those phases- from Gmarket.  In short, Gmarket is basically a korean ebay, but all the items you buy from various sellers are sent to the Gmarket headquarters and packaged altogether in one parcel to be sent out to you.  The shipping is by kg, and the price has increased quite dramatically compared a few years back, when I purchased this.
Just by the packaging, right off the bat, you can tell these lip tints by Nanas' B are meant to be dupes of Benefit's famous tints.  With twist up caps and a slanted doe-foot applicator, it makes these both convenient and a great staple to carry around.  Both of these smell great; the cherry is a more diluted conventional cherry scent and the berry scent is just a really nice smelling candy scent.Based on the 'yogurt' in the names and the swatches below, you can build these up to the desired opacity, all while still maintaining the fallback of a stain.
Cherry Yogurt: It's a very wearable reddish pink; one of those colours suitable for those who aren't ready to face the world with a full red lipstick.  Upon application, you can continue to build the color up after the initial layer dries, which would result in the stain color being a deeper color as well. This leaves behind a nice stain, very much like the whole post-icypole color.Berry Yogurt: As this is more pink, it just becomes that much more wearable, and more reached for.  The color doesn't show up that obviously on my lips, however the stain that it leaves behind is natural enough to consider it as MLBB, as it evens out the color of my lips overall.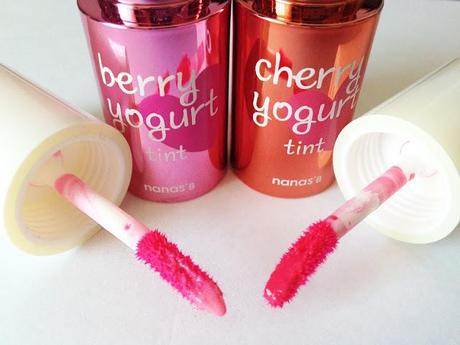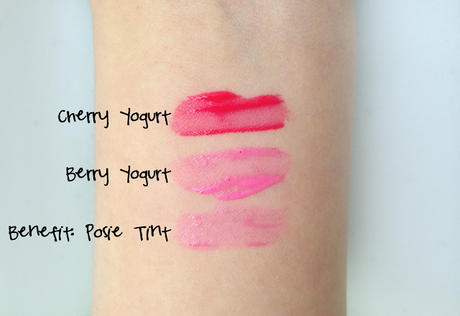 In comparison to Benefit's Posie Tint, these are much more pigmented and the staining power is definitely more prominent.  The texture and formulation of Nanas' B tints are definitely more 'milky', compared to the Posie Tint- which is more watery.  After a few minutes after putting these on, there is some sort of tingling sensation, similar to the one you feel with plumping lip products.  The staying power is literally for ages, it's usually still there right up until I remove my makeup at the end of the day, but it does make your lips dry after around 4 hours. Overall these perform amazingly well in terms of color payoff and longevity.  I don't really mind the plumping sensation, but I know this could bother some people, and I am usually an avid lip balm applier, so lip dryness doesn't phase me too much either.
I haven't been able to find this product on main asian makeup websites, however if you do ever want to buy this product off Gmarket then click here :)


Have you tried lip tints before?