I said I was going to give yoga a try and so I'm happy, and just a little sore, to report that I have completed several sessions, enough that I lost count, for the new year!
I'm pretty sure if I regularly practiced yoga, my tennis game would benefit. In fact, I posted about that here: Yoga Can Improve Your Tennis. And let's face it - I'm at "that age" where I need all of the stretching and relaxing that I can get.
So, I'm keeping at it with the yoga. But here's my confession -I haven't actually gone to a real yoga class. I've been way too embarrassed. I have several yoga DVDs from Gaiam and have worked my way through most of them. My strategy has been to work out first and then follow with a yoga session. Some of these have been very short (15 minutes) and/or very relaxing. The one I did today, "Lower Body Yoga," seemed very long (35 minutes) and was not relaxing at all until the last 3 minutes. In other words, it was a lot like working out!
But I'm starting to believe I could actually go to a yoga class and not feel like a complete klutz. So that is what I'm going to do next week - go to an actual yoga class with actual people and an actual instructor who can tell me why my Downward Dog is all wrong.
Here's the Downward Dog pose in case you have no idea what I'm talking about: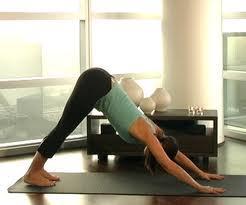 If you think Downward Dog looks easy, you've obviously never tried it. While Downward Dog is great for stretching the entire backside of your legs, its not an easy pose to hold for very long. Unfortunately, it seems to be the lead-in to a lot of other poses. So the bottom line is you have to be able to do Downward Dog.
Here is my current least favorite pose: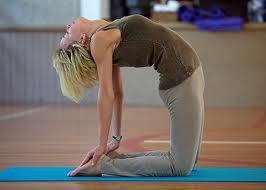 This is the Full Camel Pose. Notice in the photo how this person has her head WAY back. That is what is giving me issues. I can't seem to get into the pose, get my head that far back and remain balanced - all at the same time. And she looks pretty relaxed too. I'm pretty sure my face is twisted into a painful grimace when I'm attempting Full Camel.
One more thing - and probably the most important thing - the final reason I'm going to keep at the yoga? The clothes. Yoga wear is just too cute and is perfect for tennis. It's a whole new shopping category for me and that's more than enough to keep me downward doggin' it. Namaste.


© Kim Selzman 2011 All Rights Reserved