The banana is an edible fruit, botanically a berry, produced by several kinds of large herbaceous flowering plants in the genus Musa. In some countries, bananas used for cooking may be called plantains. More than 100 billion bananas are consumed every year, making it the fourth most important crop after wheat, rice and corn but did you know that allthe bananas that we buy are descended from a single plant, cultivated in the grounds of an English stately home.
Chatsworth House seems an unlikely origin for today's global banana industry but it all began with one plant grown in the hothouse on this Derbyshire estate's hothouse 180 years ago. The Cavendish became the world's most important fruit but bananas as we know them could soon cease to exist.
Bananas have been grown at Chatsworth since 1830 when head gardener Joseph Paxton got his hands on a specimen imported from Mauritius. Legend says that he was inspired after seeing a banana plant depicted on Chinese wallpaper in one of the home's 175 rooms but the truth is more likely that Paxton, who was always on the lookout for new and exotic plants and was well connected enough to know when the banana plants arrived in England.
Paxton filled a pit with "plenty of water, rich loam soil and well-rotted dung" with the temperature maintained between 18C and 30C (65F and 85F) to grow the fruit he called Musa Cavendish after his employers. Cavendish is the family name of the Dukes and Duchesses of Devonshire. It was a novelty for a family in England to be able to grow their own bananas and exciting for their guests.
In November 1835 Paxton's plant finally flowered and by the following May it was loaded with more than 100 bananas, one fruit winning a medal at that year's Horticultural Society show. A few years later the duke supplied two cases of plants to a missionary named John Williams to take to Samoa. Only one survived the journey but it launched the banana industry in Samoa and other South Sea islands. Missionaries also took the Cavendish banana to the Pacific and the Canary Islands.
So the Cavendish spread, but it is only in relatively recent years that it has become the exporter's banana of choice, its rise in popularity caused by the very thing that is now killing it off - Panama disease. For many years, the most important banana in the world was the Gros Michel.In the 1950s it was practically wiped out by the fungus known as Panama disease, Fusarium fungus or banana wilt.
Banana growers turned to another breed that was immune to the fungus - the Cavendish, a smaller and apparently less tasty fruit but it could survive global travel and most importantly was able to resist infected soils. Although banana-growing habitats still have their own breeds, almost all bananas exported to foreign markets, Europe, the UK and North America, are Cavendish – ancestors of the first Chatsworth plant. Almost 25% of all bananas eaten in India and most of the bananas consumed in China are descendants of the Chatsworth plant.
As the Cavendish banana was being cultivated, a new strain of Panama disease was a also developing that is capable of killing them off. The new fungus is even more deadly than the one which wiped out the Gros Michel. It can also infect local breeds of banana around the world.
10,000 hectares of Cavendish have already been destroyed according to Panama Disease.org and experts warn many more will follow if the fungus is not stopped.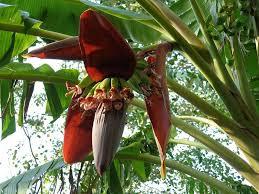 The epidemic has already hit The Phillipines but hasn't yet affected the Americas. The largest exporter of bananas is Ecuador.There is a two tiered plan to save the humble banana. Firstly to contain the disease but this is problematic: the fungus spores can remain live in soil for decades and can be transported through the air during storms or carried away from a plantation on workers boots. As soon as a plantation is infected, it is lost and must be destroyed. So the race is on to produce a banana that is resistant to the disease. I have to ask – what will Minions do?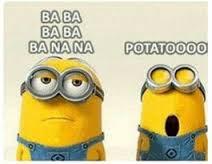 You see - those little yellow rays of sunshine always have a solution. No poem this week but I have copied the lyrics to the inevitable song. Hope that you can all remember the tune.
Yes! We Have No Bananas
Cohn and Silver, 1923
There's a fruitshop down our street,
It's run by a Greek,
And he sells good things to eat,
But you should hear him speak,
When you ask him anything,
Never answers "No",
He just yesses you to death,
And as he takes your dough he tells you:
Refrain
:
Yes! We have no bananas,
We have no bananas today.
We've stringbeans, and onions,
Cabbages and scallions
And all kind of fruit, and say,
We have an old fashioned tomato
Long Island potato,
But yes! We have no bananas,
We have no bananas today!
Things were going well with him,
He wrote home to say,
Send me Mike and Pete and Jim,
I need them right away,
When he got them in the shop,
There was fun, you bet,
'Cause when you asked them anything,
They answered in quartet: Oh,
Refrain
:
Yes! We have no bananas,
We have no bananas today.
We've stringbeans, and onions,
Cabbages and scallions
And all kind of fruit, and say,
We have an old fashioned tomato
Long Island potato,
But yes! We have no bananas,
We have no bananas today!
Thanks for reading.  Adele
Email This
BlogThis!
Share to Twitter
Share to Facebook
Reactions: