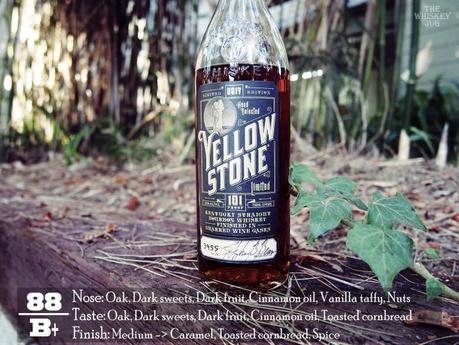 Yellowstone 2017 Limited Edition bourbon whiskey is a significant milestone for the Limestone Branch distillery because it's the first time the Beams have been able to include some of their own whiskey in the mix. It also happens to be my favorite batch they've produced so far… favorite by a long shot.
In Limetsone Branch's Words: Yellowstone 2017 Limited Edition
"Limestone Branch Distillery introduces the 2017 version of Yellowstone® Limited Edition Kentucky Straight Bourbon, finished in charred wine casks, set to hit the market in October. This year's limited edition combines hand-selected, seven and 12-year Kentucky Straight bourbons, with a special addition of Limestone Branch Distillery's first available, 4-year Kentucky Straight bourbon. The bourbon is then rested in once-filled, double seasoned barrels, which are toasted and then lightly charred."
I don't know if it's because of the addition of their own whiskey, the toasted and charred wine barrels or because they used a higher percentage of the older whiskey, but this whiskey has depth. Which we'll get into in the Yellowstone 2017 Limited Edition review below, but I'm so taken aback by this whiskey that it's worth mentioning up here; now let's get to it!
Yellowstone 2017 Limited Edition Info
Region: Kentucky, USA
Distiller: Limestone Branch + Unknown (likely Heaven Hill since Luxco has existing contracts with them)
Bottler: Limestone Branch
Mashbill: At least 51% corn, rye and/or wheat and malted barley
Cask: New Charred Oak
Age: NAS (4 Years)
ABV: 50.1%
Non-Chill Filtered | Natural Color
Batch: 2017
Price: $100*
Yellowstone 2017 Limited Edition Review
EYE
Ruddy caramel
NOSE
Oak, dark sweets, dark fruit, cinnamon oil, vanilla taffy and some bits of nuts and toasted cornbread.
PALATE
Oak, dark sweets, dark fruit, cinnamon oil, toasted cornbread, vanilla taffy, dried raspberries and hints of Tootsie Rolls, orange oil and nuts.
FINISH
Medium dissolve of caramel, toasted cornbread and spice.
BALANCE, BODY & FEEL
Good balance, full body and an oily fee,
OVERALL
Yellowstone 2017 Limited Edition has an oaky aroma that's balanced nicely with sweet, spicy and slightly roasty notes. The palate mimics it, and then surpasses it, in complexity. The overall impression of the whiskey is a well constructed rustic bourbon that's deep, complex and definitely a daily drinker.
The first couple releases of this bourbon I've been a little underwhelmed by, but this one has more going on for it than the previous batches and feels like a more cohesive and robust whiskey. It's also a nice looking bourbon. I'm digging the new bottle design, so if you do end up laying down $100 for this it'll look good on your shelf and taste great in your glass.
SCORE: 88/100 (B+)
*Disclosure: This Yellowstone 2017 Limited Edition was graciously sent to me by the company for the purposes of this review. The views, opinions, and tasting notes are 100% my own.