BenRiach 12 Years – 2009 Cask 3812 is the classic unpeated Benriach aged for 12 years in a Pedro Ximénez Puncheon. Which, if I'm being honest because we're all friends here, is my least favorite of the potential sherry casks to age in.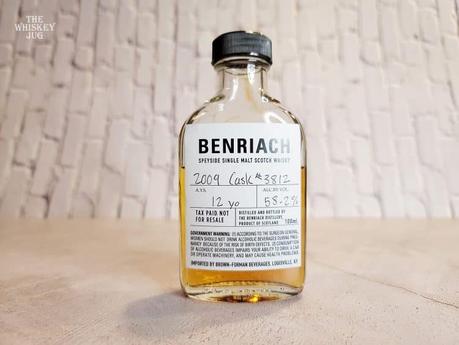 It's not a "deal breaker" for me, I've had plenty of delicious PX aged and finished whiskies, but it is the one I just happen to like the least. Not because it's inherently terrible or anything, but because it's often too cloying, too powerful, and what's in my glass resembles leathery brown sugar. Like Port, it seems to be a tricky cask to work with, but, when you get one that's well-balanced, PX-finished whisky can be quite delicious.
Now, let's get to drinkin' and see where this one falls.
---
BenRiach 12 Years – 2009 Cask 3812 – Details and Tasting Notes
Whiskey Details
Cask Strength | Non-Chill Filtered | Natural Color
Style: Single Malt (Scotch)
Region: Speyside, Scotland
Distiller: Benriach
Mash Bill: 100% Malted Barley
Cask: ex-Pedro Ximénez Puncheon
Age: 12 Years
ABV: 58.2%
Barrel: 3812
Bottles: 642
BenRiach 12 Years – 2009 Cask 3812 Price: $100*
Related Whiskey
BenRiach Peated Oloroso Single Barrel
Benriach 25 Years
Benriach The Twelve
Benriach Malting Season
Benriach Cask Strength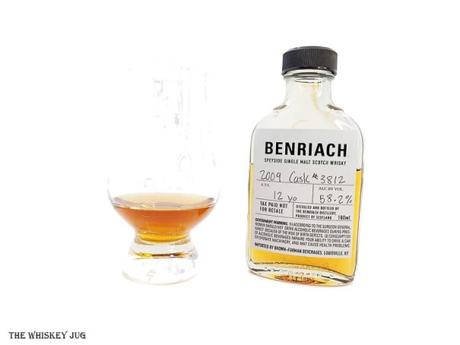 "At Benriach we believe we are the sum of our experiences – the product of the people, places and influences that shape us as we journey through life." – Benriach
BenRiach 12 Years – 2009 Cask 3812 Tasting Notes
EYE
Amber
NOSE
Malty, milk chocolate, brown sugar, dried dark fruit, oak, graham.
Kind of light, even with water there isn't a ton happening, but what is, is nice.
PALATE
Oaky, malty, dried orchard fruit, char, brown sugar and some Sunkist fruit gems with a bit of baking spice and tannic bite.
It's a nice warm flavor, but kind of odd the way the oak is prominent here, it reminds me a bit of a very good American Single Malt with the tannic bite.
FINISH
Med-Long -> Oaky, dried fruit and baking spice fade out with a bit of cocoa and brown sugar.
BALANCE, BODY and FEEL
Decent balance, medium-full body and a warm oily feel.
---
BenRiach 12 Years – 2009 Cask 3812 – Overall Thoughts and Score
Oaky brown sugar… this is nice. It's a bit odd, it's interesting, it's different for a PX, but it's also nice. The overall, slightly-tannic, profile I associate more with American Single Malt Whiskey. Still, there is a bit more of a refinement to it that isn't easily found in its American counterparts.
What I'd really like to see is this BenRiach 12 Years – 2009 Cask 3812 done with the peated mash bill instead of the unpeated. With how heavy and bold PX can be I feel a peated spirit could hold up to this better and bring even more complexity to this equation.
SCORE: 3.5/5 (tasty, worth checking out ~ B | 83-86)
*Disclosure: The sample for this Scotch review was graciously sent to me by the company without obligation. The views, opinions, and tasting notes are 100% my own.
BenRiach 12 Years - 2009 Cask 3812 Review
$100
Overall
3.8
Nose

(3.5)

Palate

(4)

Finish

(4)

BBF

(3.5)
Sending
User Review
0

(

0

votes)
Comments Rating
0

(

0

reviews)