Bruichladdich knows how to usher in fall, hello Octomore 13.2. The mornings and evenings carry a crispness, the leaves are falling as fast as the temperature and my glencairns are carrying more and more peated whiskey in them – well. more than usual anyway. This is my favorite time of the year.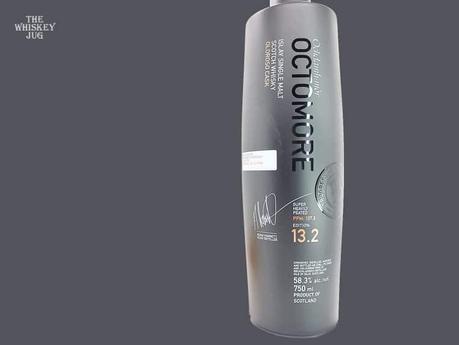 And this year, something special is happening with one of my favorite peated whiskies out there… sherry. The 13.2 isn't finished in sherry, it's spent its entire 5+ years maturing in ex-Oloroso casks which, just the thought of, has me drooling.
Let's get to drinkin' and see if what's in the glass is as good as the visions of sherry+smoky whisky dancing in my head.
---
Octomore 13.2 – Details and Tasting Notes
Whiskey Details
Cask Strength | Non-Chill Filtered | Natural Color
Style: Single Malt (Scotch)
Region: Islay, Scotland
Distiller: Bruichladdich
Mash Bill: 100% Malted Barley
Cask: ex-Bourbon, Ex-Oloroso
Age: 5+ years
ABV: 58.3%
Batch: 13.2
PPM: 137.3
Octomore 13.2 Price: NA – $160*
Related Whiskey
Octomore 10 Years
Octomore 6.1
Octomore 12.2
Octomore 12.1
Octomore 12.3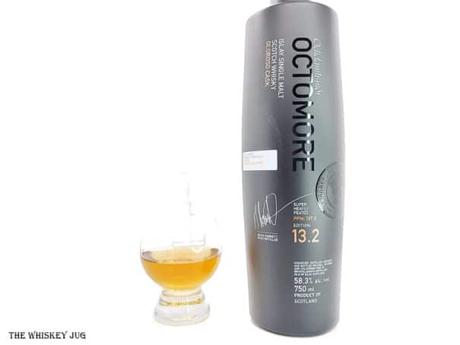 "Octomore 13.2 offers an alternative maturation to the structural brilliance delivered by its 13.1 counterpart. In an indulgent point of difference, the five-year-old spirit has spent its entire maturing life in Oloroso butts from Fernando de Castilla, Spain." – Bruichladdich
Octomore 13.2 Tasting Notes
EYE
Amber
NOSE
Peat, strawberry shortcake, orange peels, buttercream frosting, toffee and a touch of sulfur and leather.
Deep and velvety, I could sit and sniff this for days.
PALATE
Earthy peat, dried strawberries, vanilla taffy, toffee, cocoa powder, clove, anise, touch of sulfur and leather.
But if I did sniff it for days then I wouldn't get to experience this fantastic palate.
FINISH
Long -> Peat, dried strawberries, spice and a touch of sulfur.
BALANCE, BODY and FEEL
Well-balanced, full-bodied, heavy velvety texture.
---
Octomore 13.2 – Overall Thoughts and Score
When "peat n' sweet with a touch of sulfur" is done right it creates a multifaceted profile that can't be beat. And hitting that chord just right is exactly what Bruichladdich have done here. This might be my favorite Octomore ever.
There are other releases that come close, but there is richness, balance, and elegance in this one that truly begets the term "gentle giant". It hits that perfect balance of sweetness and earthiness that keeps me coming back for more. It's going to take some restraint to make this Octomore 13.2 last through the winter.
SCORE: 4.5/5 (very good, highly recommended ~ A- | 90-93)
*Disclosure: The bottle for this Scotch review was graciously sent to me by the company without obligation. The views, opinions, and tasting notes are 100% my own.
Octomore 13-2 Review
$160
Overall
4.5
Nose

(4.5)

Palate

(4.5)

Finish

(4.5)

BBF

(4.5)
Sending
User Review
0

(

0

votes)
Comments Rating
0

(

0

reviews)